Blog/Market Talk
Posted Mar 12, 2018 by Martin Armstrong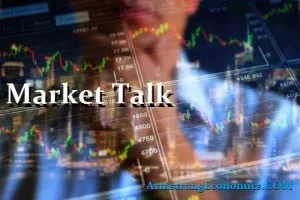 Having seen a record set for the NASDAQ and strong recovery in other core US markets, Asia opened the week on a positive note. The Hang Seng set the pace with an impressive +1.95% return with good performances from across the plain. We saw Energy, construction, banks and autos all helping to inspire confidence in todays rally. The core Shanghai index was also better on the day (+0.6%) but seems to pale into insignificance when measured against 1%+ peripherals. These were impressive returns when considering one of the top stories overnight was that Chinese bank are rumoured to be the most vulnerable should the global economy slow. Tokyo set another strong day closing up 1.7% even after rumours of a government department scandal. Healthy rally in India too with the SENSEX registering its largest one day gain since last summer (1.85%).
Initially, Europe performed and then seemed to hit a wall when the lack of follow-though tempered prices. The DAX performed the better of the core, managing to remain in positive ground for the day. An overhaul in the German utilities sector helped spur the DAX performance. The same can not be said for the CAC or the UK's FTSE. FTSE even closed down on the day -0.15%. Now with the jobs data out of the way, the focus turns to the inflation number tomorrow, but keep an eye on headlines as the US steel and aluminium tariffs will remain in the news for a while yet.
US had an interesting day with a battle between the large cap DOW and the large tech NASDAQ with the S+P struggling in between. The DOW appears to be focusing on tariffs while tech and the broad indices concentrate on growth and domestic enthusiasm. Trade and protectionism is still a hot topic, but soon the capital flow will follow the monetary policy division. BITCOIN continues to be friendless after the recent US claim it is a commodity and not a currency. The energy sector was heavy falling over 1% again today on concerns oil-sands expansion and rig count release.
Japan 0.05%, US 2's closed 2.26% (-1bp), 10's 2.86% (-4bp), 30's 3.12% (-4bp), Bunds 0.63% (-2bp), France 0.87% (-2bp), Italy 1.99% (-1bp), Greece 4.12% (-2bp), Turkey 12.24% (+22bp), Portugal 1.80% (-4bp), Spain 1.38% (-4bp), Gilts 1.49% (-1bp).