Blog/Market Talk
Posted Mar 11, 2021 by Martin Armstrong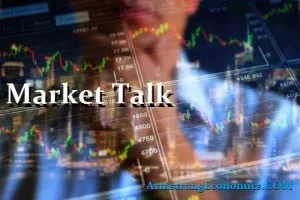 ASIA:
China's parliament on Thursday overwhelmingly endorsed a proposal on "improving the electoral system" of Hong Kong, further restricting the ability of people in the city to elect their leaders freely. Members of the National People's Congress in Beijing voted 2,895 in favor of the proposal, with no votes against and one abstention. The decision includes a plan to alter the size and composition of the city's legislature, increasing the number of seats from 70 to 90, therefore reducing the overall percentage of democratically elected officials.
India's economy should come roaring back to life in 2021 after a recession-induced by COVID-19 and allow the country to reclaim its status as the fastest-growing major economy if the OECD projection of 12.6 percent expansion in GDP is realized, according to a report published by CNN Business It said India's GDP is projected to expand by 12.6 percent during the country's fiscal year starting in April, according to a forecast released Tuesday by the Organization for Economic Cooperation and Development.
The major Asian stock markets had a mixed day today:
NIKKEI 225 increased 175.08 points or 0.60% to 29,211.64
Shanghai increased 79.09 points or 2.36% to 3,436.83
Hang Seng increased 478.09 points or 1.65% to 29,385.61
ASX 200 decreased 0.20 points or -0.00% to 6,713.90
Kospi increased 55.58 points or 1.88% to 3,013.70
SENSEX closed
Nifty50 closed
The major Asian currency markets had a mixed day today:
AUDUSD increased 0.00385 or 0.50% to 0.77731
NZDUSD increased 0.00257 or 0.36% to 0.72160
USDJPY increased 0.04 or 0.03% to 108.47
USDCNY decreased 0.01411 or -0.22% to 6.48511
Precious Metals:
Gold increased 1.17 USD/t oz. or 0.07% to 1,727.22
Silver increased 0.03 USD/t. oz or 0.10% to 26.190
Some economic news from last night:
Japan:
Foreign Bonds Buying increased from -1,719.6B to 98.9B
Foreign Investments in Japanese Stocks increased from -453.8B to -136.9B
PPI (MoM) (Feb) decreased from 0.5% to 0.4%
PPI (YoY) (Feb) increased from -1.5% to -0.7%
Australia:
MI Inflation Expectations increased from 3.7% to 4.1%
New Zealand:
FPI (MoM) (Feb) decreased from 1.3% to -0.9%
EUROPE/EMEA:
Britain's economy will return to its pre-COVID-19 level within two years, according to a majority of economists polled by Reuters who said unemployment would peak at 6.5% towards the end of this year. Twenty-two of 31 economists who answered an additional question in the March 5-10 poll said GDP would be at its pre-COVID-19 size within two years, including five who said within a year. The other nine said it would take longer. Sunak said the economy would have recovered by mid-2022, six months earlier than previously forecast.
The major Europe stock markets had a green day:
CAC 40 increased 43.21 points or 0.72% to 6,033.76
FTSE 100 increased 11.36 points or 0.17% to 6,736.96
DAX 30 increased 29.14 points or 0.20% to 14,569.39
The major Europe currency markets had a mixed day today:
EURUSD increased 0.00626 or 0.52% to 1.19866
GBPUSD increased 0.00531 or 0.38% to 1.39842
USDCHF decreased 0.00586 or -0.63% to 0.92393
Some economic news from Europe today:
Germany:
Germany Thomson Reuters IPSOS PCSI (Mar) increased from 51.31 to 52.83
France:
France Thomson Reuters IPSOS PCSI (Mar) increased from 39.75 to 41.79
Italy:
Italy Thomson Reuters IPSOS PCSI (Mar) increased from 38.52 to 38.65
UK:
Thomson Reuters IPSOS PCSI (Mar) increased from 45.9 to 52.7
RICS House Price Balance (Feb) increased from 49% to 52%
Euro Zone:
Deposit Facility Rate (Mar) remain the same at -0.50%
ECB Marginal Lending Facility remain the same at 0.25%
ECB Interest Rate Decision (Mar) remain the same at 0.00%
US/AMERICAS:
Today marks one year since the World Health Organization declared the coronavirus a global pandemic. In the US alone, there have been over 29 million cases and over 500,000 deaths. So far, 30 million Americans have been vaccinated against the virus, and there are plans to ramp up the vaccine rollout to more of the population. The economy, employment, and inflation have suffered since the pandemic began, and despite optimistic forecasts, it will take time for the global economy to recover fully.
President Joe Biden signed the $1.9 trillion coronavirus stimulus package this afternoon. The move comes just before the additional unemployment aid was set to expire on March 14. Those who qualify will now receive an additional $300 per week with their unemployment checks. $20 billion of the fund will go directly to coronavirus vaccinations, which is a main priority for the White House. An additional $25 billion will go to rental and utility assistance, while $350 billion will go to small government relief. The bill also includes the much-anticipated stimulus checks, as those earning under $75,000 will qualify for the $1,400 check.
Mexico's Chamber of Deputies voted 316-to-129 to approve the sale of recreational marijuana. President Andrés Manuel López Obrador has stated that he would also sign off on approving the measure.  In addition to curbing cartel violence and illegal smuggling, the approved bill could place Mexico as the world's leader in marijuana manufacturing based on its population of 120 million. So far, Mexico has joined Canada and Uruguay in legalizing recreational marijuana at the federal level in North America. US Democrats are also proposing a bill to legalize the plant at the federal level, as all 15 individual states who have done so have experienced an economic surplus.
US Market Closings:
Dow advanced 188.57 points or 0.58% to 32,485.59
S&P 500 advanced 40.53 points or 1.04% to 3,939.34
Nasdaq advanced 329.84 points or 2.52% to 13,398.67
Russell 2000 advanced 52.86 points or 2.31% to 2,338.54
Canada Market Closings:
TSX Composite advanced 154.57 points or 0.83% to 18,844.57
TSX 60 advanced 7.84 points or 0.7% to 1,121.45
Brazil Market Closing:
Bovespa advanced 2,207.27 points or 1.96% to 114,983.76
ENERGY:
The oil markets had a mixed day today:
Crude Oil increased 1.47 USD/BBL or 2.28% to 65.9100
Brent increased 1.65 USD/BBL or 2.43% to 69.5500
Natural gas decreased 0.026 USD/MMBtu or -0.97% to 2.6660
Gasoline increased 0.06 USD/GAL or 2.89% to 2.1395
Heating oil increased 0.0355 USD/GAL or 1.85% to 1.9528
Top commodity gainers: Cotton (3.66%), Tin (3.63%), Lean Hogs (2.90%) and Lithium (20.57%)
Top commodity losers: Wheat (-2.57%), Orange Juice (-1.33%), Natural Gas (-0.97%), and Oat (-3.21%)
The above data was collected around 13:26 EST on Thursday.
BONDS:
Japan 0.11%(-1bp), US 2's 0.00%(-0.01%), US 10's 1.52%(+0bps); US 30's 2.00%(+0.04%), Bunds -0.36% (-2bp), France -0.07% (-1bp), Italy 0.61% (-7bp), Turkey 13.49% (-2bp), Greece 0.78% (-6bp), Portugal 0.18% (-7bp); Spain 0.31% (-5bp) and UK Gilts 0.73% (+2bp).
US 4-Week Bill Auction remain the same at 0.030%
US 8-Week Bill Auction remian the same at 0.035%
US 30-Year Bond Auction increased from 1.933% to 2.295%
Italian 3-Year BTP Auction increased from -0.33% to -0.22%
Italian 7-Year BTP Auction increased from 0.18% to 0.31%