Blog/Market Talk
Posted Mar 11, 2020 by Martin Armstrong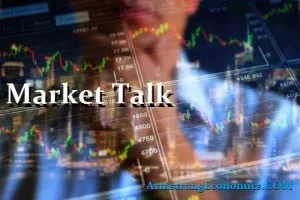 ASIA:
On Tuesday, India suspended issuing visas to citizens of France, Spain, and Germany until further notice. Such restrictions were already in place for citizens of China, Italy, Iran, Japan, and South Korea – the five countries worst hit by the outbreak of the virus. India has also closed a border with neighboring Myanmar to counter the coronavirus outbreak, as countries across South Asia reported a rise in cases on Wednesday.
A fall in global crude oil prices will likely reduce the oil import bill for the Indian government and may reduce inflationary pressures as the coronavirus outbreak hits economic activity. This could result to ease the tax rate cut for India's central bank in its next monetary policy meeting scheduled for the end of this month.
In its next effort to encourage more American manufacturing of pharmaceuticals and reduce dependence on China for the drugs and medical products, White House trade adviser Peter Navarro tightened "Buy American" laws so federal agencies are required to purchase American-made pharmaceuticals and medical equipment, according to sources with knowledge of the plans. The administration has been preparing an executive order, which could be released in the coming days, that would close loopholes allowing the government to purchase pharmaceuticals, face masks, ventilators, and other medical products from foreign countries.
As per Chief Investment Officer of UBS Global Wealth Management's Kelvin Tay, China appears to have "passed its worst." Tay said, citing a decline in the number of reported infections in the country. The Chinese economy could be the first in the world to get back on track as production activity has started coming back to the Chinese economy.
The major Asian stock markets had a mixed day today:
NIKKEI 225 decreased 451.06 points or -2.27% to 19,416.06
Shanghai decreased 28.24 points or -0.94% to 2,968.52
Hang Seng decreased 160.90 points or -0.63% to 25,231.61
ASX 200 decreased 213.70 points or -3.60% to 5,725.90
Kospi decreased 54.66 points or -2.78% to 1,908.27
SENSEX increased 62.45 points or 0.18% to 35,697.40
The major Asian currency markets had a mixed day today:
AUDUSD increased 0.0021 or 0.32% to 0.6513
NZDUSD increased 0.0036 or 0.58% to 0.6298
USDJPY decreased 0.1540 or 0.15% to 104.8740
USDCNY increased 0.0080 or 0.11% to 6.9656
Precious Metals:
Gold decreased 6.7 USD/t oz. or -0.41% to 1,645.75
Silver decreased 0.142 USD/t. oz or -0.84% to 16.8240
Some economic news from last night:
Australia:
Westpac Consumer Sentiment (Mar) decreased from 2.3% to -3.8%
Home Loans (MoM) decreased from 3.5% to 3.1%
Invest Housing Finance (MoM) increased from 2.8% to 3.6%
New Zealand:
Electronic Card Retail Sales (YoY) (Feb) increased from 4.2% to 8.6%
Electronic Card Retail Sales (MoM) (Feb) increased from -0.2% to 0.6%
South Korea:
Unemployment Rate (Feb) decreased from 4.0% to 3.3%
Some economic news from today:
China:
Chinese Total Social Financing decreased from 5,070.0B to 855.0B
M2 Money Stock (YoY) (Feb) increased from 8.4% to 8.8%
New Loans (Feb) decreased from 3,340.0B to 905.7B
Outstanding Loan Growth (YoY) (Feb) remain the same at 12.1%
EUROPE/EMEA:
European markets headed lower today after some postive moves early in the day.
The UK cut rates to tackle the coronavirus to a record low after an emergency meeting. Later in the day, the UK Chancellor Rishi Sunak announced plans to bolster the economy by pumping 30 billion pounds; 12 billion of which will be for coronavirus measures, 5 billion for the national health service and 7 billion for businesses and workers across the UK.
A UK junior health minister tested positive for the coronavirus last Friday, leading to calls to shut down the Parliament.
Italy has faced their first day of lockdown, with the 8th largest economy in the world essentially becoming a ghost town. The measures were to close schools, movie theatres, and limits on open hours for restaurants and shops. Within the last 24 hours, 196 people in Italy have died from the virus.
The WHO official classified the coronavirus as a global pandemic after its 13 fold increase in the past two weeks. Angela Merkle of Germany has warned her citizens that up to 70% of the population could be infected with the virus.
The Ministry of Health and Prevention on Tuesday announced 15 new cases of coronavirus in the UAE, taking the total tally of infections to 74. The new cases include three Italians, two Emiratis, two Sri Lankan, two Brits, two Indians, one German, one South African, one from Tanzania, and one from Iran. There have been a total of 17 recoveries as of March 10.
The major Europe stock markets had a negative day today:
CAC 40 decreased 26.36 points or -0.57% to 4,610.25
FTSE 100 decreased 83.71 points, or -1.40% to 5,876.52
DAX 30 decreased 36.81 points or -0.35% to 10,438.68
The major Europe currency markets had a mixed day today:
EURUSD decreased 0.00298 or -0.26% to 1.12792
GBPUSD decreased 0.00441 or -0.34% to 1.28609
USDCHF increased 0.0021 or 0.22% to 0.9393
Some economic news from Europe today:
UK:
BoE QE Total (Jan) remain the same at 435B
BoE Interest Rate Decision (Mar) decreased from 0.75% to 0.25%
U.K. Construction Output (YoY) (Jan) decreased from 5.0% to 1.6%
Construction Output (MoM) (Jan) decreased from 0.4% to -0.8%
GDP (YoY) decreased from 1.2% to 0.6%
GDP (MoM) decreased from 0.3% to 0.0%
Index of Services decreased from 0.1% to 0.0%
Industrial Production (YoY) (Jan) decreased from -1.8% to -2.9%
Industrial Production (MoM) (Jan) decreased from 0.1% to -0.1%
Manufacturing Production (YoY) (Jan) decreased from -2.5% to -3.6%
Manufacturing Production (MoM) (Jan) decreased from 0.3% to 0.2%
Monthly GDP 3M/3M Change remain the same at 0.0%
Trade Balance (Jan) decreased from -1.42B to -3.72B
Trade Balance Non-EU (Jan) decreased from 4.30B to 2.23B
Spain:
Spanish Retail Sales (YoY) (Jan) decreased from 1.8% to 1.7%
Italy:
Italian PPI (MoM) (Jan) increased from -0.5% to -0.2%
Italian PPI (YoY) (Jan) decreased from 4.1% to -2.3%
US/AMERICAS:
The World Health Organization (WHO) officially declared the coronavirus a pandemic this Wednesday. The virus has already spead to 114 countries and claimed 4,000 lives. Eight of the 114 countries have over 1,000 cases of the coronavirus or COVID-19. WHO Director-General Tedros Adhanom Ghebreyesus said that the organization is "deeply concerned, both by the alarming levels of spead and severity and by the alarming levels of inaction." The WHO maintains that the majority of people who become infected will recover and may only experience mild symptoms.
Consumer prices in the US increased in February, according to data released by the Labor Department this Wednesday. The Consumer Price Index (CPI) rose 0.1% last month and 2.3% on a YoY basis. The price increase is largely attributed to increased food prices which offset the decline in the gasoline.
The data is increasingly pointing to Joe Biden becoming the Democratic presidential nominee over rival Bernie Sanders. On Tuesday, Biden declared victory in Idaho, Michigan, Missouri, and Mississippi. Sanders came out this Wednesday and insisted that he will continue his campaign. Additionally, Sanders believes he won the "ideological debate" amongst Democratic voters, but he is simple losing in the polls because the people believe Biden has a better chance at beating the standing president. "I cannot tell you how many people our campaign has spoke to and said, and I quote, 'I like what your campaign stands for, I agree with what your campaign stands for, but I'm going to vote for Joe Biden because I think Joe is the best candidate to defeat Donald Trump,'" Sanders stated.
US Market Closings:
Dow declined 1,464.94 points or -5.86% to 25,553.22
S&P 500 declined 140.85 points or -4.89% to 2,741.38
Nasdaq declined 392.2 points or -4.7% to 7,952.05
Russell 2000 declined 86.6 points or -6.41% to 1,264.30
Canada Market Closings:
TSX Composite declined 688 points or -4.6% to 14,270.09
TSX 60 declined 38.95 points or -4.36% to 854.67
Brazil Market Closing:
Bovespa declined 7,043.34 points or -7.64% to 85,171.13
ENERGY:
Crude slid again today, albeit not quite like last week, after OPEC+ failed to agree on production cuts. Today, the Saudi Aramco CEO formally asked the Saudi Energy Minister to increase production by 1 million barrels per day to 12 million barrels per day.
The oil markets had a mixed day today:
Crude Oil decreased 1.5 USD/BBL or -4.31% to 33.2800
Brent decreased 1.76 USD/BBL or -4.65% to 36.0500
Natural gas increased 0.008 USD/MMBtu or 0.39% to 2.0570
Gasoline decreased 0.0353 USD/GAL or -3.04% to 1.1250
Heating oil increased 0.005 USD/GAL or 0.40% to 1.2480
Top commodity gainers: Rice (1.36%), Steel (0.46%), Platinum (0.43%), and Heating Oil (0.40%)
Top commodity losers: Brent (-4.65%), Orange Juice (-5.89%), Bitumen (-7.06%), and Palladium (-5.01%)
The above data was collected around 13.32 EST on Wednesday.
BONDS:
Japan -0.04%(+11bp), US 2's 0.47% (-6bps), US 10's 0.80%(+0bps); US 30's 1.22%(-9bps), Bunds -0.80% (+4bp), France -0.30% (+8bp), Italy 1.19% (-19bp), Turkey 11.43% (-48bp), Greece 1.58% (-7bp), Portugal 0.38% (-2bp); Spain 0.26% (-9bp) and UK Gilts 0.28% (+3bp).
US 10-Year Note Auction decreased from 1.622% to 0.849%
Italian 12-Month BOT Auction incrased from -0.319% to 0.072%
German 10-Year Bund Auction decreased from -0.380% to -0.770%