Blog/Market Talk
Posted Mar 11, 2019 by marty armstrong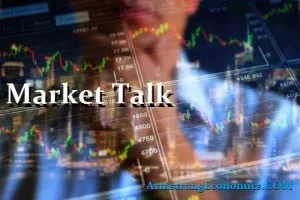 Asia:
A mixed day for the major Asian stock markets; Shanghai led the way after adding 57.13 points (+1.92%, 3027 close), followed by SENSEX (+382.67 points, +1.04%, 37,054 close). Hang Seng and NIKKEI 225 increased 274.88 points (+0.97%, 28,503 close) and 103.16 points (+0.49%, 21,122 close) respectfully.
HOSPI and ASX200 took the opposite route, losing 0.38 points (-0.02%, 2,137 close) and 16.83 points (-0.27%, 6,186 close).
A green day for the Asian currency markets: The AUDUSD increased 0.0012 or 0.17% to 0.7057; the NZDUSD increased 0.0027 or 0.40% to 0.6829; the USDJPY increased 0.0720 or 0.06% to 111.2220; and the USDCNY increased 0.0034 or 0.05% to 6.7321.
Gold and silver declined this Monday after decreasing 6.21 USD/t oz. or 0.48% to 1,290.97 and 0.03 USD/t. oz or 0.17% to 15.26 respectfully.
Some economic news from Asia and Pacific area:
China's New Loans (Feb) had a sharp decreasing from 3,230.0B to 885.8B. China's M2 Money Stock (YoY) (Feb) decreased from 8.4% to 8.0%. China's Outstanding Loan Growth (YoY) (Feb) remain the same at 13.4%
Japan's M2 Money Stock (YoY) increased from 2.3% to 2.4%. Japan's Machine Tool Orders (YoY) decreased from -18.8% to 29.3%
Singapore Unemployment Rate (Q4) had no change at 2.2%
New Zealand-Electronic Card Retail Sales (MoM) (Feb) decreased from 1.8% to 0.9%
Europe:
Major European markets closed in the green on Monday. The FTSE 100 increased 26 points or 0.4% to 7,131; the DAX 30 gained 86 points or 0.8% to 11,543; and the CAC 40 advanced 35 points or 0.7% to 5,266.
European currency markets also traded in positive territory. The USDCHF increased 0.0031 or 0.31% to 1.0109; the EURUSD and the GBPUSD increased 0.0004 or 0.03% to 1.1242 and 0.01163 or 0.89% to 1.3131 respectfully.
Some economic news from Europe:
Germany's Industrial Production (MoM) (Jan) dropped from 0.8% to -0.8%
Germany's Trade Balance (Jan) slipped from 19.9B to 18.5B
Germany's Exports (MoM) (Jan) decreased from 1.5% to 0.0%
Germany's Imports (MoM) (Jan) increased from 0.7% to 1.5%
Spanish Retail Sales (YoY) (Jan) increased from 0.6% to 0.8%
Norway's PPI (YoY) (Feb) increased from 4.9% to 8.0%
Norway's CPI (MoM) (Feb)increased from -0.5% to 0.8%
Norway- Core CPI YTD (Feb) increased from 2.1% to 2.6%
Norway's  CPI (YoY) (Feb) decreased from 3.1% to 3.0%
U.S./Americas:
Wall Street recovered from its five-day losing streak this Monday after all major U.S. indexes closed in positive territory. The Dow rose by over 200 points (+0.79%, 25650.88 close), the Nasdaq rose by 149.92 points (+2.02%, 7558.06 close), the S&P 500 rose by over 40 points (+1.47%, 2783.30 close), and the Russell 2000 rose by over 26 points (+1.77%, 1548.88 close).
This, despite Boeing being an early drag on the Dow after a fatal crash took place this Sunday that claimed the lives of 157 passengers. The aircraft manufacturing company's stock fell double-digit percent in early morning trading, but was able to bounce back to close down only 5.33%.
But some of the high visible tech stocks helped drive the positive momentum,  social media platforms were on the rise this Monday: NVIDIA rose +6.97% following its announced intentions to acquire Mellanox Technologies for approximately $7 billion in cash, while AMD (+4.32%), Apple (+3.46%), Snapchat (+5.06%), Alphabet (+2.55%), Netflix (+2.65%), Tesla (+2.39%), Microsoft (+2.10%), Twitter (+2.76%), Intel (+1.66%), and Facebook (+1.46%) all had strong days to start the week.
Federal Reserve Chairman Jerome Powell told reporters on Sunday that "there's no reason why this economy cannot continue to expand." He hinted at continuing the rate normalization policy set in place by former Fed Chairman Janet Yellen. President Trump previously voiced concerns over rate increases, believing that they could seriously damage economic growth. Powell reiterated that the Federal Reserve would continue to act independently of the current government administration.
Retail sales rose 0.2% in January according to a report released by the Commerce Department this Monday. Analysts anticipated growth to remain stagnant after retail sales drastically declined in December by -1.6%.
The USD Index remained relatively unchanged (97.18 last reading). The USD/CAD also remained stable (1.34 last reading).
Canada's TSX Composite increased by over 110 points this Monday (+0.69%, 16106.24 close) while the TSX 60 showed similar positive movement (+0.65%, 960.45 close).
Brazil's Bovespa finally showed some life, closing up +2.79% on Monday (closing at 98026.62).
Energy:
A mixed day for energy markets: Crude increased 0.72 USD/BBL or 1.28% to 56.67, while Brent increased 0.84 USD/BBL or 1.28% to 66.62. Gasoline increased 0.02 USD/GAL or 1.35% to 1.82. Natural gas and heating oil took the opposite route, decreasing 0.09 USD/MMBtu or 3.07% to 2.78 and 0.01 USD/GAL or 0.33% to 1.99.
Top commodity losers (last read 9:38 am EST time) were natural gas (-2.90%), wheat (-1.91%), and coffee (-1.84%). Gains were led by gasoline (+1.79%), Brent (+1.29%) and Crude Oil (+1.28%).
Bonds:
Japan -0.03%(+0bp), US 2's 2.48% (+2bps), US 10's 2.64%(+2bps), US 30's 3.03%(+2bps), Bunds 0.07% (-1bp), France 0.47% (+6bp), Italy 2.57% (+6bp), Turkey 14.95% (-13bp), Greece 3.95% (+16bp), Portugal 1.31% (-4bp), Spain 1.16% (+10bp) and UK Gilts 1.18% (-1bp)
French 3-month BTF Auction slipped from -0.534% to -0.535%; 6-month and 12-month BTF Auction decreased from -0.530% to -0.540% and -0.510% to -0.520% respectfully.
US 3-month and 6-month Bill Auction decreased from 2.410% to 2.405% and 2.460% to 2.455%.
US 3-year Note Auction decreased from 2.502% to 2.448%