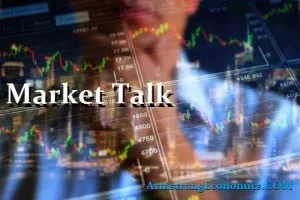 ASIA:
China's new five-year plan, made public on Friday, called tech development a matter of national security, not just economic development, in a break from the previous plan. China is freeing up tens of billions of dollars for its tech industry to borrow. It is cataloging the sectors where the United States or others could cut off access to crucial technologies. The plan pledged to increase spending on research and development by 7 percent annually, including the public and private sectors. That figure was higher than budget increases for China's military, which is slated to grow 6.8 percent next year, raising the prospect of an era of looming Cold War-like competition with the United States.
India has asked state refiners to speed up the diversification of oil imports to gradually cut their dependence on the Middle East after OPEC+ decided last week to largely continue production cuts in April, Reuters reported. India, the world's third-biggest oil importer and consumer, imports about 84% of its overall crude needs with over 60% of that coming from Middle Eastern countries, which are typically cheaper than those from the West. India, hit hard by the soaring oil prices, has urged producers to ease output cuts and help the global economic recovery. In response, the Saudi energy minister told India to dip into strategic reserves filled with cheaper oil bought last year. Most of the OPEC+ producers, led by the world's top exporter Saudi Arabia, last week decided to extend most output curbs into April.
The major Asian stock markets had a mixed day today:
NIKKEI 225 increased 8.62 points or 0.03% to 29,036.56
Shanghai decreased 1.55 points or -0.05% to 3,357.74
Hang Seng increased 134.29 points or 0.47% to 28,907.52
ASX 200 decreased 57.10 points or -0.84% to 6,714.10
Kospi decreased 18.00 points or -0.60% to 2,958.12
SENSEX increased 254.03 points or 0.50% to 51,279.51
Nifty50 increased 76.40 points or 0.51% to 15,174.80
The major Asian currency markets had a mixed day today:
AUDUSD increased 0.00003 or 0.00% to 0.77177
NZDUSD decreased 0.00071 or -0.10% to 0.71744
USDJPY decreased 0.08 or -0.07% to 108.55
USDCNY decreased 0.01491 or -0.23% to 6.50263
Precious Metals:
Gold increased 3.12 USD/t oz. or 0.18% to 1,718.48
Silver increased 0.107 USD/t. oz or 0.41% to 26.007
Some economic news from last night:
China:
CPI (MoM) (Feb) decreased from 1.0% to 0.6%
CPI (YoY) (Feb) increased from -0.3% to -0.2%
PPI (YoY) (Feb) increased from 0.3% to 1.7%
Australia:
Westpac Consumer Sentiment (Mar) increased from 1.9% to 2.6%
Building Approvals (MoM) decreased from 10.9% to -19.4%
New Zealand:
Electronic Card Retail Sales (YoY) (Feb) decreased from 1.9% to -5.3%
Electronic Card Retail Sales (MoM) (Feb) decreaed from -0.3% to -2.5%
Some economic news from today:
China:
M2 Money Stock (YoY) (Feb) increased from 9.4% to 10.1%
New Loans (Feb) decreased from 3,580.0B to 1,360.0B
Outstanding Loan Growth (YoY) (Feb) increased from 12.7% to 12.9%
Chinese Total Social Financing (Feb) decreased from 5,170.0B to 1,710.0B
India:
M3 Money Supply increased from 12.6% to 12.8%
EUROPE/EMEA:
EU member countries on Tuesday backed the European Commission's proposal to take legal action against the UK over its decision to extend the grace periods for Irish Sea border checks unilaterally, diplomats said. The support from national capitals comes as some EU diplomats raise the prospect of more far-reaching retaliation in financial services in reaction to the British actions, which the EU says are violating international law. The British financial services industry has been awaiting a host of so-called "equivalence" decisions, not included in the Brexit trade deal, that will determine the ease with which it can access EU markets now that Britain has left the bloc's single market.
A number of economists have noted that Denmark is faring worse economically during the crisis than Norway, Sweden, and Finland, in part because its restrictions have been tighter, financial media Finans reported. Denmark's GDP increased by 0.6 percent in the fourth quarter of 2020, giving an overall reduction to the economy of 3.7 percent last year compared to 2019, according to preliminary figures from Statistics Denmark. That is a bigger hit to the economy than those suffered in any of the other three Nordic countries on the European mainland, Finans writes, noting that in Norway and Finland GDP expressed as prices decreased by 1.5 percent in 2020, while for Sweden, that number was 2.5 percent. All four countries have spent significantly on compensation and furlough packages, but Denmark was the only country to pump money directly into its economy.
The major Europe stock markets had a mixed day:
CAC 40 increased 65.58 points or 1.11% to 5,990.55
FTSE 100 decreased 4.74 points or -0.07% to 6,725.60
DAX 30 increased 102.31 points or 0.71% to 14,540.25
The major Europe currency markets had a green day today:
EURUSD increased 0.0007 or 0.06% to 1.19038
GBPUSD increased 0.001 or 0.07% to 1.38970
USDCHF increased 0.00308 or 0.33% to 0.93128
Some economic news from Europe today:
France:
French Industrial Production (MoM) (Jan) increased from -0.7% to 3.3%
Italy:
Italian PPI (MoM) (Jan) increased from 0.5% to 1.4%
Italian PPI (YoY) (Jan) increased from -1.8% to -0.3%
Norway:
Core CPI YTD (Feb) remain the same at 2.7%
Core Inflation (MoM) (Feb) increased from 0.1% to 0.4%
CPI (MoM) (Feb) decreased from 1.1% to 0.7%
CPI (YoY) (Feb) increased from 2.5% to 3.3%
PPI (YoY) (Feb) increased from 0.6% to 9.7%
US/AMERICAS:
The Dow closed at an all-time high this Wednesday after advancing over 460 points to 32,297.02. Boeing's rebound led the index's historical day after advancing 6.22%. Walgreens aided the rise after advancing 4.25%, followed by Goldman Sachs (3.44%), Dow (2.89%), and IBM (2.82%).
After being accused of "free-riding" under the Trump administration, South Korea has offered to increase contributions for US military protection. Around 28,500 troops remain in South Korea, according to Reuters, and former President Trump had requested up to $5 billion annually for this service. South Korea will provide the US with $1.03 billion in 2021, after both countries agreed to freeze payments in 2020. "The agreement resolved the longest-ever vacuum that had lasted about a year and three months," South Korea's chief negotiator, Jeong Eun-bo stated.
Consumer goods in the US spiked to a six-month high last month after the consumer price index rose 0.4%. Inflation now stands at 1.7%, still beneath the central bank's target of 2%. Gas prices increased dramatically by 6.4% in February largely due to a production slowdown last year. The price of groceries has grown 3.5% YoY, rising 0.2% last month alone. Analysts anticipate inflation will temporarily spike once the economy fully reopens but expects inflation to drop back down after the initial shock.
The Bank of Canada announced today that no changes will be made to interest rates or its asset purchasing program. Governor Tiff Macklem said rates will remain around a historic low of 0.25% until conditions improve, which may not occur until 2023, according to the central bank's January forecast. However, the central bank said that they are more optimistic about the economic outlook than they were in January as vaccinations pick up the pace. The Bank of Canada will also continually buy government bonds at the cost of C$4 billion per week until the recovery is well underway.
US Market Closings:
Dow advanced 464.28 points or 1.46% to 32,297.02
S&P 500 advanced 23.37 points or 0.6% to 3,898.81
Nasdaq declined 4.99 points or -0.04% to 13,068.83
Russell 2000 advanced 40.62 points or 1.81% to 2,285.68
Canada Market Closings:
TSX Composite advanced 90.81 points or 0.49% to 18,690.00
TSX 60 advanced 5.79 points or 0.52% to 1,113.61
Brazil Market Closing:
Bovespa advanced 1,445.87 points or 1.3% to 112,776.49
ENERGY:
The oil markets had a mixed day today:
Crude Oil decreased 0.37 USD/BBL or -0.58% to 63.6400
Brent decreased 0.34 USD/BBL or -0.50% to 67.1800
Natural gas increased 0.01 USD/MMBtu or 0.38% to 2.6720
Gasoline increased 0.0048 USD/GAL or 0.23% to 2.0550
Heating oil decreased 0.0107 USD/GAL or -0.56% to 1.8966
Top commodity gainers: Platinum (2.48%), Palm Oil (1.53%), Cotton (3.66%) and Coal (1.04%)
Top commodity losers: Corn (-2.58%), Bitumen (-5.48%), Oat (-5.14%), and Wheat (-1.50%)
The above data was collected around  12:43 EST on Wednesday.
BONDS:
Japan 0.13%(-0bp), US 2's 0.16%(-0.010%), US 10's 1.52%(-2bps); US 30's 2.26%(-0.004%), Bunds -0.31% (+2bp), France -0.06% (+0bp), Italy 0.67% (-3bp), Turkey 13.57% (+0bp), Greece 0.84% (-6bp), Portugal 0.26% (-1bp); Spain 0.37% (-0bp) and UK Gilts 0.71% (-2bp).
German 5-Year Bobl Auction increased from -0.690% to -0.620%
Italian 12-Month BOTAuction increased from -0.454% to -0.421%
US 10-Year Note Auction increased from 1.155% to 1.523%