Blog/Market Talk
Posted Mar 10, 2020 by Martin Armstrong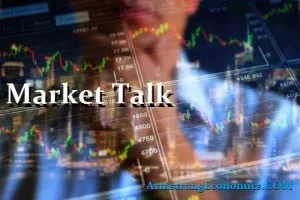 ASIA:
The yield on the Indian government's 10-year bond slumped nearly 11 basis points on Monday when it hit an over 11-year low as a decline in global crude oil prices eased concerns over inflation and fiscal deficit. Rising expectations of a rate cut by the Reserve Bank of India (RBI) following a rout in global equity markets because of escalating cases of COVID-19, or novel coronavirus, also kept bond yields under pressure. The 10-year bond yield hit 6.076% — a level last seen on March 3, 2009. On Friday, the yield was at 6.183% at close.
According to IMF, the economic impact of COVID-19 could easily plunge the global economy into one. If this happens, this may lead to a China-centric global recession in how it started, how it would progress, and how it may end.
Chinese agriculture-based industries have seen a rise in the demands for drones amid coronavirus outbreak. A major agriculture drone maker based in the southern city of Guangzhou reported that they delivered 4000 units of their newly released agricultural drones in the first two months of 2020. Large farms, local government,s and agricultural product distributors are buying high-tech equipment as the spread of the coronavirus puts an impetus on reducing human contact.
The major Asian stock markets had a green day today:
NIKKEI 225 increased 168.36 points or 0.85% to 19,867.12
Shanghai increased 53.47 points or 1.82% to 2,996.76
Hang Seng increased 352.05 points or 1.41% to 25,392.51
ASX 200 increased 179.00 points or 3.11% to 5,939.60
Kospi increased 8.16 points or 0.42% to 1,962.93
SENSEX closed
The major Asian currency markets had a mixed day today:
AUDUSD decreased 0.0068 or -1.03% to 0.6527
NZDUSD decreased 0.0038 or -0.60% to 0.6304
USDJPY increased 0.9660 or 0.94% to 103.9270
USDCNY increased 0.0132 or 0.19% to 6.9624
Precious Metals:
Gold decreased 15.45 USD/t oz. or -0.93% to 1,651.15
Silver increased 0.0315 USD/t. oz or 0.19% to 16.9340
Some economic news from last night:
China:
CPI (MoM) (Feb) decreased from 1.4% to 0.8%
CPI (YoY) (Feb) decreased from 5.4% to 5.2%
PPI (YoY) (Feb) decreased from 0.1% to -0.4%
Japan:
M2 Money Stock (YoY) increased from 2.8% to 3.0%
M3 Money Supply (Feb) increased from 1,833.9T to 1,839.2T
Australia:
NAB Business Confidence (Feb) decreased from -1 to -4
NAB Business Survey (Feb) decreased from 2 to 0
New Zealand:
Manufacturing Sales Volume (QoQ) (Q4) increased from -0.3% to 2.7%
Indonesia:
Retail Sales (YoY) (Jan) increased from -0.5% to -0.3%
Some economic news from today:
Japan:
Machine Tool Orders (YoY) increased from -35.6% to -30.1%
EUROPE/EMEA:
England's deputy chief medical officer has predicted "thousands" of cases of coronavirus in Britain during an "epidemic peak." Boris Johnson insisted the government was making "extensive preparations" to step up the country's response to the disease. As of Tuesday, a total of 373 people in the UK have tested positive for coronavirus.
With markets predicting a German recession, clearly there are increased chances that the European Central Bank (ECB) would likely cut the key rate this week. At the time of writing, EUR/USD is bouncing off the session low of 1.1322 and trades at 1.1362, still down 0.72%
The major Europe stock markets had a negative day today:
CAC 40 decreased 71.29 points or -1.51% to 4,636.61
FTSE 100 decreased 5.54 points, or -0.09% to 5,960.23
DAX 30 decreased 149.53 points or -1.41% to 10,475.49
The major Europe currency markets had a mixed day today:
EURUSD decreased 0.01147 or -1.01% to 1.12923
GBPUSD decreased 0.0171 or -1.31% to 1.2910
USDCHF increased 0.0043 or 0.47% to 0.9320
Some economic news from Europe today:
UK:
BRC Retail Sales Monitor (YoY) (Feb) decreased from 0.0% to -0.4%
France:
French Non-Farm Payrolls (QoQ) (Q4) increased from 0.2% to 0.4%
French Industrial Production (MoM) (Jan) increased from -2.5% to 1.2%
Norway:
Core CPI YTD (Feb) decreased from 2.9% to 2.1%
Core Inflation (MoM) (Feb) increased from 0.4% to 0.5%
CPI (YoY) (Feb) decreased from 1.8% to 0.9%
CPI (MoM) (Feb) decreased from 0.0% to -0.1%
PPI (YoY) (Feb) decreased from -3.9% to -7.4%
Euro Zone:
Employment Change (YoY) (Q4) remain the same at 1.1%
Employment Change (QoQ) (Q4) increased from 0.2% to 0.3%
Employment Overall (Q4) increased from 160,584.6K to 160,746.3K
GDP (YoY) (Q4) decreased from 1.2% to 1.0%
GDP (QoQ) (Q4) decreased from 0.3% to 0.1%
Italy:
Italian Industrial Production (MoM) (Jan) increased from -2.6% to 3.7%
Italian Industrial Production (YoY) (Jan) increased from -4.4% to -0.1%
US/AMERICAS:
The US markets showed signs of recovery this Tuesday after the major indexes all advanced over 4.5%. The Dow regained 1,167.14 points and closed at 25,018.16. JPMorgan Chase recovered 7.77% this Tuesday, aiding the Dow upward, followed by improved performances from Home Depot (7.24%), Apple (7.20%), McDonald's (6.96%), and Microsoft (6.84%).
Washington is deliberating on a potential stimulus package to help those affected by the coronavirus fall out. President Trump proposed the idea of eliminating the payroll tax for both employers and employees throughout 2020. Secretary Mnuchin meet with Speaker Pelosi earlier in the day to discuss a solution. "There is a lot of interest on a bipartisan basis to get something done," Mnuchin told reporters after the meeting.
The Center for Disease Control (CDC) is warning Americans over 60 and those with chronic illnesses to stock up on supplies in the event of a quarantine. "It's fair to say that, as the trajectory of the outbreak continues, many people in the United States will at some point in time, either this year or next, be exposed to this virus and there's a good chance many will become sick," said Dr. Nancy Messonnier, director of the CDC's National Center for Immunization and Respiratory Diseases. The CDC is also advising high-risk individuals to avoid non-essential travel and highly populated areas.
There are widely conflicting reports about the severity of the coronavirus outbreak. Brazil's President Bolsonaro blamed the media for the hysteria which caused Brazilian markets to drop to their lowest level since 1998 on Monday. The president said the coronavirus is "not all the press makes it out to be." He also said that the sudden drop in oil prices is not a crisis, but a headline stating a 30% drop rather than a 30% rise makes for a better story.
US Market Closings:
Dow advanced 1,167.14 points or 4.89% to 25,018.16
S&P 500 advanced 135.67 points or 4.94% to 2,882.23
Nasdaq advanced 393.58 points or 4.95% to 8,344.25
Russell 2000 advanced 37.46 points or 2.85% to 1,350.90
Canada Market Closings:
TSX Composite advanced 443.85 points or 3.06% to 14,958.09
TSX 60 advanced 30.29 points or 3.51% to 893.62
Brazil Market Closing:
Bovespa advanced 6,147.27 points or 7.14% to 92,214.47
ENERGY:
Saudi Arabia, the world's top oil exporter, may raise its crude oil production significantly above 10 million barrels per day (bpd) in April after the collapse of the OPEC supply cut its agreement with Russia. State oil giant Aramco will boost its crude output after the current OPEC+ cut deal expires at the end of March, the sources said.
The oil markets had a mixed day today:
Crude Oil increased 4.34 USD/BBL or 14.37% to 34.5500
Brent increased 4.25 USD/BBL or 12.71% to 37.6900
Natural gas increased 0.12 USD/MMBtu or 6.22% to 2.0480
Gasoline decreased 0.0073 USD/GAL or -0.61% to 1.1797
Heating oil increased 0.0545 USD/GAL or 4.50% to 1.2662
Top commodity gainers: Natural Gas (6.22%), Crude Oil (14.37%), Brent (12.71%), and Heating Oil (4.50%)
Top commodity losers: Gold (-1.10%), Cocoa (-3.54%), Bitumen (-1.95%), and Palladium (-2.94%)
The above data was collected around 15.15  EST on Tuesday.
BONDS:
Japan -0.10%(-4bp), US 2's 0.46% (+5bps), US 10's 0.71%(+15bps); US 30's 1.09%(+6bps), Bunds -0.84% (-11bp), France -0.24% (-4bp), Italy 1.40% (-1bp), Turkey 11.43% (-48bp), Greece 1.65% (-24bp), Portugal 0.40% (+8bp); Spain 0.37% (+9bp) and UK Gilts 0.28% (+12bp).
US 3-Year Note Auction decreased from 1.394% to 0.563%
UK 10-Year Treasury Gilt Auction decreased from 0.512% to 0.307%
Spanish 3-Month Letras Auction increased from -0.503% to -0.462%