Blog/Market Talk
Posted Mar 1, 2019 by marty armstrong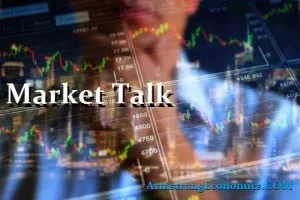 Asia:
Stocks were boosted amid renewed hopes that a US and China trade deal will finally be resolved in the coming weeks. Some analysts are pointing their fingers at President Trump, stating that the deal was meant to be helping Americans, instead it is seen to be bringing fear to many businesses worried about importing goods from China. However, the good news today caused most of the Major Asian stocks to rise. The NIKKEI225 added 217.53(1.02%) to 21,603; Shanghai Composite rose 51.36 points(1.75%) to 2992. Hang Seng and ASX200  rose 178.99(0.63%) to 28,812 and 23.70(0.36%) to 6,193 respectfully. KOSPI was closed today due to the public holiday in South Korea. The public holiday marked the 100th anniversary of independence ("Sam-il" Movement) from the Japanese state.
Asian currency markets were mixed today, The AUD decreased 0.0014 or 0.20% to 0.7080 and NZD decreased 0.0001 or 0.01% to 0.6806, The HKD decreased 0.0015 or 0.02% to 7.8483. The CNY and JPY however increased 0.0105 or 0.16% to 6.7133 and  0.5200 or 0.47% to 111.8900 respectfully.
As the Equity markets were buoyed, Gold and silver prices both declined again today, Gold decreased 11.36 USD/t oz. or 0.87% to 1,298.71 and Silver decreased 0.31 USD/t. oz or 1.98% to 15.32.
Economic news from Asia and the pacific area, Japanese Household Confidence (Feb) actual figure was 41.5, lower than the forecasted value of 41.6.
Indian, Nikkei Markit Manufacturing PMI Feb actual value was 54.3, higher than the forecast of 53.5, showing that the manufacturing index seems to be picking up. India also released their deposit numbers which increased 10.2% showing the saving rate of the country is increasing.
Australian Commodity Prices were at 9.1%, higher than the previous of 6.5%.
Europe:
Like Asia, the major European stocks had a good day, CAC 40 increased 25 points or 0.48% to 5264; FTSE 100 increased 27 points or 0.38% to 7106 and The DAX 30 gained 86 points or 0.8 percent to 11,602 on Friday.
The European currency markets had a mixed day:  The EUR and The CHF increased 0.0003 or 0.03% to 1.1373 and increased 0.0003 or 0.03% to 0.9984 respectfully. The GBP went in the opposite direction decreasing 0.0042 or 0.31% to 1.3220, albeit excusable after the recent good run of form.
The Brexit deal is still the big issue here in Europe. US outlined what the UK can expect for a trade deal with them, however they have warned against becoming too close to China. Britain has been making inroads with China recently, Huawei CEO stating they have a great relationship there. Ties between the UK and China have been positive with the UK looking to open up investments from China. When we look at the trade figures, half of UK trade is with the EU, 15% with the US and only 5% with China – representing a lot of room for potential growth with China.
More economic news from Europe today. Mainly the  European states' PMI numbers which show the Major European countries manufacturing index declining in the month of February but the Eurozone as a whole slightly increasing. Although it can be said the figures in general came in slightly higher than expectations.
UK Manufacturing PMI (Feb) was 52.0, meeting expectations, but lower than previous month (52.6).
Italy Manufacturing PMI (Feb) was 47.7, higher than expectations, but lower than previous month (47.8).
Spain Manufacturing PMI (Feb) was 49.9, lower than both forecast and previous month (52.4).
France Manufacturing PMI (Feb) was 51.5, higher than both forecast and previous month (51.4).
Some credit figures from the UK showed consumer credit rose in January, indicating that personal debt figures have increased in Britain lately.
Unemployment rates in France have risen slightly. Switzerland has seen unemployment rates drop to 2.5%.
U.S./ Americas:
Stocks rallied this Friday across the major U.S. indices. The Dow spiked over 200 points in early morning trading before closing the day up just over 110 points (+0.43%, 26026.32 close). The S&P 500 had an even strong day, reversing its three-day losing streak by closing up over 19 points and above the key 2800 level (+0.69%, 2803.69). The Nasdaq soared by an even higher percentage (+0.83%, 7595.35 close), while the Russell 2K had the strongest closing (+0.89%, 1589.64 close).
The ISM Manufacturing Index declined from 56.6 in January to 54.2 in February. This marks a low in U.S. manufacturing not seen since November 2016. Wall Street was seemingly undisturbed by this announcement.
Aiding the rise in the Nasdaq today, Amazon stocks soared by 2% after announcing plans to launch virtual grocery stores targeting a lower price point than its Whole Foods division.
To the north, Canadian economic growth slowed in the fourth quarter of 2018 after rising by a mere 0.4% compared to the 2% rise experienced in Q3.
The Trudeau administration agreed to extradite Huawei CFO Meng Wanzhou to the United States for allegedly defrauding several banks. Wanzhou is to appear in Canadian courts March 6 before her extradition. Huawei is currently the second largest smartphone maker in the world and one of China's largest companies. The result of the upcoming hearings may further complicate both Canadian and U.S. relations with China.
Despite disappointing growth data and geopolitical tensions, Canadian equities had a relatively strong day with the TSX Composite closing up +0.43% (16068.25 close) and the TSX 60 closing up +0.45% (958.23 close).
But this wasn't a clean sweep across the continent today – Brazil's Bovespa declined 1.03%, closing at 94603.75.
Energy:
Energy sector were mixed today: Prices dropped on the news that global demand for the energy was down around 3%. Crude oil and Heating oil which decreased 1.45 USD/BBL or 2.53% to 55.66 and 0.04 USD/GAL or 1.90% to 1.98 respectfully. Gains are led by Gasoline, which increased 0.09 USD/GAL or 5.45% to 1.72. followed by the Natural gas and Brent which increased 0.03 USD/MMBtu or 0.92% to 2.84 and 0.26 USD/BBL or 0.39% to 66.29 respectfully.
Top commodity losers were Crude oil (-2.48%); Lumber (-2.46%) and Silver (-2.32%).
Bonds:
Japan -0.01%(+1bp), US 2's 2.55% (+4bps), US 10's 2.75%(+3bps), US 30's 3.12%(+3bps), Bunds 0.18% (-0bp), France 0.58% (+0bp), Italy 2.75% (-1bp), Turkey 14.71% (+24bp), Greece 3.65% (-1bp), Portugal 1.49% (+2bp), Spain 1.22% (+3bp) and UK Gilts 1.30% (-1bp).