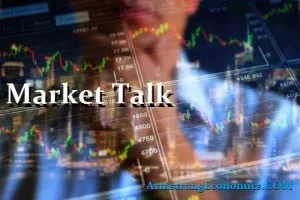 China appeared as the only bright spot in Asian markets this morning with Shanghai closing up +0.45% and the Hang Seng marginally better at +0.65%. Both indices toyed between both sides until the final hour then recovered at the close. Much of todays talk centred around the deleveraging that President Xi appears to be pushing through China's markets and there look to be responding. Financials and tech helped the rally. The Nikkei lost 1.6% as exporters and industrials all came under pressure. Interesting that the yen traded briefly into the 106's but then fell back in late European trading even as stocks were declining. February has not been a great month all around for stocks but looks as though March will turn its focus to FX fortunately for stocks! Oil looked to have stabilized in Asian trading but remains heavy probably because of the currency affect.
All core European indices have been under pressure today with CAC and FTSE both losing around 1%, but worse than that we saw the DAX decline 2%. Following weaker market trends and poor earnings have been two key determinates that are weighing on European indices. The retail and industrial sectors led the German market lower, but we could probably add BREXIT concerns into this mix for sure. With the rates market starting to highlight leveraged companies, it just takes a curve move and a shaky stock environment and we find who the vulnerable ones are! Gold has not found the safe-heaven bid often associated with falling equity markets although we are seeing a bid return for long end bonds. The front of the curve is being driven by central bank policy which leaves the long end available with an additional 60 or 90bp's available depending if you go 2's/10's or 2's/30's. Energy markets are also starting to observe the mixed corporate results and the lagging economic data. The currency markets should still be the focus as we watch the DXY recover.
US attempted a rally initially, but was then influenced by FED Powell and President Trump's tariff comments and they spent the rest of the day hitting bids. At worst the DOW was off nearly 600 points but bounced towards the close. The market has been jittery recently and so we are back to the volatility we saw the last three/four weeks. Industrials, manufacturing and technology companies took much of the pressure but with the decline of 500 points, the majority of the market also suffered. Will be interesting to see where we close Friday so we will look to update numbers for weekend reading. Friday will probably be full of tariff responses together with more on BREXIT.
Japan 0.065%, US 2's closed 2.21% (-5bp), 10's closed 2.81% (-7bp), 30's 3.10% (-4bp), Bunds 0.64% (-1bp), France 0.91% (u/c), Italy 1.94% (-3bp), Greece 4.41% (+6bp), Turkey 11.56% (-2bp), Portugal 1.92% (-4bp), Spain 1.49% -3bp), and Gilts 1.47% (-3bp).