Blog/Market Talk
Posted Mar 1, 2017 by Martin Armstrong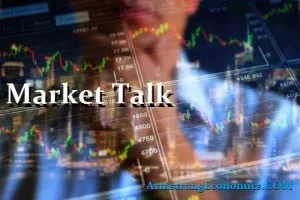 It was the speech that most claimed lacked substance that just did exactly what most thought it couldn't – rally global stock markets. Yes, Japan's Biz Cap-Ex released at 3.8% compared to the previous 1.3%; that woke markets, then Manufacturing PMI released a smidgen worse but when the JPY started to fall, everyone blamed Trump. The fact that the market has re-priced a March hike from 50% to 80% hardly made the pages. The Nikkei loved  the weaker Yen especially moved were key exporters all adding to the strong 1.5% rally. Shanghai and Hang Seng were small better bid (bit disappointing as China PMI better than expected) but in late US trading the futures market have added an additional 1% across the board.
I find it quite amusing that the pages announcing in Asian time zone "no substance", lacked detail and disappointing – suddenly claim that $1tln will help infrastructure and defence stocks. Europe benefitted both on data and action as fresh money finally found its way into the market. All core indices saw gains of around 2% whilst both the Euro and GBP traded weaker. Mixed bag of tricks on the data front but probably a tad better for Germany which did see a small sell-off in bunds but then treasuries were down nearly 2pts so probably not that exciting really!
The US market could not wait to open with a 100 point gain seen in the opening minutes. By lunchtime time we were over 300 points higher, breaking both the psychological 21k for the DOW and the 2400 level for the S+P. Data was mixed initially but finished better (ISM 56 forecast was released at 57.7) with most talking FED. Towards the close we are pricing in a 80% chance of a move in March but many may wish to wait Janet Yellen when she speaks Friday. Given the DXY recent performance (now around 101.75), the rise of the S+P (+7% YTD) and 2yr yields their highest in nearly 8yrs the chances are this could be the start of the FED back in play.
2's closed 1.28% (+5bp), 10's at 2.46% (+10bp), Bunds 0.0.28% (+8bp) closes US/Germany spread at +218bp. France 0.91% (+3bp), Italy 2.11% (+4bp; can you really believe Italy trades 35bp through the USA!!!), Greece 6.75% (-22bp), Turkey 10.66% (+7bp), Portugal 3.89% (+6bp) and finally Gilts 1.19% (+4bp).