Blog/Market Talk
Posted Jun 9, 2017 by Martin Armstrong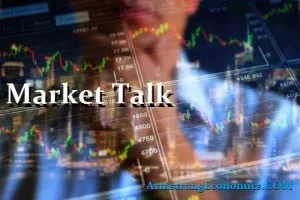 The big talking point in Asia was GBP and the early indications that results were leading to a hung-parliament. Even before Europe had opened sterling was around 1.75% lower on the day. However, Asian markets were mixed with the largest mover being KOPSI (+0.75%). China data (CPI) released in line at 1.5% for May, whilst PPI showed a 5.5% rise.
Strong gains across the floor for core Europe following the unexpected result coming from the UK election. Theresa May and the Conservative Party did far worse than the polls had expected and has had to turn to the Democratic Unionist Party for support to compile a government. Because of this result there will be many calls for her resignation and you can expect to read that in most of the weekends press. Markets now pricing-in a better ending (BREXIT negotiations) as the UK reflects strong leadership. The CAC, DAX and FTSE all closed around +0.8% higher on the day with the damage all taken on the GBP. Sterling lost 1.75% today but had seen a 2% decline in earlier trading. Reflecting this uncertainty were UK Financials (RBS and Lloyds both down 2.5% – domestic concerns and break-up rumours under a Labour gov) with the balance seen for HSBC which rallied 1.5%. Many are confused why the currency had not lost more after such a shock – we could say it's a Friday, big money takes its time but takes it further and also talking around it seems many players are still in shock! The UK still runs a large CA deficit which depends upon foreign capital inflows which is going to make this result extremely interesting over the next few months (and gilt auctions)! Late this evening Moody's downgrades South Africa to BAA3 from BAA2 with an outlook Negative.
US markets traded well following Dodd-Frank pass in the House yesterday (awaits debating in Senate) which led to rallies for Financials. Interesting that this year Tech (was) up nearly 15% this year and so we saw a little balancing out of that and into Financials. Good rally for banks but at the expense of Tech (NASDAQ -2% today). Worth noting here some of the semiconductor stocks performance this week – NVIDIA +16%, Adv Micro Dev's +20% and Cirrus Log +6% there is plenty of room for corrections, if they occur. Energy continue to lose ground trading almost one year lows. NASDAQ closing its worst week this year. Apple, MSC, FB and AMZ all down around 4%. FED meet next week with market expecting another rate rise – which will be fun, as ECB sticks with its monetary policy – nine years after the financial crisis!
2's closed 1.33% (+1bp), 10's 2.20% (+1bp), 30's 2.85% (u/c), Bunds 0.26% (+1bp) closing US/Germany at +194bp (u/c). France 0.64% (u/c), Italy 2.08% (-7bp), Greece 5.86% (-6bp), Turkey 10.22% (+1bp), Portugal 2.97% (-2bp), Spain 1.42% (-3bp) and UK Gilts 1.01% (-2bp).