Blog/Market Talk
Posted Jun 8, 2017 by Martin Armstrong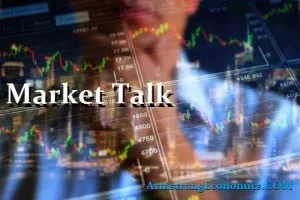 The Asian session was mildly positive with just the Nikkei, the SENSEX and Nifty closing lower on the day. Although they were only small gains, they were gains none the less from +0.2% up to +0.3% for Shanghai, Hang Seng, and ASX. China was helped by better than expected data trade data. The situation in the Middle East continues which is rumoured to be helping the shares of Cathay Pacific (+6.3% today) as passengers appear to be favouring them over Qatar Airways. In Qatar the market closed up 3% as a broad based rally happened from the opening. There was also a very strong bid in the Broker market for any paper they may have found its way into the field. One market that did scare a few people this week was the Qatar ETF's quotes. Although the cash market was off 8% some ETF's quotes were seen 25% lower. Its only in times of unexpected volatility do you realise what a derivative is! The JPY broke above the 110 again countering the index's decline, last seen around 110.25.
Europe was waiting for ECB lunchtime, Comey's testimony and then later the UK election result. The ECB held rates unchanged and moved only marginally away from easing after the statement dropped "or lower" intentions at the end. Draghi talked of satisfied growth rate – all be them balanced – but lower inflation outlook sighting oil forwards. The Euro was hit in favour of USD's, as was GBP but that weakness recovered as the session continued. Core indices closed mixed CAC and FTSE weaker but with gains for DAX and IBEX. The Italian FTSE MIB closed almost 1.5% better today led mostly by Financials after they saw the Spanish resolution of Banco Popular. Santander shares bounces 5% in todays trading. UK results will likely not be known until early tomorrow morning when most of the counting has been completed.
The DOW hits all time high but retreats into the close. What has surprised many however is the strong performance of the Small Caps (Russell 2000k) after it closed +1.35% today. Market is interpreting that after todays events the Trump trade is possibly back on. How soon we hear details on the rolling back of regulation, tax reforms and infrastructure spending are now back to centre stage. The VIX tells a storey trading back towards the 10 handle and supporting that we see treasury yields start to drift higher.
2's closed 1.32% (+1bp), 10's at 2.19% (+2bp), 30's 2.85% (+1bp), Bunds 0.25% (-2bp) which closes the spread at +194bp. France 0.64% (-5bp), Italy 2.15% (-13bp), Greece 5.92% (-2bp), Turkey 10.21% (-2bp), Portugal 2.99% (-5bp), Spain 1.45% (-10bp) and Gilts 1.03%.