Blog/Market Talk
Posted Jun 8, 2018 by Martin Armstrong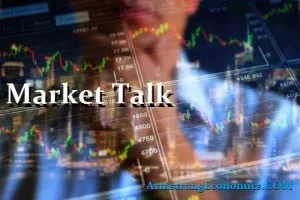 The uncertain US tech session resulted in negative Asian prices with China underperforming all the region. Core Shanghai and the Hong Kong's Hang Seng both lost around 1.5% as financials, tech, real estate and energy stocks all traded heavy. We are starting to see a differing of opinion between China and other emerging economies, but much is being masked by the FX component of other countries. The Nikkei saw the Yen back to mid 109's and trade firmer despite a brief positive print mid-morning session. After lunch dealers concentrated on next weeks FED, ECB and the G7 headline fear as prices fell to close at the days lows. In late trading it looked as though the SENSEX was about to buck the trend and close positive. With just minutes to go ahead of the close, we were literally just a few points away but sadly was not to be. The INR traded weak all day, which probably initiated the late SENSEX surge. Trading towards the two week low it hit 67.75 on oil price concerns and following general EM concerns.
Core Europe could not turn the Asian sentiment and it was Italy yet again in the spot light for all the wrong reasons. The FTSE MIB closed down almost 2% on continued concerns surround domestic politics, as fears spread over absolute yields level and allocation. Brexit is in the news again with the Irish boarder fears possibly delayed for a couple of years, but needs approval – even within the UK government is seems! The CAC actually managed a positive close as fashion, financials and Airbus caught a bid at the close. G7, ECB and FED are all probable reasons why volumes were light and the trend not unanimous. Talks resumed over the likelihood of a possible Deutsche and Commerzbank merge but this storey has been around so long we have to question why it has not been done before now and will it actually help!
US markets spent the morning fearing the weekends G7 meeting and the afternoon looking forward to it! Opening lower we were looking at possibly ending the week flat, but buying across the board managed to produce gains for the day and the week. With so much on the horizon markets are feeling nervous, but not so US bourses. Emerging markets are struggling both in currency and bonds, so the weekends events could produce an interesting week with FED probably dominating headlines.
Japan 0.04%, US 2's closed 2.49% (+1bp), 10's closed 2.94% (+2bp), 30's 3.09% (+2bp), Bunds 0.44% (-4bp), France 0.81% (-1bp), Italy 3.11% (+8bp), Greece 4.59% (+7bp), Turkey 14.49% (+2bp), Portugal 2.01% (+3bp), Spain 1.45% (+1bp) and Gilts 1.39% (-1bp).