Blog/Market Talk
Posted Jun 7, 2017 by Martin Armstrong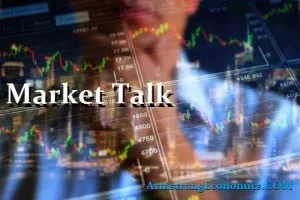 It was no surprise that we saw quiet markets for most of Asia's core market, given we have so much due tomorrow (Thursday). Shanghai was the exception as it rallied +1.25% as market players took the recent increase of US Treasuries as a sign of domestic strength. This is the largest increase since 2013, but supported by the stronger currency (Yuan) conveniently will help the FED unwind its balance sheet as they raise rates – if indeed that is what is going on – Reserves rose for the fourth consecutive month! In Japan the Nikkei had an extremely quiet session as was the Yen as it strengthened to 109.20 earlier in the day. Late trading in the US and we are challenging the 110 handle. In the Middle East the situation Qatar stock market closed lower again, but only a small 1% decline and volumes were lower today that Wednesday.
Europe was also range bound ahead of all the events tomorrow but the main talking point was Banco Popular. Santander bought it this morning for €1 and has plans to raise €7bn to help aid the transition. Interesting this comes just three days after its CEO claimed there was no reason to panic and everything was under control! Refreshing to see that they let capitalism play its course, letting the split between Senior and Sub paper play its course. Many will question the nature of the purchase by Santander, especially as they were not present at the recent auction. Santander shares closed down -2.5% on the day. Talk that Greece has Germany to blame for making them wait for a creditors decision. Rumours are that Germany and the IMF are differing on possible debt relief and so the wrangling has to wait – wonder if it will be settled just after September? ECB was rumoured to be downplaying inflation forecasts which saw core banks rallying (BNP and Soc Gen +3% and ING +2.5%).
US stocks were initially influenced by the declining oil price (-4.5%) following the inventory numbers but then came early news from James Comey. The news has been interpreted positively by the market in the hope that it will not be as damaging for the President as was expected. Although the DXY continues to drift along recent lows US stocks are playing what appears to be a separate game. So much money on the side-lines will force hands soon but still plenty to play for.
2's closed 1.31% (+2bp), 10's at 2.17% (+3bp), 30's at 2.84% (+3bp), Bunds 0.27% (+2bp) which closes US/Germany at +190bp (+1bp). France 0.69% (+2bp), Italy 2.28% (+4bp), Greece 5.94% (-1bp), Turkey 10.23% (+13bp), Portugal 3.04% (u/c), Spain 1.55% (+4bp) and Gilts 1% (+2bp).