Blog/Market Talk
Posted Jun 7, 2021 by Martin Armstrong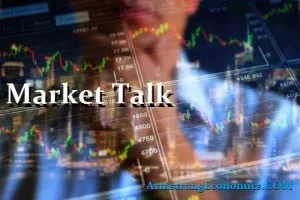 ASIA:
China bought fewer American products in May versus the prior month, while exports to the U.S. rose, according to customs data released Monday. China bought $13.11 billion dollars worth of goods from the U.S. in May, down from $13.94 billion in April, data accessed through Wind Information showed. May's figure marked the lowest monthly amount since October, the data showed. As a result, China's trade surplus with the U.S. rose to $31.78 billion in May, up from $28.11 billion in April. The increase comes despite efforts by former U.S. President Donald Trump to reduce that surplus.
India's central bank, the Reserve Bank of India (RBI), kept interest rates at record lows on Friday and announced additional bond purchases to support the economic recovery, at risk of being derailed by a devastating second wave of COVID-19 infections. The RBI's monetary policy committee (MPC) voted unanimously to hold the repo rate, its key lending rate, at 4% and kept the reverse repo rate, the borrowing rate, unchanged at 3.35%.
The Japanese government will unveil plans to promote green and digital investment by drawing in private demand, as part of efforts to revitalize the world's third-largest economy, according to the draft of this year's blueprint. Japan's government faces the tricky balance of trying to prop up growth while reining in a huge public debt that has ballooned to twice the size of its economy even before massive pandemic-relief packages were deployed last year.
The major Asian stock markets had a mixed day today:
NIKKEI 225 increased 77.72 points or 0.27% to 29,019.24
Shanghai increased 7.70 points or 0.21% to 3,599.54
Hang Seng decreased 130.82 points or -0.45% to 28,787.28
ASX 200 decreased 13.50 points or -0.19% to 7,281.90
Kospi increased 12.04 points or 0.37% to 3,252.12
SENSEX increased 228.46 points or 0.44% to 52,328.51
Nifty50 increased 81.40 points or 0.52% to 15,751.65
The major Asian currency markets had a mixed day today:
AUDUSD increased 0.0021 or 0.27% to 0.77631
NZDUSD increased 0.00318 or 0.44% to 0.72409
USDJPY decreased 0.28 or -0.25% to 109.24
USDCNY increased 0.0026 or 0.04% to 6.39212
Precious Metals:
Gold increased 4.28 USD/t oz. or 0.23% to 1,894.25
Silver increased 0.12 USD/t. oz or 0.43% to 27.900
Some economic news from last night:
China:
Exports (YoY) (May) decreased from 32.3% to 27.9%
Imports (YoY) (May) increased from 43.1% to 51.1%
Trade Balance (USD) (May) increased from 42.86B to 45.53B
Japan:
Foreign Reserves (USD) (May) increased from 1,378.5B to 1,387.5B
Australia:
AIG Services Index (May) increased from 61.0 to 61.2
ANZ Job Advertisements (MoM) increased from 4.9% to 7.9%
Some economic news from today:
China:
FX Reserves (USD) (May) increased from 3.198T to 3.222T
Japan:
Coincident Indicator (MoM) (Apr) decreased from 3.0% to 2.6%
Leading Index (MoM) (Apr) decreased from 3.6% to 0.6%
Hong Kong:
Foreign Reserves (USD) (May) increased from 490.60B to 494.50B
Singapore:
Foreign Reserves USD (MoM) (May) increased from 385.7B to 398.1B
EUROPE/EMEA:
The European Union is ready to consider tougher retaliatory measures if the U.K. government fails to implement its post-Brexit obligations over Northern Ireland, an online news agency reported. As per the news, the EU may use all the tools at its disposal if the U.K. fails to put a stop to unilateral actions and threats. The dispute is escalating at a sensitive time for British prime minister Boris Johnson, who hosts world leaders in the U.K. for the Group of Seven summit later this week. The Brexit arguments encroached on a phone call Johnson held with French President Emmanuel Macron ahead of the gathering, on Monday. Under the Brexit trade deal agreed in December, both sides have the right to impose retaliatory tariffs in extreme circumstances. Separately, the EU could prevent the U.K. financial services industry from getting access to the single market.
The United States, Britain, and other large, rich nations reached a landmark deal on Saturday to squeeze more money out of multinational companies such as Amazon and Google and reduce their incentive to shift profits to low-tax offshore havens. Hundreds of billions of dollars could flow into the coffers of governments left cash-strapped by the COVID-19 pandemic after the Group of Seven (G7) advanced economies agreed to back a minimum global corporate tax rate of at least 15%. Ministers also agreed to move towards making companies declare their environmental impact in a more standard way so investors can decide more easily whether to fund them, a key goal for Britain.
The major Europe stock markets had a mixed day:
CAC 40 increased 27.90 points or 0.43% to 6,543.56
FTSE 100 increased 8.18 points or 0.12% to 7,077.22
DAX 30 decreased 15.75 points or -0.10% to 15,677.15
The major Europe currency markets had a mixed day today:
EURUSD increased 0.00319 or 0.26% to 1.21984
GBPUSD increased 0.00187 or 0.13% to 1.41770
USDCHF decreased 0.00173 or -0.19% to 0.89697
Some economic news from Europe today:
Swiss:
Unemployment Rate n.s.a. (May) decreased from 3.3% to 3.1%
Unemployment Rate s.a. (May) decreased from 3.2% to 3.0%
CPI (YoY) (May) increased from 0.3% to 0.6%
CPI (MoM) (May) increased from 0.2% to 0.3%
Germany:
German Factory Orders (MoM) (Apr) decreased from 3.9% to -0.2%
Norway:
Manufacturing Production (MoM) (Apr) decreased from 0.7% to -1.9%
France:
French Reserve Assets Total (May) increased from 183,428.0M to 191.234.0M
Spain:
Spanish Industrial Production (YoY) (Apr) increased from 12.9% to 48.2%
Spanish Consumer Confidence increased from 77.8 to 89.0
UK:
Halifax House Price Index (YoY) increased from 8.2% to 9.5%
Halifax House Price Index (MoM) (May) decreased from 1.5% to 1.3%
Euro Zone:
Sentix Investor Confidence (Jun) increased from 21.0 to 28.1
US/AMERICAS:
The G7 officially agreed to adopt Joe Biden's proposal of a 15% tax on corporate earnings. The Biden Administration originally proposed a global tax rate of 21%, but the other leaders agreed to settle at 15%. U.S. Treasury Secretary Janet Yellen said, "a global minimum tax would end the race-to-the-bottom in corporate taxation, and ensure fairness for the middle class and working people in the U.S. and around the world."
Treasury Secretary Janet Yellen also stated that she would like to see US interest rates climb, stating that they were too low even before the pandemic. "We've been fighting inflation that's too low and interest rates that are too low now for a decade…We want them to go back to a normal interest rate environment…if this helps a little bit to alleviate things then that's not a bad thing- that's a good thing," Yellen commented. The Federal Reserve is still targeting 2% but has stated numerous times that it would allow inflation to run above the target for some time before changing rates.
US Market Closings:
Dow declined 126.15 points or -0.36% to 34,630.24
S&P 500 declined 3.37 points or -0.08% to 4,226.52
Nasdaq advanced 67.23 points or 0.49% to 13,881.72
Russell 2000 advanced 32.76 points or 1.43% to 2,319.18
Canada Market Closings:
TSX Composite advanced 6.11 points or 0.03% to 20,035.3
TSX 60 advanced 0.14 points or 0.01% to1,199.33
Brazil Market Closing:
Bovespa advanced 650.49 points or 0.5% to 130,776.27
ENERGY:
The oil markets had a mixed day today:
Crude Oil decreased 0.29 USD/BBL or -0.42% to 69.3300
Brent decreased 0.3 USD/BBL or -0.42% to 71.5900
Natural gas decreased 0.01 USD/MMBtu or -0.32% to 3.0870
Gasoline decreased 0.0103 USD/GAL or -0.47% to 2.2012
Heating oil increased 0.0012 USD/GAL or 0.06% to 2.1211
The above data was collected around 12:08 EST on Monday
Top commodity gainers: Oat (2.47%), Orange Juice (1.84%), Coal (3.95%) and Platinum (0.63%)
Top commodity losers: Bitumen (-1.63%), Cocoa (-2.37%), Sugar (-1.75%), and Lumber (-4.81%)
The above data was collected around 12:12 EST on Monday.
BONDS:
Japan 0.0830%(-0bp), US 2's 0.15%(+0.004%), US 10's 1.5670%(+0.7bps); US 30's 2.2454%(+0.01%), Bunds -0.1970% (+1.2bp), France 0.175% (+1.7bp), Italy 0.9164% (+3.71bp), Turkey 18.17% (+10bp), Greece 0.8330% (+1.1bp), Portugal 0.476% (+2.2bp); Spain 0.482% (+2.21bp) and UK Gilts 0.809% (+1.7bp).
US 3-Month Bill Auction increased from 0.020% to 0.025%
US 6-Month Bill Auction increased from 0.035% to 0.040%
French 3-Month BTF Auction decreased from -0.633% to -0.643%
French 6-Month BTF Auction increased from -0.645% to -0.641%
French 12-Month BTF Auction increased from -0.641% to -0.636%