Blog/Market Talk
Posted Jun 7, 2019 by marty armstrong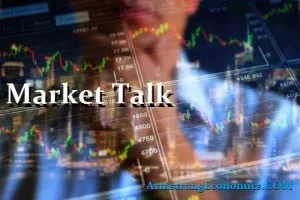 ASIA / AUSTRALIA:
Chinese technology giant Huawei signed a deal with Russia's largest telecoms operator MTS to develop 5G technologies and launch a fifth-generation network in Russia within the next year. This is another example of the close Chinese-Russian relationship.
Swiss bank UBS and Japan's Sumitomo Mitsui Trust (who has 2.6 trillion under management) have agreed to cooperate to build a one-stop shop for asset management products and services in Japan. The JV will be 51% owned by UBS and is expected to be created by 2021.
The major Asian stock markets had a mixed day today. Shanghai decreased 33.62 points or -1.17% to 2,827.80; KOSPI increased 3.22 points or 0.16% to 2,072.33; ASX 200 increased 60.90 points or 0.95% to 6,443.90; NIKKEI 225 increased 110.67 points or 0.53% to 20,884.71; Hang Seng increased 69.84 points or 0.26% to 26,965.28; and SENSEX increased 86.18 points or 0.22% to 39,615.90.
The major Asian currency markets had a mixed day today. AUDUSD increased 0.0029 or 0.41% to 0.7005; NZDUSD increased 0.0048 or 0.72% to 0.6668; USDJPY decreased 0.3110 or 0.29% to 108.0890; and USDCNY increased 0.0154 or 0.22% to 6.9419.
Gold increased 7.8 USD/t oz. or 0.58% to 1,341.48 and silver increased 0.207 USD/t. oz or 1.39% to 15.0497.
Some economic news:
Japan:
Average Cash Earnings (YoY) increased from -1.3% to -0.1%
Household Spending (YoY) (Apr) decreased from 2.1% to 1.3%
Household Spending (MoM) (Apr) decreased from 0.1% to -1.4%
Overtime Pay (YoY) (Apr) increased from -3.10% to -1.10%
Foreign Reserves (USD) (May) increased from 1,293.5B to 1,308.0B
Coincident Indicator (MoM) (Apr) increased from -0.4% to 0.8%
Leading Index (MoM) (Apr) increased from -1.2% to -0.2%
Leading Index decreased from 95.9 to 95.5
Australia:
AIG Construction Index (May) decreased from 42.6 to 40.4
Exports (MoM) (Apr) increased from -2% to 2%
Home Loans (MoM) (Apr) increased from -2.5% to -1.2%
India:
Bank Loan Growth decreased from 13.0% to 12.7%
Deposit Growth decreased from 10.4% to 10.1%
FX Reserves, USD increased from 419.99B to 421.87B
Singapore:
Foreign Reserves USD (MoM) (May) decreased from 296.8B to 265.4B
EUROPE / EMEA:
Finland's Nokia is emerging as a winner in 5G contracts, as the scrutiny has increased on Huawei. Nokia has reportedly signed 12 new 5G contracts in the last two months compared to just 3 for Huawei.
The German Parliament approved NATO's accession protocol yesterday with North Macedonia. They were expected and failed to discuss supporting the launch of the European Union accession talks either with North Macedonia or Albania. Meanwhile, EU's Junker approved and backed Croatia by joining the open border Schengen Zone.
In the UK, the High Court dismissed an effort to prosecute Boris Johnson over claims he lied during the 2016 referendum campaign by saying the UK gave the EU £350m a week. Regarding Brexit, the government is said to have spent 97 million GBP on consultants.
The major European stock markets had a green day today. CAC 40 increased 85.63 points or 1.62% to 5,364.05; FTSE 100 increased 72.09 points or 0.99% to 7,331.94; and DAX increased 92.24 points or 0.77% to 12,045.38.
The major European currency markets had a mixed day today. EURUSD increased 0.0065 or 0.58% to 1.1339; GBPUSD increased 0.0045 or 0.36% to 1.2744; and USDCHF decreased 0.0049 or 0.49% to 0.9862.
Some economic news:
Swiss:
Unemployment Rate n.s.a. (May) decrease from 2.4% to 2.3%
Unemployment Rate s.a. (May) remain the same at 2.4%
Germany:
German Exports (MoM) (Apr) decreased from 1.6% to -3.7%
German Imports (MoM) (Apr) decreased from 0.7% to -1.3%
German Industrial Production (MoM) (Apr) decreased from 0.5% to -1.9%
German Trade Balance (Apr) decreased from 20.0B to 17.0B
Norway:
Manufacturing Production (MoM) (Apr) increased from -0.7% to 2.2%
UK:
Halifax House Price Index (YoY) (May) increased from 5.0% to 5.2%
Halifax House Price Index (MoM) (May) decreased from 1.2% to 0.5%
France:
French Current Account (Apr) increased from -2.30B to -0.80B
French Exports (Apr) decreased from 43.1B to 42.3B
French Imports (Apr) decreased from 48.6B to 47.3B
French Industrial Production (MoM) (Apr) increased from -1.1% to 0.4%
French Trade Balance (Apr) increased from -5.5B to -5.0B
Italy:
Italian Retail Sales (YoY) (Apr) increased from -3.3% to 4.2%
U.S. / AMERICAS:
May's disappointing jobs report was ironically viewed by many as a welcome surprise, hoping it increases the chances of a near-term rate cut by the Federal Reserve. According to the official report released today, the U.S. economy added approximately 75,000 new jobs in May, which fell about 100k short of analysts' expectations. Unemployment remained low at 3.6%, unchanged on a MoM basis, and hourly earnings rose by 0.2%. On a YoY basis, average wages have grown by 3.1%.
Similarly, in Statistics Canada released a favorable jobs report as well, noting that unemployment has dropped to its lowest level since 1976. Canada's unemployment now stands at 5.4% after the economy added 27,700 new jobs in May.
Looking back to the U.S., President Trump announced this Friday that the U.S. is "taking in billions" from the tariffs imposed on China. Furthermore, the President stated that China has been forced to subsidize many of their products and companies are beginning to leave China to avoid the additional fees. Although he is known to often overstate the benefits of his administration's policies, he may not be too far off in some cases. The American Chamber of Commerce surveyed 250 firms in Shanghai last month and ~40% stated that they were "considering or have relocated manufacturing facilities outside of China."
Contradictory, the poll also noted that manufacturing companies (35.3% of respondents) have begun to adopt "In China, for China" policies whereby their new focus is to sell goods to Chinese consumers. As stated numerous times on the Armstrong Economics blog, the U.S. gained the title of "financial capital of the world" due to its strong consumer economy. Also previously noted on our blog, "Countries line up to sell products to Americans." If China shifts to consumerism, countries may soon line up to sell their products to the Chinese.
In any event, Wall Street closed the first week of the month in bullish territory. The Dow posted its strongest week of 2019 after climbing 263.28 points this Friday (+1.02%) to 25,983.94. The S&P 500 increased by 29.85 points (+1.05%) to 2,873.34. The Nasdaq rose 126.55 points (+1.66%) to 7,742.10. The Russell 2000 bounced back, gaining 10.85 points (+0.72%) to 1,514.39.
The Canadian indices remained relatively unchanged from yesterday's session. The TSX Composite added 3.16 points (+0.02%) to 16,230.96, and the TSX 60 added 0.38 of a point (+0.04%) to 973.47.
In Brazil, the Bovespa finished strong, inching closer toward the 100,000 mark that (optimistic) analysts have been anticipating. The index added 616.41 points (+0.63%), closing at 97,821.26.
ENERGY:
Saudi is expected to extend the output cut deal as oil has just endured the worst run since 2008. Today, however, the market shot up 3.88% as a reaction to the dismal run of form.
The oil markets had a mixed day today. Crude Oil increased 1.16 USD/BBL or 2.21% to 53.6782; Brent increased 1.34 USD/BBL or 2.17% to 63.1153; Natural gas increased 0.015 USD/MMBtu or 0.65% to 2.3418; Gasoline increased 0.0143 USD/GAL or 0.84% to 1.7237; and Heating oil increased 0.0293 USD/GAL or 1.64% to 1.8147.
Top commodity gainers: Crude Oil (2.15%), Brent (2.09%), Cocoa (1.94%), and Heating Oil (1.67%). Top commodity losers: Cotton (-4.07%), Oat (-1.75%), Orange Juice (-1.49%), and Soybeans (-1.44%)
The above data were collected around 12:54 EST on Friday.
BONDS:
Japan -0.12%(-2bp), US 2's 1.81% (-5bps), US 10's 2.06%(-6bps), US 30's 2.57%(-7bps), Bunds -0.23% (-1bp), France 0.08% (-4bp), Italy 2.36% (-14bp), Turkey 18.12% (-4bp), Greece 2.83% (-9bp), Portugal 0.62% (-6bp), Spain 0.55% (-6bp) and UK Gilts 0.81% (-2bp).