Blog/Market Talk
Posted Jun 7, 2018 by Martin Armstrong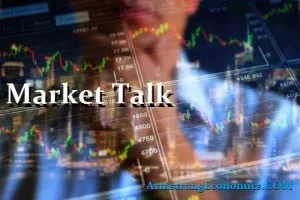 Any doubts the markets were having were displaced after yesterdays strong US performance. the DOW breached the psychological 25k level and we are off to the races again. The NASDAQ has been creating fresh ground and now it will not be long before the S+P and the DOW join them. Asian markets still need convincing as they tend to struggle with weakening local currencies, but main Shanghai suffered probably as currency holds-in. The Nikkei gained nearly 200 points, a gain of +0.9% as the Yen drifted north in the 110's. Hang Seng performed well today with a near 1% gain as tech and real estate, heavily weighted in the index, helped sentiment performance. The SENSEX took much of the day to breach 1% plus, but weakened into the close nevertheless still returning +0.8%. The INR, although trading just with a 67 handle all day, lost more ground in the final hour to close 67.25.
European markets were less than impressive as finally the discussion surrounding the end of QE hits mainstream and peripheral markets. Interesting responses across the geographies with Bond losing ground in most with the exception being Spain; Turkey surprised markets by raising one week repo-rate by 125bp to 17.75%. Core Europe continued its spread normalization against US Treasuries with Bund/US 10's narrowing 7bp to close the spread at 244bp. Most core equity markets lost ground even though the declines were only modest. Istanbul closed up over 2% higher benefiting from the surprise rate move.
The tech rally finally came to a halt today returning some of its recent outperformance. In contrast, the DOW rallied close to 100 points with the S+P undecided which to follow and consequently closed unchanged. Much of the US talk today centred on the Volker 2.0 review a
and the possible change in bank short-term proprietary trading rules. This talk has spiked interest back into the VIX as this alters the one-way bet now. With the return of more players need to hedge positions returns.
Japan 0.04%, US 2's closed 2.48% (-4bp), 10's closed 2.92% (-5bp), 30's 3.07% (-6bp), Bunds 0.48% (+2bp), France 0.82% (+2bp), Italy 3.03% (+13bp), Greece 4.52% (+1bp), Turkey 14.47% (-20bp), Portugal 1.98% (+7bp), Spain 1.44% (-3bp) and Gilts 1.40% (+3bp).