Blog/Market Talk
Posted Jun 6, 2019 by marty armstrong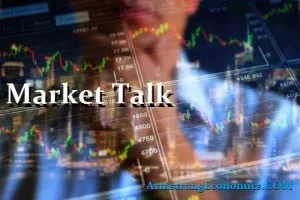 ASIA / AUSTRALIA:
President Xi of China met with President Putin in Moscow today. Xi mentioned he and Putin have a "deep personal friendship." President Xi will stay for three days, focusing on trade and relations amongst the two countries. Reiterating his opinion, "In the past six years, we have met nearly 30 times. Russia is the country that I have visited the most times, and President Putin is my best friend and colleague," Mr. Xi said. Mr. Putin replied that he was "pleased to say that Russian-Chinese relations have reached an unprecedented level. It is a global partnership and strategic cooperation." There is an alliance between Russia and China, after both countries in recent times feel alienated by Europe and the U.S.
The major Asian stock markets had a mixed day today. Shanghai decreased 33.62 points or -1.17% to 2,827.80; KOSPI increased 2.14 points or 0.10% to 2,069.11; ASX 200 increased 24.50 points or 0.39% to 6,383.00; NIKKEI 225 decreased 2.06 points or -0.01% to 20,774.04; Hang Seng increased 69.84 points or 0.26% to 26,965.28; and SENSEX decreased 553.82 points or -1.38% to 39,529.72.
The major Asian currency markets had a mixed day today. AUDUSD increased 0.0012 or 0.17% to 0.6981; NZDUSD increased 0.0011 or 0.16% to 0.6629; USDJPY decreased 0.1230 or 0.11% to 108.3270; and USDCNY decreased 0.0015 or 0.02% to 6.9244.
Gold increased 4.32 USD/t oz. or 0.32% to 1,331.62 and silver increased 0.0716 USD/t. oz or 0.48% to 14.8913.
Some economic news:
Japan:
Foreign Bonds Buying decreased from 1,169.5B to 441.7B
Foreign Investments in Japanese Stocks decreased from 1,427.4B to -285.9B
Australia:
ANZ Commodity Price Index (MoM) decreased from 2.6% to 0.0%
Exports (MoM) (Apr) increased from -2% to 3%
Imports (MoM) (Apr) increased from -2% to 3%
Trade Balance (Apr) decreased from 4.887B to 4.871B
India:
Cash Reserve Ratio remain the same at 4.00%
Interest Rate Decision decreased from 6.00% to 5.75%
Reverse REPO Rate decreased from 5.75% to 5.50%
M3 Money Supply decreased from 10.5% to 10.3%
Hong Kong:
Foreign Reserves (USD) (May) increased from 436.40B to 437.80B
EUROPE / EMEA:
The ECB decided to keep interest rates on its marginal lending and deposit facility at 0%, 0.25% and -0.40%. The ECB President Mario Draghi even offered to pay banks if they borrow cash from the central bank and pass it on to households and firms. "The prolonged presence of uncertainties related to geopolitical factors, the rising threat of protectionism and vulnerabilities in emerging markets is leaving its mark on economic sentiment," ECB President Mario Draghi said. In a revision to its forward guidance, the ECB said in a statement that the governing council "now expects the key ECB interest rates to remain at their present levels at least through the first half of 2020." On the news, the euro spiked higher against the US dollar.
The United States and its European allies today honored the 75th anniversary of D-Day. But the US is still urging for Europe to spend more money on military budget and supporting NATO.
Turkey has reportedly told the United States that it is willing to purchase its Patriot missile system following the delivery of Russia's S-400 missile system if the U.S. offers a deal as lucrative as that offered by Russia, President Recep Tayyip Erdogan announced.
Meanwhile, U.S. President Trump said it was "fine" for him if Iran wanted to hold talks, adding the Islamic Republic was currently "failing as a nation."
The major European stock markets had a mixed day today. CAC 40 decreased 13.56 points or -0.26% to 5,278.43; FTSE 100 increased 39.63 points or 0.55% to 7,259.85; and DAX decreased 27.67 points or -0.23% to 11,953.14.
The major European currency markets had a mixed day today. EURUSD increased 0.00497 or 0.44% to 1.12687; GBPUSD increased 0.0003 or 0.02% to 1.2687; and USDCHF decreased 0.0031 or 0.31% to 0.9915.
Some economic news:
Germany:
German Factory Orders (MoM) (Apr) decreased from 0.8% to 0.3%
Eurozone:
Employment Change (QoQ) (Q1) remain the same at 0.3%
Employment Change (YoY) (Q1) remain the same at 1.3%
GDP (YoY) (Q1) remain the same at 1.2%
GDP (QoQ) (Q1) remain the same at 0.4%
Deposit Facility Rate remain the same at -0.40%
ECB Marginal Lending Facility remain the same at 0.25%
ECB Interest Rate Decision (Jun) remain the same at 0.00%
U.S. / AMERICAS:
Christine Lagarde of the International Monetary Fund (IMF) declared the damage to the global economy was "self-inflicted" by U.S.-imposed tariff hikes. The IMF estimates that the U.S.-China trade war will create a $455 billion deficit, and Lagarde noted that amount is larger than South Africa's entire economy. The proposed tariffs on Mexico are also a growing concern for the global economy. "These are self-inflicted wounds that must be avoided. How? By removing the recently implemented trade barriers and by avoiding further barriers in whatever form," Lagarde firmly stated.
Mexican officials arrived at the White House on Wednesday in an attempt to prevent the looming tariff hike. The U.S. president stated that not enough progress was made during the first day of negotiations, and warned that Monday's proposed 5% tariff hike is just the beginning if his demands are not met – but the specifics of his demands are not known. "The higher the tariffs go, the higher the number of companies that will move back to the USA!" alleged Trump. Of course, the likelihood that companies will completely and permanently change supply chains and labor force plans based on unclear future seems to be a stretch. Similar to the point we've raised in the past on corporate taxes – how can any company feel comfortable planting new roots in an area they feel has a volatile tax policy susceptible to semi-frequent change based on which political party is in power.
Talks between the bordering countries continued this Thursday, albeit without President Trump who is visiting Normandy to commemorate the heroes of the D-Day invasion. ""We welcome what [they] put on the table. But, as the president said yesterday, it's not nearly enough," Vice President Pence told reporters this Thursday. The proposed tariff hike faces stiff criticism from both Democrats and Republicans who are fighting to prevent a second trade war. House of Ways Committee Chairman Richard Neal stated that he will take congressional measures to overrule a tariff hike. "Commandeering U.S. trade policy to influence border security is an abuse of power," Neal stated.
The majority of U.S. indices closed in positive territory this Thursday. The Dow rose 181.09 points or +0.71% to 25,720.66; the S&P 500 advanced 17.34 points or +0.61% to 2,843.49; and the Nasdaq added 40.08 points or +0.53% to 7,615.55. However, the Russell 2000 continued to buck the trend, losing 3.25 points or -0.22% to 1,503.54.
Canada's indices remained relatively unchanged during today's session. The TSX Composite rose 15.14 points or +0.09% to 16,227.80, and the TSX 60 added 0.59 of a point or +0.06% to 973.09.
Brazil's Bovespa had a fairly strong day, climbing 1,206.10 points or +1.26% to 97,204.85.
ENERGY:
Putin said that Russia does not need oil prices to be too high, and that he would be fine with oil at 60 USD a barrel. Venezuela's president Maduro said that the world needs to take care of "mother earth," and the only way to achieve balance is through Ecosocialism. Ecosocialism is putting the earth and the environment at the forefront of business decision making rather than profit.
The oil markets had a mixed day today. Crude Oil increased 1.14 USD/BBL or 2.21% to 52.8945; Brent increased 1.25 USD/BBL or 2.06% to 62.0050; Natural gas decreased 0.048 USD/MMBtu or -2.02% to 2.3331; Gasoline increased 0.026 USD/GAL or 1.54% to 1.7170; and Heating oil increased 0.0158 USD/GAL or 0.89% to 1.7993.
Top commodity gainers: Wheat (4.28%), Coffee (3.18%), Orange Juice (3.04%), and Rubber (2.70%). Top commodity losers: Steel (-2.21%), Natural Gas (-2.06%), Soda Ash (-1.77%), and Ethanol (-1.72%).
The above data were collected around 15:10 EST on Thursday.
BONDS:
Japan -0.12%(-2bp), US 2's 1.87% (+3bps), US 10's 2.12%(+0bps), US 30's 2.61%(-1bps), Bunds -0.22% (-1bp), France 0.12% (-3bp), Italy 2.49% (+0bp), Turkey 18.12% (-4bp), Greece 2.92% (-4bp), Portugal 0.68% (-2bp), Spain 0.61% (-2bp) and UK Gilts 0.83% (-3bp).
US 4-Week Bill Auction decreased from 2.330% to 2.290%
US 8-Week Bill Auction decreased from 2.330% to 2.300%
French 10-Year OAT Auction decreased from 0.37% to 0.14%
Spanish 3-Year Bonos Auction decreased from -0.244% to -0.361%
Spanish 5-Year Bonos Auction decreased from 0.023% to -0.096%