Blog/Market Talk
Posted Jun 6, 2018 by Martin Armstrong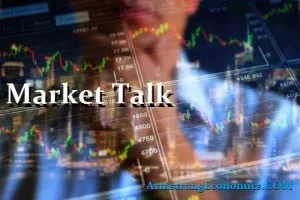 Asia has been significant in that even as Trade Talks loom overhead the sentiment could not help but push prices ahead. Although the Nikkei opened lower, it spent the rest of the day rallying as the currency declined. Registering a end of day gain of +0.4%, whilst the Yen lost -0.4% to close with a 110 handle. Hang Seng also gained +0.5% today with tech, energy and financials all leading the way. The Shanghai index struggled for much of the trading, spending much of it attempting to rally out of the negative. By close, the region helped and it closed with a small gain. G7 and the FED not far off, so unless we get Trade Talk headlines soon, the market will concentrate on fear mongering and rate hikes. Was a god day for India with the SENSEX gaining over 250 points to close above the psychological 35k level. We even saw strength in the currency late in the day, with rumours of domestic support bring it back to a 66 handle.
European indices generally finished better but with noticeable exception being the CAC and Greece declines. We could discuss the 1% gain for FTSE MIB or IBEX, but most of the talk today surrounded the European bond market. There is much discussion that the ECB is close to ending QE or at least plans for the exit. We also have Euro-zone GDP to be reported Thursday, a Turkish rate decision all as we await headlines from either US Trade Talk or US President Trumps meeting with Japanese PM Shinzo Abe.
The US Dollar continues to effect EM currencies and today we heard more intervention to support the Brazilian Real from declining below its 2yr low. The Treasury market sells-off with the curve starting the steepening move and the rally extends with renewed vigour. A +1.4% 350 point rally for the DOW and a +0.75% average for both the S+P and NASDAQ resulted in a strong performance across the board. Financials, technology and industrials all contributed to todays performance resulting in a an optimistic outlook despite possible hurdles ahead.
Japan 0.05%, 2's closed 2.52% (+3bp), 10's 2.97% (+4bp), 30's 3.13% (+5bp), Bunds 0.46% (+10bp), France 0.8% (+11bp), Italy 2.90% (+14bp), Greece 4.51% (+6bp), Turkey 14.67% (+1bp), Portugal 1.91% (+11bp), Spain 1.47% (+10bp), and Gilts 1.37% (+9bp).