Blog/Market Talk
Posted Jun 5, 2017 by Martin Armstrong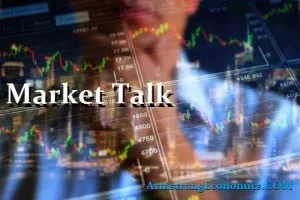 The tragic incident in London over the weekend certainly unnerved market with all core markets trading heavy throughout the day. The Nikkei closed only marginally lower (-0.03%) given the JPY traded in one of its narrowest days in a long time – tensions are building for the end of the week. Other core did not hold-in anything like as well so we saw Shanghai, Hang Seng and ASX all around -0.4% lower with the SENSEX managing a small positive close (+0.12%). Lot more talk around China's bad debt and the issues surrounding liquidity. Many continue to question the internal strength of funding structures and are attempting to connect this with the recent rise in short-term financing. More on this later in the week but waiting for Reserve Bank of Australia – difficult with no inflation but same for the rest of the world. RBA could even cut – is the Talk earlier today.
A similar mood hung-over European markets not even reacting to fresh data – happy to wait for larger news later in the week. Early in the session we heard the news that Qatar had lost diplomatic ties with six regional countries. Oil spiked on the news and the Qatari stock market lost 7%. Banks were weak again in Europe with the Spanish lender Banco Popular, again closing almost 20% lower. GBP traded very well despite weaker than expected Auto Sales (-8.5%). Much anticipated this week especially ECB and any signs of QE tapering. All Central Banks must be wondering why, under the old measures, the Philips Curve is not looking better than it currently does! All core closed between -0.2% and -0.65% lower.
All seemed quiet again in the US session but we continue to see the same group performances. Technology, Utility and Consumers perform whilst Banks and Energy companies decline. Stocks and Bonds continue to play in tandem with currency probably the common denominator. Data today more or less inline ISM 56.9 against an estimated 57 and PMI 53.6 against 53.1 in April. So much on the horizon later this week it is not uncomfortable to see a quiet session especially having seen contract highs set on Friday after the lower than expected NFP figure.
2's closed 1.30% (+2bp), 10's at 2.18% (+3bp), 30's 2.84% (+3bp) and German Bunds 0.28% (+1bp) which closes the spread +190bp (+2bp). France closed 0.72% (+2bp), Italy 2.26% (+1bp), Greece 5.92% (u/c), Turkey 10.11% (+9bp), Portugal 3.01% (+2bp) and UK Gilts 1.04% (u/c).