Blog/Market Talk
Posted Jun 5, 2020 by Martin Armstrong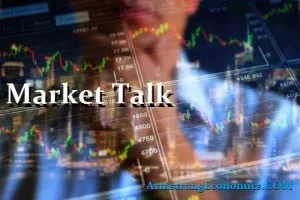 ASIA:
China is considering using about USD 28 billion in proceeds from government bond sales to help address risks in the banking sector, according to people familiar with the matter told Bloomberg. The debt will be part of the total issuance planned by the central government in 2020, and it'll be used for measures including re-capitalization for medium- and small-sized lenders.
Chinese President Xi Jinping Friday told his French counterpart Emmanuel Macron that cooperation is the only right way to win the global fight against COVID-19. In a phone call, Xi stressed that the two sides should promote cooperation in the research and development of vaccines, strengthen support to the World Health Organization and offer more help to African and undeveloped countries.
Australia has signed a preliminary deal to supply India with critical minerals needed for the new-energy economy, Australia's resources minister said on Thursday. The agreement focuses on ways to increase bilateral trade, investment and research and development in critical minerals. The deal comes after a virtual meeting between the head of two countries at which leaders of both countries also struck accords on mutual access to military bases, and on cyber and key technology.
India's biggest lender, State Bank of India, said on Thursday its board will meet on June 11 to consider raising funds in single or multiple tranches of up to $1.5 billion. The bank said it will raise the funds during 2020-21 through a public offer, a private placement of senior secured notes in the US dollar or any other convertible currency.
Amazon.com is in early-stage talks to buy a stake worth at least $2 billion in Indian mobile operator Bharti Airtel, three sources close to the matter told Reuters. The planned investment, if completed, would mean Amazon acquiring a roughly 5% stake based on the current market value of Bharti and would give India's third-largest telecoms company a boost as it seeks to compete against the number one player Reliance Jio.
The major Asian stock markets had a green day today:
NIKKEI 225 increased 167.99 points or 0.74% to 22,863.73
Shanghai increased 11.55 points or 0.40% to 2,930.80
Hang Seng increased 404.11 points or 1.66% to 24,770.41
ASX 200 increased 6.90 points or 0.12% to 5,998.70
Kospi increased 30.69 points or 1.43% to 2,181.87
SENSEX increased 306.54 points or 0.90% to 34,287.24
The major Asian currency markets had a mixed day today:
AUDUSD increased 0.00177 or 0.25% to 0.69648
NZDUSD increased 0.00287 or 0.44% to 0.64971
USDJPY increased 0.57 or 0.52% to 109.73
USDCNY decreased 0.03377 or -0.48% to 7.07494
Precious Metals:
Gold decreased 32.30 USD/t oz. or -1.88% to 1,681.70
Silver decreased 0.31 USD/t. oz or -1.74% to 17.3560
Some economic news from last night:
Japan:
Household Spending (YoY) (Apr) decreased from -6.0% to -11.1%
Household Spending (MoM) (Apr) decreased from -4.0% to -6.2%
Foreign Reserves (USD) (May) increased from 1,368.6B to 1,378.2B
Australia:
AIG Services Index (May) increased from 27.1 to 31.6
Some economic news from today:
Japan:
Coincident Indicator (MoM) (Apr) decreased from -4.9% to -7.3%
Leading Index (MoM) (Apr) decreased from -7.2% to -8.9%
Leading Index decreased from 84.7 to 76.2
Singapore:
Retail Sales (MoM) (Apr) decreased from -1.3% to -31.7%
Retail Sales (YoY) (Apr) decreased from -13.3% to -40.5%
Hong Kong:
Foreign Reserves (USD) (May) increased from 441.30B to 442.30B
India:
Bank Loan Growth decreased from 6.5% to 6.3%
Deposit Growth remain the same at 10.6%
FX Reserves, USD increased from 490.04B to 493.48B
EUROPE/EMEA:
The UK Cabinet Minister has spoken out on the progress of talks between the EU and UK, stating that he believes that a trade deal is still plausible and that the UK's demands are in fact very reasonable contrary to the EU's viewpoint. Still, there are many sticking points to the deal, such as an agreement to percentage sharing with fisheries and competition rules just to name a few. The EU's Michel Barnier said that an appropriate toolbox is needed to ensure fair competition between the UK and EU, which would then allow the UK access to the single market, however not tariff-free, as the UK conceded that they are willing to accept tariff's if the EU drops some conditions on trade. A deal is hoping to be reached by October.
US President Trump has ordered 9,500 troops out of Germany due to excessive Nato spending. Yet, 25,000 troops will remain in Germany to protect the European borders. Of the 9,500 troops, some will be allocated to other parts of Europe such as Poland and the remainder will be flown back to the US.
Many countries in Europe are starting to open borders in time for the summer season. Portugal, Netherlands, and Italy are inviting tourists for a summer vacation. Meanwhile, Greece will open mid-month and further open their islands by the end of the month. Germany will fully its land borders by the 15th of June.
The major Europe stock markets had a green today:
CAC 40 increased 185.81 points or 3.71% to 5,197.79
FTSE 100 increased 142.86 points or 2.25% to 6,484.30
DAX 30 increased 417.12 points or 3.36% to 12,847.68
The major Europe currency markets had a mixed day today:
EURUSD decreased 0.00463 or -0.41% to 1.12916
GBPUSD increased 0.00536 or 0.43% to 1.26636
USDCHF increased 0.0069 or 0.73% to 0.9626
Some economic news from Europe today:
Germany:
German Factory Orders (MoM) (Apr) decreased from -15.0% to -25.8%
Norway:
Manufacturing Production (MoM) (Apr) increased from -3.0% to -1.6%
Spain:
Spanish Industrial Production (YoY) (Apr) decreased from -13.7% to -33.6%
Spanish Consumer Confidence increased from 49.9 to 52.9
UK:
GfK Consumer Confidence (Jun) decreased from -33 to -36
Halifax House Price Index (MoM) (May) increased from -0.6% to -0.2%
Halifax House Price Index (YoY) decreased from 2.7% to 2.6%
Italy:
Italian Retail Sales (MoM) (Apr) increased from -21.3% to -10.5%
Italian Retail Sales (YoY) (Apr) decreased from -18.9% to -26.3%
US/AMERICAS:
Wall Street had a bullish performance this Friday as the Dow spiked over 800 points. It was an optimistic day in US news after the jobs report exceeded expectations in addition to President Trump's announcement that a coronavirus vaccine is near completion. The US president said that he has already secured 2 million vaccinations. "In fact, we're ready to go in terms of transportation and logistics. We have over 2 million ready to go if it checks out for safety," Trump announced during a news conference.
Unemployment in the US dropped to 13.3% in May, a 1.4% decrease from April's high of 14.7%, according the Labor Department. The figure was a welcomed surprise as most analysts, including the Federal Reserve, anticipated an unemployment rate of 20% or more. The leisure and hospitality industry experienced its largest one-month boost since records began after posting an additional 1.23 million jobs. Construction saw a rebound of 464,000 new positions, and the health care sector, which now permits elective procedures, experienced an uptick of 390,000 positions. Retail trade also saw a notable improvement and incorporated 367,800 positions. Government is the main sector to see a continued drastic decline, dropping 585,000 workers last month.
Unemployment in Canada spiked to 13.7% this May, according to newly released data from Statistics Canada. This is the highest rate of unemployment experienced in Canada since 1982 when it rose to 13.1%. Nearly three million jobs were lost between March and April, the beginning of the coronavirus crisis, and another 2.5 million workers had their hours reduced.
US Market Closings:
Dow advanced 829.16 points or 3.15% to 27,110.98
S&P 500 advanced 81.58 points or 2.62% to 3,193.93
Nasdaq advanced 198.27 points or 2.06% to 9,814.27
Russell 2000 advanced 55.09 points or 3.79% to 1,507.15
Canada Market Closings:
TSX Composite advanced 326.2 points or 2.1% to 15,854.07
TSX 60 advanced 20.1 points or 2.15% to 956.81
Brazil Market Closing:
Bovespa advanced 808.45 points or 0.86% to 94,637.06
ENERGY:
WTI and Brent extended gains today moving up close to 5%; news that the OPEC meeting will take place tomorrow helps push up markets. The meeting has people analysts speculating that the cartel will extend cuts by a further month.
The oil markets had a mixed day today:
Crude Oil increased 2.16 USD/BBL or 5.77% to 39.5700
Brent increased 2.46 USD/BBL or 6.16% to 42.4000
Natural gas decreased 0.038 USD/MMBtu or -2.08% to 1.7870
Gasoline increased 0.0718 USD/GAL or 6.28% to 1.2145
Heating oil increased 0.0759 USD/GAL or 7.07% to 1.1498
The above data was collected around 14.00 EST on Friday.
Top commodity gainers: Gasoline (6.28%), Heating Oil (7.07%), Brent (6.16%), and Ethanol (11.90%)
Top commodity losers: Platinum (-2.40%), Oat (-5.14%), Rice (-6.80%), and Lean Hogs (-2.36%)
The above data was collected around 14.05 EST on Friday.
BONDS:
Japan 0.05%(+1bp), US 2's 0.21% (+2bps), US 10's 0.93%(+11bps); US 30's 1.71%(+9bps), Bunds -0.28% (+5bp), France 0.02% (+3bp), Italy 1.44% (+2bp), Turkey 11.60% (+0bp), Greece 1.35% (-3bp), Portugal 0.56% (+2bp); Spain 0.56% (+7bp) and UK Gilts 0.36% (+5bp).