Blog/Market Talk
Posted Jun 4, 2019 by marty armstrong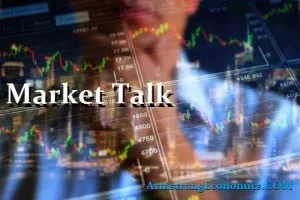 ASIA / AUSTRALIA:
The U.S. reacted to China's claim that the "U.S. [is] applying too much pressure" to the deal by stating China is playing a "blame game" by misrepresenting the trade talks between the two countries. The U.S. Department of State head Mike Pompeo released a press statement attacking China over their handling of the Tiananmen Square massacre. He urged China (30 years on from the event) to make a full public announcement of those who were killed or missing comfort those families. Chinese officials reacted to this by calling the statement "babbling nonsense" and a scheme by the U.S. to deliberately provoke China. Looking at the situation, it doesn't seem as if things are mending any time soon. Ironically, some US-based media outlets have been blocked in China over their reporting of the anniversary of the Tiananmen Square event.
Japan and the U.S. are expected to enter trade talks on Monday. They are expected to work on a proposed bilateral trade pact in Washington. The delegation to the U.S. will include the Ministry of Agriculture and Ministry of Economy, Trade, and Industry.
PM Modi of India is trying to turn India green by proposing a ban on IC engine powered two wheelers and three wheelers starting 2023 and 2025. They are also looking to invest heavily in electric busses to curb pollution.
The major Asian stock markets had a mixed day today. Shanghai decreased 27.80 points or -0.96% to 2,862.28; KOSPI decreased -0.88 points or -0.04% to 2,066.97; ASX 200 increased 11.90 points or 0.19% to 6,332.40; NIKKEI 225 decreased 2.34 points or -0.01% to 20,408.54; Hang Seng decreased 132.34 points or -0.49% to 26,761.52; and SENSEX decreased 184.08 points or -0.46% to 40,083.54.
The major Asian currency markets had a green day today. AUDUSD increased 0.0021 or 0.30% to 0.6997; NZDUSD increased 0.0018 or 0.28% to 0.6614; USDJPY increased 0.0570 or 0.05% to 108.1170; and USDCNY increased 0.0022 or 0.03% to 6.9212.
Gold increased 1.18 USD/t oz. or 0.09% to 1,326.45 and silver increased 0.046 USD/t. oz or 0.31% to 14.8346.
Some economic news:
New Zealand:
Terms of Trade – Exports Prices (Q1) decreased from -1.7% to -2.6%
Terms of Trade – Exports Volume (QoQ) (Q1) increased from 0.8% to 5.0%
Terms of Trade – Imports Prices (Q1) decreased from 1.4% to -3.5%
Terms of Trade Index (QoQ) (Q1) increased from -3.0% to 1.0%
Global Dairy Trade Price Index decreased from -1.2% to -3.4%
South Korea:
CPI (MoM) (May) decreased from 0.4% to 0.2%
CPI (YoY) (May) increased from 0.6% to 0.7%
GDP (QoQ) (Q1) decreased from 1.0% to -0.4%
GDP (YoY) (Q1) decreased from 1.8% to 1.7%
Japan:
Capital Spending (YoY) (Q1) increased from 5.7% to 6.1%
Monetary Base (YoY) increased from 3.1% to 3.6%
Australia:
Current Account (Q1) increased from -6.3B to -2.9B
Net Exports Contribution (Q1) increased from -0.2% to 0.2%
Retail Sales (MoM) (Apr) decreased from 0.3% to -0.1%
RBA Interest Rate Decision (Jun) decreased from 1.50% to 1.25%
EUROPE / EMEA:
A European elections recount of 756,000 votes has begun today in Ireland after Sinn Fein was found to be 326 votes behind the Green Party.
The UK remained Europe's number one destination for foreign direct investment, ahead of Germany and France, according to global accounting firm Ernst & Young's survey. Somewhat surprisingly, France brought in the second biggest number of investments ahead of Germany.
Nigel Farage was accused of failing to declare 450,000 GBP income from leave campaigner Arron Banks by the European Union. Farage has been given a 24-hour notice to attend a meeting of the committee. Nigel Farage says he will not attend, branding the meeting a "kangaroo court."
Tensions between Iran and the U.S. are still ongoing. Iran's Supreme Leader Ayatollah Ali Khamenei said that Tehran would not be "deceived" by U.S. negotiations and would not give up its missile program. Yesterday, U.S. intelligence showed that Iran has made plans to target U.S. forces in Iraq, causing a decision to reinforce the military presence in the region.
The major Europe stock markets had a green day today. CAC 40 increased 26.80 points or 0.51% to 5,268.26; FTSE 100 increased 29.49 points or 0.41% to 7,214.29; and DAX increased 178.36 points or 1.51% to 11,971.17.
The major Europe currency markets had a mixed day today. EURUSD increased 0.0016 or 0.14% to 1.1256; GBPUSD increased 0.0041 or 0.32% to 1.2704; and USDCHF decreased 0.0007 or 0.07% to 0.9917.
Some economic news:
France:
French Government Budget Balance (Apr) decreased from -40.7B to -67.2B
Spain:
Spanish Unemployment Change increased from -91.5K to -84.1K
Italy:
Italian Monthly Unemployment Rate (Apr) remain the same at 10.2%
UK:
Construction PMI (May) decreased from 50.5 to 48.6
BRC Retail Sales Monitor (YoY) (May) decreased from 3.7% to -3.0%
Eurozone:
Core CPI (YoY) (May) decreased from 1.3% to 0.8%
CPI (YoY) (May) decreased from 1.7% to 1.2%
Unemployment Rate (Apr) decreased from 7.7% to 7.6%
U.S. / AMERICAS:
Federal Reserve Chairman Jerome Powell took the opportunity to try and ease lingering trade and economic concerns at the Conference on Monetary Strategy, Tools and Communications Practices today. In regards to U.S.-China trade, Powell admitted that the central bank is unsure "how or when these issues will be resolved." He assured the public that the Fed is closely monitoring the situation and "will act as appropriate to sustain the expansion, with a strong labor market and inflation near our symmetric 2 percent objective."
The central bank has reiterated its "patient" policy regarding raising interest rates and has firmly resisted the Trump administration's demands to lower rates. However, today the chairman advised that policies are not set in stone and are dependent on changing economic conditions. "Perhaps it is time to retire the term 'unconventional' when referring to tools that were used in the crisis. We know that tools like these are likely to be needed in some form in future ELB spells, which we hope will be rare," Powell declared in reference to rate manipulation and bond buying.
Federal Reserve Vice Chairman Richard Clarida also commented on the state of the U.S. economy this Tuesday to reiterate that the Fed will adjust their fiscal policy as seen fit. "We will put in policies that need to be in place to keep the economy, which is in a very good place right now, and it's our job to keep it there," commented Clarida during an interview with CNBC.
The U.S. State Department is reimplementing a partial tourism ban on Cuba. Previously lifted under the Obama administration, the partial ban is in response to Nicolas Maduro's oppressive communist government. The State Department has accused Maduro of causing a "humanitarian disaster." Treasury Secretary Steven Mnuchin accused Maduro of "propping up U.S. adversaries in places like Venezuela and Nicaragua by fomenting instability, undermining the rule of law, and suppressing democratic processes." White House National Security Advisor John Bolton announced on Twitter that the U.S. will "continue to take actions to restrict the Cuban regime's access to U.S. dollars." Seeing as Americans compose the second-largest number of tourists to Cuba behind Canadians each year, this policy will certainly have a negative impact on Cuba's struggling economy.
Wall Street had a fairly strong bounce back today, experiencing its second-highest gain of 2019. The Dow jumped 512.40 points or +2.06% to 25,332.18; the S&P 500 advanced 58.82 points or +2.14% to 2,803.27; the Nasdaq climbed 194.10 points or +2.65% to 7,527.12; and the Russell 2000 added 38.58 points or +2.62% to 1,508.56.
The Canadian indices experienced gains as well, with the TSX Composite rising 150.35 points or +0.94% to 16,166.24 while the TSX 60 advanced 8.89 points or +0.93% to 968.48.
Brazil's Bovespa added 359.80 points or +0.37% to 97,380.28.
ENERGY:
According to the Turkish energy watchdog, Russian and Iraqi crude oil has filled the void of the sanctioned Iranian oil. However, there are still concerns and worries over supply.
The oil markets had a mixed day today. Crude Oil increased 0.2 USD/BBL or 0.38% to 53.4421; Brent increased 0.69 USD/BBL or 1.13% to 61.8619; Natural gas increased 0.026 USD/MMBtu or 1.08% to 2.4323; Gasoline decreased 0.0183 USD/GAL or -1.05% to 1.7249; and Heating oil increased 0.0166 USD/GAL or 0.92% to 1.8221.
Top commodity gainers: Sugar (2.05%), Lumber (3.08%), Feeder Cattle (2.85%), and Palm Oil (1.81%). Top commodity losers: Wheat (-2.88%), Soda Ash (-2.59%), Orange Juice (-2.48%), and Gasoline (-1.00%).
The above data was collected around 15:41PM EST on Tuesday.
BONDS:
Japan -0.09%(+1bp), US 2's 1.88% (-4bps), US 10's 2.12%(+1bps), US 30's 2.60%(+4bps), Bunds -0.20% (-0bp), France 0.18% (-0bp), Italy 2.53% (-16bp), Turkey 18.12% (-4bp), Greece 2.97% (-66bp), Portugal 0.74% (-6bp), Spain 0.67% (-5bp) and UK Gilts 0.91% (+3bp).
Japan 10-Year JGB Auction decreased from -0.060% to -0.110%
UK 5-Year Treasury Gilt Auction decreased from 0.849% to 0.612%