Blog/Market Talk
Posted Jun 4, 2018 by Martin Armstrong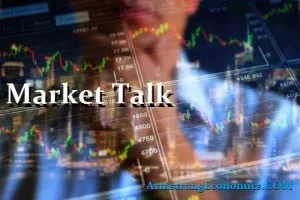 Following a strong US close on Friday and the lack of disrupting headlines over the weekend, including the G7 and so Asia returned a positive session across the region. The Nikkei rallied 1.35% as currency drifted and exporters benefited. The Yen plays at mid 109's as the US Dollar sees strong demand focusing from the solid set of economic data released last Friday. Despite the lofty close, the days trading was quite muted. The market had already opened with a 1% gain and so the intraday volatility remained quiet. However, that was not the picture seen in the SENSEX where a positive opening was soon lost resulting in a -0.6% close with investors worrying over the RBI which starts today. INR lost its early gains and was last seen back with a 67 handle on the days weakest levels. In China, the Shanghai whipped in thin volume as attentions focused on Trade Talk headlines. Closing up +0.5% was close to the highs of the days session but failed to come close to the Hang Sengs return of +1.65%.
European markets rallied off of the Asian momentum, but we do see questions being asked of the DAX. Whilst other indices were up +0.5% in morning session, the DAX was sold into negative territory. Again, exporters (auto's, industrials etc.) traded heavy with financials also fading in the afternoon session. It was encouraging however to see Deutsche Bank up over 1% after last weeks negativity. The Euro and GBP traded well at first on Merkel's weekend unity comment, but afternoon news that Theresa May's government appears to be slipping to Brexiteers turned Sterling into the close. There was talk that US money has been exiting the UK in favour of returning home, this was certainly supported by the price movement. Talk that the Ita;lian Cnetral Bank supported short-term BTP's last week has helped spread again today.
US stocks also joined the rally with the NASDAQ hitting more highs and the DOW gaining another 200 points from Fridays rally. Tech was again setting headlines with Apple and Amazon both hitting new highs. Following Fridays economic data the mood is looking good for stocks, the currency and with rates reversing all the safe-haven run seen early last week. The US curve saw a parallel hike gaining 9bp across the run. More to come as the data improves and the capital flow concentrates towards the US.
Japan 0.04%, US 2's closed 2.51% ((+9bp), 10's 2.94% (+9bp), 30's 3.08% (+8bp), Bunds 0.41% (+6bp), France 0.72% (+4b), Italy 2.50% (-28bp), Greece 4.39% (-11bp), Turkey 14.32% (+47bp), Portugal 1.72% (-20bp), Spain 1.31% (-15bp) and Gilts 1.29% (+6bp).