Blog/Market Talk
Posted Jul 3, 2017 by Martin Armstrong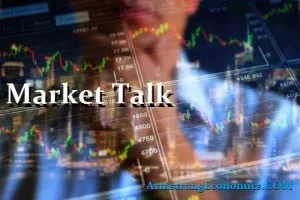 Some refreshingly strong data released in both Japan and China has helped market move on a note. We saw the BOJ's TANKAN (business confidence data) show an improvement from previous quarterly number at +17 (prior was +15). This has helped push the Nikkei a little better but sees the JPY trade weaker now with a 113 handle. In China PMI also better than expected helping the renewed confidence provided recently by the addition to the Emerging Markets Index. Additionally, a system (Bond Connect) is being trialled soon that will allow Hong Kong investors to participate in mainland FI markets. There is a concern being talked between dealers that China's debt now exceeds 300% of GDP but given most is local currency denominated is a relief. In Australia, the ASX lost a little ground today but we do have the RBA announcement expected Tuesday. Given the broad performance and probably credit energy with a little assist, Gold has lost ground today and was last seen around 1.2% lower on the day.
European indices continued along the strong theme with all core markets up around 1% across the board. There is however one straggler (FTSE) which is only +0.5% firmer but is also losing in currency (-1%) also. Having closed high (130+) on Friday, today we are seeing the opposite trade as weekend press was not so UK positive. Industrials, banks and mining are leading the positive momentum to start the week which is why recent safe-havens (FI, Gold) are giving a little back to start the second half of 2017. Also in the UK, the court case against Barclays starts when we expect clarity for some details of the support Barclays received from non-government during the 2008 financial crisis. This will be discussed on every trading floor around the world, I would imagine. Afternoon Europe continued the strong morning buildings on semi-solid PMI data. Banks and Industrials saw stock rally over 3% on the day with core closing around 1.5% better across the board.
It was the DOW that performed best (+0.6%) for the core US indices ending with a 130 point rally on the day. The broader S+P did close better (+0.25%) but nothing like the record the DOW managed to print. Unfortunately, the NASDAQ did not do so well closing lower (-0.45%) on the day as profit-taking and long liquidations continues following impressive H1 gains. Financials led the way (+3% on average) and probably to the detriment of Tech. Strong ISM release (57.8) also pushing the way forward supporting core strength.
2's closed 1.41% (+3bp), 10's 2.35% (+5bp), 30's 2.87% (+4bp), Bunds 0.47% (+1bp) closes the spread +182bp (+4bp). France 0.82% (+1bp), Italy 2.12% (-2bp), Greece 5.30% (u/c), Turkey 10.33% (+8bp), Portugal 2.95% (-5bp) and UK Gilts 1.25% (u/c).