Blog/Market Talk
Posted Jun 3, 2020 by Martin Armstrong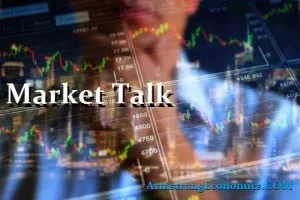 ASIA:
The US government says it will block Chinese airlines from flying into the US in response to China's decision to ban US air carriers on June 1, 2020. The Transportation Department restrictions will take effect on June 16 but could be enacted earlier if President Donald Trump decides to do so. The Transportation Department also said, "In the meantime, we will allow Chinese carriers to operate the same number of scheduled passenger flights as the Chinese government allows ours."
HSBC has openly supported the national security law China is imposing on Hong Kong, breaking the bank's silence on the legislation opposed by the UK government. Last week, Leung Chun-Ying, who served as the Chinese special administrative region's third chief executive, renewed pressure when he called for the bank to declare its support for the law. The bank has released a post online and said, "We reiterate that we respect and support laws and regulations that will enable Hong Kong to recover and rebuild the economy and, at the same time, maintain the principle of 'one country two systems.'"
India launched a USD $6.65 billion plan on Tuesday to boost electronics manufacturing, saying it would start by offering five global smartphone makers incentives to establish or expand domestic production. The government is offering a production-linked incentive (PLI) involving cash worth 4% to 6% of additional sales of goods made locally over five years, with 2019-2020 as the base year, technology minister Ravi Shankar Prasad told a news conference.
The Indian government has approved Gilead Sciences Inc's antiviral drug Remdesivir for emergency use in treating COVID-19 patients. Remdesivir is the first drug to show improvement in COVID-19 patients in formal clinical trials. It was granted emergency use authorization by the US Food and Drug Administration last month and has received approval by Japanese health regulators.
India's central bank has softened its stance on teaser loans, which several Indian automakers are offering this to Indian car buyers to increase the sales amid coronavirus-induced economic slump. Maruti Suzuki, Hyundai and Mercedes Benz have already launched such schemes, according to press releases over the past week. Teaser loans offer low interest rates for the first few months or years to attract customers, but rates are later rapidly increased.
The major Asian stock markets had a green day today:
NIKKEI 225 increased 288.15 points or 1.29% to 22,613.76
Shanghai increased 1.97 points or 0.07% to 2,923.37
Hang Seng increased 329.68 points or 1.37% to 24,325.62
ASX 200 increased 106.50 points or 1.83% to 5,941.60
Kospi increased 59.81 points or 2.87% to 2,147.00
SENSEX increased 284.01 points or 0.84% to 34,109.54
The major Asian currency markets had a green day today:
AUDUSD increased 0.00198 or 0.29% to 0.69379
NZDUSD increased 0.00439 or 0.69% to 0.64303
USDJPY increased 0.12 or 0.11% to 108.91
USDCNY increased 0.01072 or 0.15% to 7.11700
Precious Metals:
Gold decreased 28.30 USD/t oz. or -1.64% to 1,700.30
Silver decreased 0.33 USD/t. oz or -1.81% to 17.7260
Some economic news from last night:
China:
Caixin Services PMI (May) increased from 44.4 to 55.0
Japan:
Services PMI (May) increased from 21.5 to 26.5
South Korea:
FX Reserves – USD (May) increased from 403.98B to 407.31B
Hong kong:
Manufacturing PMI (May) increased from 36.9 to 43.9
Australia:
AIG Construction Index (May) increased from 21.6 to 24.9
Services PMI increased from 19.5 to 26.9
GDP (QoQ) (Q1) decreased from 0.5% to -0.3%
GDP (YoY) (Q1) decreased from 2.2% to 1.4%
GDP Capital Expenditure (Q1) increased from -1.0% to -0.8%
GDP Chain Price Index (Q1) increased from -1.2% to 1.1%
GDP Final Consumption (Q1) decreased from 0.5% to -0.4%
Private House Approvals (Apr) increased from -1.2% to 2.7%
Building Approvals (MoM) (Apr) increased from -2.6% to -1.8%
Indonesia:
M2 Money Supply (YoY) (Apr) decreased from 12.10% to 8.60%
Some economic news from today:
India:
Nikkei Services PMI (May) increased from 5.4 to 12.6
M3 Money Supply increased from 11.5% to 11.7%
Singapore:
Manufacturing PMI (May) increased from 44.7 to 46.8
EUROPE/EMEA:
As talks between the UK and EU continue via video conference for the remainder of the week, fresh arguments are surfacing regarding the UK access to the EU financial markets and whether they should still receive preferential treatment. The EU wants the right to shut the UK out of their financial markets with little or no prior notice, yet the UK is demanding something a little more concrete they can work with. Currently, the EU is the UK's biggest export partner with regards to financial services. The EU currently has agreements with the US and Japan giving the EU rights to withdraw access with 30 days notice.
The EU is setting stricter rules on automakers after new reports show that newer cars are infact outputting more CO2 than previous years. The EU stated for those companies to avoid fines they must reduce emissions by 27% from 2018 levels.
The European Commission classified the new COVID-19 as a mid-level risk placing it at a level 3, with level 4 being the highest, and suggesting that the disease can cause severe human disease, but treatments are available.
The EU chief of foreign affairs has called the death of US civilian George Floyd an abuse of power on behalf of the police, and urged the public to reduce the tensions. A few cities in Europe joined in on the protests, albeit most were peaceful.
The major Europe stock markets had a green today:
CAC 40 increased 163.41 points or 3.36% to 5,022.38
FTSE 100 increased 162.27 points or 2.61% to 6,382.41
DAX 30 increased 466.08 points or 3.88% to 12,487.36
The major Europe currency markets had a green day today:
EURUSD increased 0.00513 or 0.46% to 1.12363
GBPUSD increased 0.00028 or 0.02% to 1.25833
USDCHF increased 0.00001 or 0.00% to 0.96170
Some economic news from Europe today:
Swiss:
GDP (QoQ) (Q1) decreased from 0.3% to -2.6%
GDP (YoY) (Q1) decreased from 1.6% to -1.3%
Norway:
Current Account (Q1) increased from 25.1B to 66.1B
Spain:
Spanish Services PMI (May) increased from 7.1 to 27.9
Italy:
Italian Composite PMI (May) increased from 10.9 to 33.9
Italian Services PMI (May) increased to 10.8 to 28.9
Italian Monthly Unemployment Rate (Apr) decreased from 8.0% to 6.3%
France:
French Markit Composite PMI (May) increased from 30.5 to 32.1
French Services PMI (May) increased from 10.2 to 31.1
Germany:
German Composite PMI (May) increased from 17.4 to 32.3
German Services PMI (May) increased from 16.2 to 32.6
German Unemployment Change (May) decreased from 372K to 238K
German Unemployment Rate (May) increased from 5.8% to 6.3%
German Unemployment (May) increased from 2,637M to 2,875M
German Unemployment n.s.a. (May) increased from 2,644M to 2,813M
Euro Zone:
Markit Composite PMI (May) increased from 13.6 to 31.9
Services PMI (May) increased from 12.0 to 30.5
PPI (YoY) (Apr) decreased from -2.8% to -4.5%
PPI (MoM) (Apr) decreased from -1.5% to -2.0%
Unemployment Rate (Apr) increased from 7.1% to 7.3%
UK:
Composite PMI (May) increased from 13.8 to 30.0
Services PMI (May) increased from 13.4 to 29.0
US/AMERICAS:
The US workforce contracted by 2.76 million positions in May, according to a report released today by ADP. Despite the contraction, the number is better than many analysts feared as a recent poll suggested May's payroll decline could reach 8.75 million. The Labor Department will release the official unemployment figure this Friday, which many expect to be closer to 3 million.
Today the Trump administration banned Chinese passenger flights from landing in the US. The order will go into effect on June 16, and is largely in response to China's current ban on US carriers. The US Department of Transportation's goal of the ban is to provide "improved environment wherein the carriers of both parties will be able to exercise fully their bilateral rights." Furthermore, the department said that they are prepared to lift the ban as soon as Bejing reopens their borders to US carriers.
The Trump administration selected five top pharmaceutical companies to develop a coronavirus vaccine: Moderna, the combination of Oxford University and AstraZeneca Plc, Johnson & Johnson, Merck & Co Inc, and Pfizer Inc, according to Reuters. The New York Times reported that the US will announce their plans for vaccine development in the coming weeks.
The Bank of Canada (BoC) voted to maintain the current benchmark rate of 0.25% this Wednesday. The central bank drastically reduced rates amid the pandemic from 1.75% in February to 0.25% in March. by Tiff Macklem was in charge of making an important decision on his first day as the central bank's governor after Stephen Poloz resigned from his seven-year tenure. The bank issued the following statement: "The Bank's programs to improve market function are having their intended effect. After significant strains in March, short-term funding conditions have improved. Therefore, the Bank is reducing the frequency of its term repo operations to once per week, and its program to purchase bankers' acceptances to bi-weekly operations. The Bank stands ready to adjust these programs if market conditions warrant. Meanwhile, its other programs to purchase federal, provincial, and corporate debt are continuing at their present frequency and scope."
US Market Closings:
Dow advanced 527.24 points or 2.05% to 26,269.89
S&P 500 advanced 42.05 points or 1.36% to 3,122.87
Nasdaq advanced 74.54 points or 0.78% to 9,682.91
Russell 2000 advanced 33.88 points or 2.39% to 1,452.09
Canada Market Closings:
TSX Composite advanced 180.75 points or 1.17% to 15,575.11
TSX 60 advanced 10.02 points or 1.08% to 941.72
Brazil Market Closing:
Bovespa advanced 1,955.76 points or 2.15% to 93,002.14
ENERGY:
WTI and Brent dropped slightly at of the time of writing. However, the OPEC basket rose close to 4% of anticipation over production cuts. The next OPEC meeting is scheduled for the 9-10 of June but could be brought forward as early as the 4th.
The oil markets had a mixed day today:
Crude Oil decreased 0.04 USD/BBL or -0.11% to 36.7700
Brent decreased 0.15 USD/BBL or -0.38% to 39.4500
Natural gas increased 0.027 USD/MMBtu or 1.52% to 1.8050
Gasoline decreased 0.0014 USD/GAL or -0.13% to 1.1107
Heating oil decreased 0.031 USD/GAL or -2.85% to 1.0575
The above data was collected around 13.47 EST on Wednesday.
Top commodity gainers: Milk (64.39%), Cheese (61.30%), Rice (7.87%), and Sugar (3.39%)
Top commodity losers: Heating Oil (-2.85%), Rubber (-2.55%), Lumber (-2.55%), and Lean Hogs (-7.37%)
The above data was collected around 13.52 EST on Wednesday.
BONDS:
Japan 0.02%(+2bp), US 2's 0.20% (+3bps), US 10's 0.76%(+8bps); US 30's 1.56%(+8bps), Bunds -0.36% (+6bp), France 0.01% (+6bp), Italy 1.56% (+6bp), Turkey 11.41% (+6bp), Greece 1.51% (+1bp), Portugal 0.59% (+7bp); Spain 0.64% (+15bp) and UK Gilts 0.28% (+5bp).
Germany 5-Year Bobl Auction increased from -0.740% to -0.620%