Blog/Market Talk
Posted Jun 3, 2019 by marty armstrong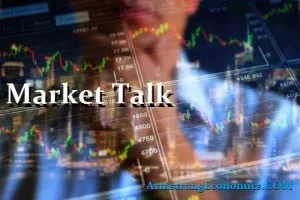 ASIA / AUSTRALIA:
There has been hardly any progress regarding the U.S.-Chinese trade deal. On Sunday, Chinese officials and trade negotiators warned the U.S. of using pressure to force a trade deal on China. "If the U.S. side wants to use extreme pressure, to escalate the trade friction, to force China to submit and make concessions, this is absolutely impossible," said Wang, who has been part of China's negotiating team. In addition, the Chinese Ministry of Education has warned students to be careful whilst studying in the U.S. "It has been the case for a while that some Chinese students who want to study in the U.S. have been encountering visa restrictions, prolonged review times, shortened time validity and a rising rate of visa rejections," the ministry statement said. Chinese company Huawei has officially agreed to sell off its undersea cable operations, and reportedly is reducing smartphone production orders with supplier Foxconn.
Japanese PMI numbers came in at 49.8 for May, a figure above 50 signals an expansion and below a contraction. The contraction comes about with fear of the global slowdown and export orders that have fallen at the fastest pace in four months
Meanwhile, President Trump announced last Friday that India was to be removed from a special trade program, saying it had "not assured the United States that India will provide equitable and reasonable access to its markets."
The major Asian stock markets had a mixed day today. Shanghai decreased 8.62 points or -0.30% to 2,890.08; KOSPI increased 26.11 points or 1.28% to 2,067.85; ASX 200 decreased 76.40 points or -1.19% to 6,320.50; NIKKEI 225 decreased 190.31 points or -0.92% to 20,410.88; Hang Seng decreased 7.23 points or -0.03% to 26,893.86; and SENSEX increased 553.42 points or 1.39% to 40,267.62.
The major Asian currency markets had a mixed day today. AUDUSD increased 0.0042 or 0.60% to 0.6980; NZDUSD increased 0.0068 or 1.04% to 0.6602; USDJPY decreased 0.3300 or 0.30% to 107.9300; and USDCNY decreased 0.0174 or 0.25% to 6.9186.
Gold increased 22.1 USD/t oz. or 1.69% to 1,325.17 and silver increased 0.25 USD/t. oz or 1.72% to 14.8326.
Some economic news:
Australia:
AIG Manufacturing Index (May) decreased from 54.8 to 52.7
Manufacturing PMI increased from 50.9 to 51.0
MI Inflation Gauge (MoM) decreased from 0.2% to 0.0%
ANZ Job Advertisements (MoM) decreased from 0.2% to 8.4%
Business inventories (MoM) (Q1) increased from -0.2% to 0.7%
Company Gross Operating Profits (QoQ) (Q1) decreased from 2.8% to 1.7%
Company Profits Pre-Tax (QoQ) (Q1) increased from 1.0% to 1.5%
Commodity Prices (YoY) decreased from 15.1% to 12.6%
Japan:
Capital Spending (YoY) increased from 5.7% to 6.1%
Manufacturing PMI (May) increased from 49.6 to 49.8
South Korea:
Nikkei Manufacturing PMI (May) decreased from 50.2 to 48.4
China:
Caixin Manufacturing PMI (May) remain the same at 50.2
India:
Nikkei Markit Manufacturing PMI (May) increased from 51.8 to 52.7
Singapore:
Manufacturing PMI (May) decreased from 50.3 to 49.9
EUROPE / EMEA:
The European Union is being sued by human rights activists with regards to the treatment of migrants and their resulting deaths. The lawyers argue that the EU should have been more welcoming rather than forcing migrants to take dangerous routes to enter the EU.
President Trump spent the last few days in the UK meeting with the Queen. He reiterated that the UK and U.S. were strong allies, and backed the idea of Brexit stating a strong independent UK will be a blessing to the world. There were few signs of his disapproval in the UK, with a few landmarks showing recent rating polls of his approval ratings. On Tuesday there will be an anti-trump rally in which Labour leader Corbyn is expected to prepare a speech.
During his meeting in the Netherlands, U.S. Secretary of State Mike Pompeo said that relations between the EU and Europe are excellent but the current trade terms are not fair to America.
The major Europe stock markets had a green day today. CAC 40 increased 33.84 points or 0.65% to 5,241.46; FTSE 100 increased 23.09 points or 0.32% to 7,184.80; and DAX increased 65.97 points or 0.56% to 11,792.81.
The major Europe currency markets had a mixed day today. EURUSD increased 0.0084 or 0.75% to 1.1251; GBPUSD increased 0.0039 or 0.31% to 1.2670; and USDCHF decreased 0.0090 or 0.90% to 0.9918.
Some economic news:
Swiss:
CPI (MoM) (May) increased from 0.2% to 0.3%
CPI (YoY) (May) decreased from 0.7% to 0.6%
SVME PMI (May) increased from 48.5 to 48.6
Norway:
Manufacturing PMI (May) increased from 54.0 to 54.4
Spain:
Spanish Manufacturing PMI (May) decreased from 51.8 to 50.1
Italy:
Italian Manufacturing PMI (May) increased from 49.1 to 49.7
France:
French Manufacturing PMI (May) remain the same at 50.6
Germany:
German Manufacturing PMI (May) remain the same at 44.3
Eurozone:
Manufacturing PMI (May) remain the same at 47.7
UK:
Manufacturing PMI (May) decreased from 53.1 to 49.4
U.S. / AMERICAS:
The tech sector is under pressure with news that the Justice Department is engaging in investigation of several top corporations. Alphabet, Google's parent company, declined -6.12% this Monday amid reports of concerns regarding alleged anti-competitive illegalities in its online search model. Amazon fell -4.64% today related to concerns of the company allegedly undercutting competitor's products on its sales platform. Facebook shares fell -7.51% this Monday as well after hearing the company may be involved in alleged anti-trust activities.
None of these are new concerns, but each time they bubble up in the news cycle, or the government decides to re-investigate, the stocks react expectedly negative.
On the economic front, May's PMI for the U.S. came in at 50.5, a decline from April's 52.6 reading, and the lowest PMI level since September 2009. Data indicates that manufacturing is continually expanding, albeit at a slower than expected pace due to the U.S.-China trade war. Analysts had originally forecast a PMI of 53 for May.
Additional PMI data from the Americas:
Canada's PMI reading reached a 3.5-year low in May after dropping to 49.1 from 49.8 the month prior
Mexico's Manufacturing PMI for May slipped to 50 from 50.1 in April
Brazil's PMI fell to 50.2 last month compared to 51.5 in April
On Wall Street, we saw another choppy day to start the month of June. The Dow closed just slightly positive, up by 4.74 points or +0.02% to 24,819.78; but the S&P 500 slipped -7.61 points or -0.28% to 2,744.45; the tech-heavy Nasdaq declined 120.13 points or -1.61% to 7333.02; but the Russell 2000 added +4.5 points or +0.31% to 1,469.98.
The Canadian indexes closed the in the red. The TSX Composite fell 21.60 points or -0.13% to 16,015.89, while the TSX 60 lost 2.30 points or -0.24% to 959.59 points.
In Brazil, the Bovespa remained relatively unchanged from Friday's session, dropping 9.84 points or -0.01% to 97,020.48.
ENERGY:
U.S. crude oil has hit a four-month low as global trade fears persists. OPEC is still monitoring their supply to the global markets in order to avoid a surplus.
Elsewhere an Italian multinational utility firm, Enel, has sold three operational renewable energy plants in Brazil to a Chinese energy firm for 660 million Euros.
With regards to renewable energy, Moroccan-born scientist Khalil Amine has been awarded the Global Energy Prize for his contribution into the development of the efficient electrical energy storage technology. A "full-gradient concentration cathode" is the scientist's accomplishment.
The oil markets had a mixed day today. Crude Oil decreased 0.71 USD/BBL or -1.33% to 52.6845; Brent increased 0.16 USD/BBL or 0.26% to 62.1500; Natural gas decreased 0.054 USD/MMBtu or -2.20% to 2.4048; Gasoline decreased 0.069 USD/GAL or -3.83% to 1.7295; and Heating oil decreased 0.0408 USD/GAL or -2.22% to 1.8016,
Top commodity gainers: Orange Juice (2.72%), Wheat (3.24%), Rice (2.12%), and Cotton (1.95%). Top commodity losers: Gasoline (-3.81%), Ethanol (-2.64%), Oat (-2.54%), and Coal (-2.40%)
The above data was collected around 15:56PM EST on Monday.
BONDS:
Japan -0.09%(+1bp), US 2's 1.92% (-3bps), US 10's 2.12%(-3bps), US 30's 2.57%(-2bps), Bunds -0.21% (-1bp), France 0.19% (-3bp), Italy 2.68% (+2bp), Turkey 18.12% (-4bp), Greece 3.63% (+0bp), Portugal 0.80% (-2bp), Spain 0.72% (+0bp) and UK Gilts 0.88% (-1bp).
French 3-Month BTF Auction increased from -0.544% to -0.543%
French 6-Month BTF Auction decreased from -0.550% to -0.557%
French 12-Month BTF Auction decreased from -0.547% to -0.562%
US 3-Month Bill Auction decreased from 2.310% to 2.300%
US 6-Month Bill Auction decreased from 2.320% to 2.255%