Blog/Market Talk
Posted Jun 29, 2017 by Martin Armstrong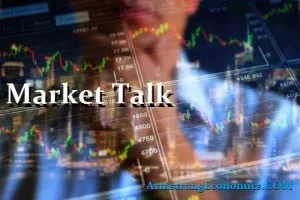 A strong follow-on for Asia after the positive day seen for US markets yesterday. Although a lot of the talk in Europe surrounded regulations, in Asia they followed directions from three central banks – Europe, UK and Canada – as rhetoric talked of positivity. It is interesting how the market apparently "misinterpreted" Mr Draghi's speech and within days Mark Carney changed his view (without data release) on almost the same time frame! One might think they are talking to each other. Anyway, we are where we are and are watching USD weakness as currencies bounce following these comments. The Nikkei reversed yesterdays 0.4% loss with a +0.5% gain for today, which only went to weaken the JPY back to the 113 handle. This was a good return for the Nikkei following the weaker than expected Retail Sales data (2% versus 2.6% expected). The Shanghai and Hang Seng both produced strong returns today as the Yuan traded the strongest level this year at 6.794. ASX also strong following the energy and commodity rallies closing up over 1%. SENSEX closed little changed but the NIFTY did trade marginally better at +0.2%.
Despite the FED's green light for US bank share buybacks and some core bank performance (HSBC, Barclays and Deutsche Bank all around 2%-4% higher), European indices were all lower. Currencies (Euro and GBP) continued their strong surge whilst stock market fell. Industrials, Materials, Retailers and Tech stocks were the big drags upon many markets and these sectors had effects across all markets as rate sensitivity weighs heavily. The DAX, CAC, IBEX and FTSE MIB all closed around 1.6% – 2% lower as we approach the crucial Week, Month and Quarter end this Friday. Many are discussing the agenda for G20 (July 7-8th) and attempting to apply that to this weeks fun and games surrounding central bank communications. Both core and peripheral bond markets continue to trade lower (price/higher yield) even as stock markets saw profit-taking ahead of Quarter end.
Tech led the markets lower on Thursday with profit-taking the talk for many traders ahead of Quarter end. Although the Tech sector closed -1.6% on the day it was off of earlier lows when the NASDAQ exceeded a 2% decline. Tech may have taken a beating in todays trading but it remains up over 17% in H1 of 2017. Industrials are also up over 13% with the big decliners being Energy down almost 14% YTD. Q1 2017 GDP grew better than expected at 1.4% but could not support the levels seen for H1. Bond markets continued to trade heavy in line with all central bank opinions.
2's closed 1.237% (+2bp), 10's 2.26% (+4bp), 30's 2.81% (+4bp), Bunds 0.45% (+8bp) which closes the US/Germany spread at +177bp (-8bp). France 0.8% (+9bp), Italy 2.14% (+12bp), Greece 5.30% (-8bp), Turkey 10.27% (+2bp), Portugal 2.98% (+5bp) and UK Gilts 1.25% (+10bp.