Blog/Market Talk
Posted Jun 29, 2020 by Martin Armstrong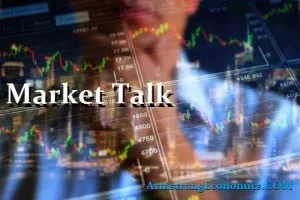 ASIA:
A new strain of flu that has the potential to become a pandemic has been identified in China by scientists. It emerged recently and is carried by pigs, but can infect humans, they say. The researchers are concerned that it could mutate further so that it can spread easily from person to person, and trigger a global outbreak.
The Indian government has banned 59 Chinese applications, including top social media platforms such as TikTok, Helo, and WeChat in order to counter the privacy security posed by these applications. ShareIT, UC browser, and shopping app Clubfactory are among the other prominent apps which have been banned. The government has argued that the applications are engaged in activities that are prejudicial to sovereignty and integrity of India, defense of India, and the security of state and public order.
India will gradually end federal controls on gas pricing as it seeks to attract foreign investment and technology to lift local output, oil minister Dharmendra Pradhan said on Friday. India, which is a large emitter of greenhouse gases and has multiple gas pricing regimes, aims to raise the share of gas in its energy mix to 15% by 2030, from 6.2%.
India's central bank, the Reserve Bank of India, is planning for a one-time loan restructuring scheme for some sectors severely hit by COVID-19 pandemic, as per request raised by Indian Bank's Association. The Indian Banks' Association (IBA) and many other bodies have made representation to both the government and the RBI for the one-time restructuring in the wake of massive disruptions caused by the pandemic.
Japan is opposed to the US' participation in South Korea at the Group of Seven summit this year, Kyodo News reported. The Japanese government objected on the grounds of differences in policy on China and North Korea and also wants to maintain its status as the only Asian country in the group, the news agency said.
In response to the growing number of COVID-19 infections worldwide, Japan is expanding its entry ban to visitors from 18 nations as part of steps aimed at curtailing the spread of the novel coronavirus, immigration authorities announced on Monday. The countries set to be included to the entry ban list: Guyana, Cuba, Guatemala, Grenada, Costa Rica, Jamaica, Nicaragua, Haiti, Saint Vincent and the Grenadines, Algeria, Eswatini, Cameroon, Senegal, Central African Republic, Mauritania, Iraq, Lebanon and Georgia
The major Asian stock markets had a negative day today:
NIKKEI 225 decreased 517.04 points or -2.30% to 21,995.04
Shanghai decreased 18.03 points or -0.61% to 2,961.52
Hang Seng decreased 248.71 points or -1.01% to 24,301.28
ASX 200 decreased 89.10 points or -1.51% to 5,815.00
Kospi decreased 41.17 points or -1.93% to 2,093.48
SENSEX decreased 209.75 points or -0.60% to 34,961.52
Nifty50 decreased 70.6 points or -0.68% to 10,312.40
The major Asian currency markets had a mixed day today:
AUDUSD decreased 0.00076 or -0.11% to 0.68561
NZDUSD decreased 0.00088 or -0.14% to 0.64123
USDJPY increased 0.48 or 0.45% to 107.69
USDCNY decreased 0.00869 or -0.12% to 7.07812
Precious Metals:
Gold decreased 0.32 USD/t oz. or -0.02% to 1,770.30
Silver increased 0.06 USD/t. oz or 0.34% to 17.8100
Some economic news from last night:
Japan:
Retail Sales (YoY) (May) increased from -13.9% to -12.3%
Some economic news from today:
Hong Kong:
Exports (MoM) (May) decreased from -3.7% to -7.4%
Imports (MoM) (May) decreased from -6.7% to -12.3%
Trade Balance increased from -23.3B to -13.7B
EUROPE/EMEA:
UK Prime Minister Boris Johnson has called for a new, investment-led approach to the economy as he said coronavirus had been "an absolute nightmare" for the UK. Johnson, speaking to Times Radio on its first day of broadcasting, also pushed back against the idea of an imminent inquiry into the scale of Covid-19 deaths in the UK, saying this was too soon.
The head of the UK's largest fund manager has criticized the UK government for creating "confusion" around the country's climate commitments by prioritizing projects such as expanding Heathrow airport and pushing ahead with HS2. Nigel Wilson said government priorities were "not necessarily consistent" with climate crisis objectives and sending mixed messages to investors and the financial services industry.
German Foreign Minister Heiko Maas on Monday said the UN Security Council is "on the verge of paralysis" as the country prepares to take on the one-month term presidency. In an interview with German Press Agency (DPA), Maas said even on important issues such as the Syrian conflict or COVID-19 pandemic the Security Council cannot reach a common position due to disagreements and tensions between permanent members.
France President Emmanuel Macron's centrist party received a drubbing Sunday in municipal elections, as the Greens celebrated victories in several big cities after a surge in support. Macron had hoped the elections would help anchor his young party in towns and cities across France, including Paris, ahead of an anticipated 2022 reelection bid.
The major Europe stock markets had a green day:
CAC 40 increased 35.82 points or 0.73% to 4,945.46
FTSE 100 increased 66.47 points or 1.08% to 6,225.77
DAX 30 increased 142.73 points or 1.18% to 12,232.12
The major Europe currency markets had a mixed day today:
EURUSD increased 0.0015 or 0.13% to 1.12334
GBPUSD decreased 0.00508 or -0.41% to 1.22844
USDCHF increased 0.00354 or 0.37% to 0.95155
Some economic news from Europe today:
Spain:
Spanish Business Confidence increased from -33.0 to -23.4
Spanish CPI (YoY) increased from -0.9% to -0.3%
Spanish CPI (MoM) increased from 0.0% to 0.5%
Spanish HICP (MoM) increased from 0.1% to 0.4%
Spanish HICP (YoY) (Jun) increased from -0.9% to -0.3%
Germany:
German CPI (YoY) (Jun) increased from 0.6% to 0.9%
German CPI (MoM) (Jun) increased from -0.1% to 0.6%
German HICP (MoM) (Jun) increased from 0.4% to 0.7%
German HICP (YoY) (Jun) increased from 0.5% to 0.8%
UK:
BoE Consumer Credit (May) increased from -7.425B to -4.597B
M4 Money Supply (MoM) (May) increased from 1.5% to 2.0%
Mortgage Approvals (May) decreased from 15.85K to 9.27K
Mortgage Lending (May) increased from 0.01B to 1.22B
Net Lending to Individuals increased from -7.4B to -3.4B
Euro Zone:
Business and Consumer Survey (Jun) increased from 67.5 to 75.7
Business Climate (Jun) increased from -2.41 to -2.26
Consumer Confidence (Jun) increased from -18.8 to -14.7
Consumer Inflation Expectation (Jun) decreased from 28.6 to 21.6
Selling Price Expectations (Jun) decreased from -8.6 to -4.4
Services Sentiment (Jun) increased from -43.6 to -35.6
Industrial Sentiment (Jun) increased from -27.5 to -21.7
US/AMERICAS:
Nearly half of the US adult population is currently experiencing unemployment, according to the Bureau of Labor Statistics. The number of people currently employed, known as the employment-population ratio, plummeted to 52.8% this May, which leaves 47.2% of the American workforce unemployed. In contrast, 61.2% of the US population was employed in January 2020.
Iran has issued an arrest warrant for US President Donald Trump for ordering the January 3 drone strike that killed a top Iranian general. Iran has reached out to Interpol for assistance in detaining the American president. Interpol, an international police force based in France, said it would not help Iran capture President Trump. According to a newly released statement, Interpol said its guidelines prohibit "any intervention or activities of a political, military, religious or racial character."
States are continually stalling reopening efforts amid a continual rise in positive COVID-19 cases. Numerous counties in Florida announced that the beaches will be closed during the Fourth of July weekend to detract tourism and social gather. New Jersey was set to reopen dine-in establishments on Thursday, but announced that they are now halting any reopening efforts. California Gov. Gavin Newsom issued an order on Sunday prohibiting bars from opening in many counties. New York Gov. Andrew Cuomo is now urging President Trump to issue an executive order mandating masks at a federal level, which is highly unlikely to occur.
The Canadian Province of Alberta announced plans to cut the corporate tax rate to attract new business. The province also plans to invest C$10 billion in new infrastructure projects to promote an economic recovery. Premier Jason Kenney said that the tax cut will go into effect on July 1, and will bring the corporate tax rate from 10% to 8%. "Given the severity of the economic crisis, we must act now," Kenney stated, after also noting that unemployment was nearing 25% in Alberta.
Cuba's Communist government is urging citizens to begin growing their own food. "Cuba can and must develop its program of municipal self-sustainability definitively and with urgency, in the face of the obsessive and tightened US blockade and the food crisis COVID-19 will leave," José Ramón Machado, deputy leader of the Cuban Communist Party, stated this Monday. Reuters reported that Cuba currently imports two-thirds of its food products, costing the nation around $2 billion annually.
US Market Closings:
Dow advanced 580.25 points or 2.32% to 25,595.80
S&P 500 advanced 44.19 points or 1.47% to 3,053.24
Nasdaq advanced 116.93 points or 1.2% to 9,874.15
Russell 2000 advanced 42.43 points or 3.08% to 1,421.21
Canada Market Closings:
TSX Composite advanced 200.74 points or 1.32% to 15,389.72
TSX 60 advanced 12.95 points or 1.41% to 928.6
Brazil Market Closing:
Bovespa advanced 1,900.86 points or 2.03% to 95,735.35
ENERGY:
OPEC has cut oil output in June by 1.25 million barrels per day (bpd) from May levels as it works to implement a supply restraint agreement with Russia and other allies, according to estimates from tanker-tracking company Petro-Logistics. OPEC and its allies, a group, known as OPEC+, agreed to cut supply by a record 9.7 million bpd from May 1 to offset an oil price and demand slump triggered by the coronavirus crisis. OPEC's share of the cut is 6.084 million bpd.
The oil markets had a green day today:
Crude Oil increased 1.08 USD/BBL or 2.81% to 39.5700
Brent increased 0.8 USD/BBL or 1.97% to 41.5100
Natural gas increased 0.207 USD/MMBtu or 13.85% to 1.7010
Gasoline increased 0.0471 USD/GAL or 4.15% to 1.1811
Heating oil increased 0.036 USD/GAL or 3.19% to 1.1633
The above data was collected around 15.10 EST on Monday.
Top commodity gainers: Natural Gas (13.85%), Orange Juice (6.11%), Gasoline (4.15%), and Oat (3.83%)
Top commodity losers: Cotton (-2.23%), Steel (-1.21%), Cocoa (-4.72%), and Coal (-0.97%)
The above data was collected around 15:17 EST on Monday.
BONDS:
Japan 0.02%(+1bp), US 2's 0.16% (-1bps), US 10's 0.64%(+1bps); US 30's 1.40%(+2bps), Bunds -0.47% (+1bp), France -0.12% (+1bp), Italy 1.38% (+1bp), Turkey 11.46% (+6bp), Greece 1.33% (+7bp), Portugal 0.49% (+1bp); Spain 0.49% (+2bp) and UK Gilts 0.16% (-2bp).
US 3-Month Bill Auction decreased from 0.155% to 0.150%
US 6-Month Bill Auction decreased from 0.175% to 0.165%
French 12-Month BTF Auction decreased from -0.526% to -0.530%
French 3-Month BTF Auction increased from -0.551% to -0.523%
French 6-Month BTF Auction decreased from -0.529% to -0.531%