Blog/Market Talk
Posted Jun 28, 2018 by Martin Armstrong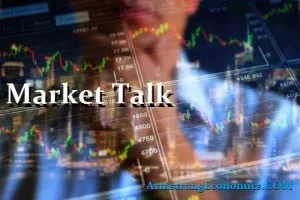 Asia certainly showed its distain after the disappointing close on US markets. Japan, India and ASX all opened lower, but reassuringly they were the days lows. The Nikkei spent much of the day recouping lost ground and with the help of a weaker currency., finally finished marginally positive. The SENSEX did not fair so well, as it tended to drift lower resulting in a -0.5% decline on the day. As expected, the INR continues to decline even despite much speculation that the bank will be in protecting it! Opening at all time lows, the fears are starting to hit home that the currency maybe a one-way bet to the psychological 75 level. Much of the decline is international related, but will probably only be temporarily slowed by intervention. In China we also heard talk of a deliberate lowering of the Yuan, but these are just rumours to fill the void of why this strong dollar trend is occurring.
The strong dollar rolled into Europe also with the continued heated decline of the GBP. So far we have seen an 8% fall in cable and this does not look to be stopping anytime soon. Fridays closing values will be eagerly watched especially as it is month, quarter and half year end. Again, the DAX was the underperformer of the core as we see industrials, technology and auto's come under selling pressure. More concerns in Germany as speculation continues over Angela Markel's leadership. Late this afternoon this talk was denied by Interior Minister Horst Seahofer. We started the EU leaders conference today and a late headline that is talked in that Italy blocked the joint EU Migration statement. This has not hit the currency but will probably play out in the peripheral bond market tomorrow when trading starts.
US markets opened a little nervous, but certainly made up for lost ground by the close. Even with the US Dollar strengthening, cash is flowing back into equity markets late in the day. All core indices closed firmer with around an average of +0.65% across the boards. Banks and technology were the key turnarounds especially have been suffering in recent days. We did appear to find a few headlines that are pushing the Trade War concerns into the background and with the US Committee of Foreign Investment news early in the day, this hasn't cleared the concerns but it has diverted attention toward a less political angel.
Japan 0.03%, US 2's closed 2.51% (-1bp), 10's closed 2.84% (-3bp), 30's 2.97% (-5bp), Bunds 0.32% (u/c), France 0.70% (-1bp), Italy 2.77% (-3bp), Greece 3.99% (+3bp), Portugal 1.81% (-1bp), Spain 1.36% (+1bp), Turkey 15.60% and Gilts 1.26% (+2bp).