Blog/Market Talk
Posted Jun 28, 2017 by Martin Armstrong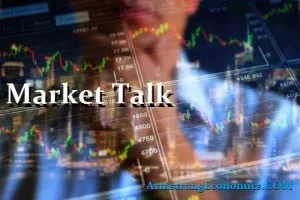 Following-on from the weak US session, Asia drifted in sympathy. The news from the US Senate, after their markets had closed, worried Asia as they responded to the news. On the whole core markets were lower, the exception being a +0.7% increase in the Australian ASX. Shanghai and the Hang Seng closed around -0.6% lower. There is still much talk surrounding the extreme price moves for some Small Caps in yesterdays trading even though it did not affect the core HSI. There are regulators investigating these price swings which we will report when we have more clarity. The Nikkei was also weaker down around -0.5% which saw a small price improvement for the Yen (+0.25%) but that remains with a 112 handle continuing its slow decline.
Much talk surrounding central banks from both Europe and the UK which saw positive moves for the Euro and GBP. However, it is the German Finance ministers response to the Italian bank activity over the past few days that had most people talking today. Wolfgang Schaeuble called it use of loophole's that allowed the move with the EU not actually in action. Although the EU approved the terms, it is believed EU terms for the deal would have been far stricter. We hear there is now discussions underway that state aid could be limited in bankruptcy cases and maybe having to permit greater EU involvement. This was reflected in European indices where core markets were lower but FTYSE MIB closed +1.25% higher. A lot of confusion over Draghi's speech yesterday and it really is not surprising. He said, "Reflationary forces are in play" and then in the next sentence "Current stimulus programme needs to remain"! Really do not think it was the markets misinterpretation think its more likely someone who wants two things at once. GBP rallied (+1.2%) after Carney was on the tapes but Gilts took the hit as a result.
US was strong from the opening with Banks, Retailers and Industrials all contributing to the rally. Looks like US traders spotted this earlier than European as the US market was stronger from the opening. NASDAQ led gains closing up nearly 1.5% on the day but also saw strong gains for the DOW and S+P +0.7% and +0.9% respectively. Oil reserves were a little weaker than expected which encouraged a rally of almost 1%. Bonds markets took a hit as they watched the 150+ point rally in the DOW.
2's closed 1.35% (-2bp), 10's 2.22% (+2bp), 30's 2.77% (+2bp), Bunds 0.37% (u/c) which widened the spread marginally to +185bp. France 0.71% (-2bp), Italy 2.02% (-3bp), Greece 5.38% (+2bp), Turkey 10.25% (+9bp), Portugal 2.93% (-9bp) and Gilts 1.15% (+6bp).