Blog/Market Talk
Posted Jun 27, 2017 by Martin Armstrong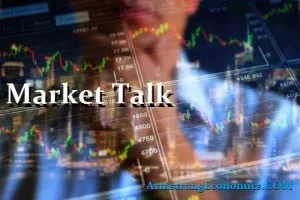 Although the Shanghai index continued its positive trend we did finally see only a minimal advance and then a small set-back for the Hang Seng. An earlier strong gain (+0.6%) in the Hand Seng was lost by the time the market had closed but with numerous unexplained small cap scares, it was not a surprise the strong start had been tapered. In Japan the Nikkei also made a small gain but then the currency did loose a similar amount. JPY traded out to mid 112's by the end of the day as volumes remained thin due to many countries still on EID holidays.
Following the mixed Asian session Europe was already battling uncertainty and then heard an opinion from Mario Draghi concerning rates. He spoke early afternoon justifying the current stance on rates and voiced that rates will move but maybe not immediately. European stocks did not like the news and immediately saw weakness with both the DAX and CAC closing around -0.8% o the day. Italy's MIB lost over 1% with IBEX also down (-0.5%) but managed to hold-in slightly better as banks performed today. The Schaeffler Group -12% in todays trading (Auto's and industrial supplies – very influential for manufactures); cut profit forecasts which dragged many of the core auto names with them. The slowdown in Germany many had feared looks to be supported today after this and data releases. UK's FTSE held in reasonably well after the governor of the Bank of England, Mark Carney, advised UK banks they should hold better Capital Ratio's than their current positions. European and Gilt markets certainly did not liked what they heard and saw rates rise across both core, peripheral and across all sectors of the curve.
They have been calling this the Trump Trade from the beginning and it looks as though we have just seen first interruption to the Trump agenda. The Senate just delayed the Healthcare vote even as President Trump says, "We are very close". All core took a breather today with selling across all sectors, but we did see the NASDAQ off around 1.6% whilst the DOW and S+P both lost approximately -0.5%. NASDAQ opened weak upon the news that Google faces a $2.7bn fine from the EU on violation of Antitrust rules. On the data front again we see stronger soft data but as yet, is not being supported by hard data. More on this later in the week.
2's closed 1.37% (+4bp), 10's 2.20% (+7bp), 30's 2.75% (+5bp), Bunds 0.37% (+13bp) which closes the US/Germany spread at +183bp (-6bp). France 0.73% (+14bp), Italy 2.05% (+17bp), Greece 5.36% (+6bp), Turkey 10.16% (u/c), Portugal 3.02% (+14bp) and Gilts 1.09% (+8bp).
Note the bond markets across the worlds reaction to central bank speakers but more so the ECB. If we see the only buyer backing away regardless of whether it is possible to short bonds or not – you face virtually zero demand yet issuance as per normal.