Blog/Market Talk
Posted Jun 24, 2021 by Martin Armstrong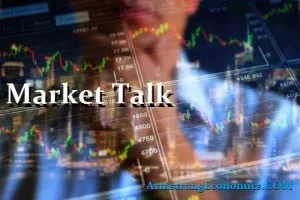 ASIA:
A report published by United Nations Development Programme highlights that trade shocks fueled by unilateral tariffs between the U.S. and China have undone three to five years' worth of growth among global value chains in affected countries. The report found looking at the post-pandemic future of global value chains found that trade within those supply lines shrank in absolute terms along with other types of trade. Tariffs are still being applied on billions of dollars of goods under a U.S.-China trade war that began under President Donald Trump. The U.S. and China agreed on a partial trade deal in 2020, though China never met its purchase commitments. The U.S. trade representative has since stated that a "significant imbalance" remains in the trade relationship between the world's two largest economies.
The share of Middle Eastern crude in India's oil imports fell to a 25-month low in May, as refiners tapped alternatives in response to the government's call to diversify supplies, Reuters reported. In March, India, the world's third-biggest oil importer, directed refiners to diversify crude sources after the Organization of the Petroleum Exporting Countries (OPEC) and its allies, led by top exporter Saudi Arabia, ignored New Delhi's call to ease supply curbs. Asia's third-largest economy imported about 4.2 million barrels per day (bpd) of oil in May, just below the previous month but about 31.5% higher than a year earlier, the data showed. The Middle East's share dropped to 52.7%, the lowest since April 2019 and down from 67.9% in April, the data showed. Imports from Saudi Arabia, India's second-largest supplier after Iraq, slipped by about a quarter from a year earlier, while supplies from the United Arab Emirates, which dropped to No. 7 position from No. 3 in April, fell by 39%, the data showed.
NIKKEI 225 advanced 0.34 of a point or 0% to 28,875.23

Shanghai advanced 0.43 of a point or 0.01% to 3,566.65

Hang Seng advanced 65.39 points or 0.23% to 28,882.46

ASX 200 decreased 23.2 points or -0.32% to 7,275.30

Kospi advanced 9.91 points or 0.3% to 3,286.1

SENSEX advanced 392.92 points or 0.75% to 52,699

Nifty50 advanced 103.5 points or 0.66% to 15,790.45
EUROPE/EMEA:
The European Central Bank chose not to signal when it might start reducing its pandemic-era stimulus program on Thursday and expects inflation to remain below its target in the foreseeable future. Recent data has shown an overshoot in inflation for the 19-member area that shares the euro, to above the ECB's target of close to, but below, 2%. The ECB had previously said it was expecting prices to pick up in 2021, but only temporarily. The data has raised questions about the future of monetary policy in the eurozone, with market players wanting answers on how long the central bank will keep up its vast monetary stimulus. The ECB committed to purchasing 1.85 trillion euros ($2.2 trillion) of bonds until March 2022 as part of its Pandemic Emergency Purchase Program (PEPP).
European Central Bank has strengthened its approach to using digital euro to combat 'threats' like Bitcoin and stablecoins. European Central Bank (ECB) executive Fabio Panetta believes that the digital euro will help to protect consumer privacy, and that cryptocurrencies such as Bitcoin are "very dangerous animals." He added that the aim of the digital currency project from the central bank was to combat the spread of other digital assets created by other countries and companies. Pointing to stablecoin Diem, created by Facebook that would allow users to send money as quickly as text messages, Panetta believes that it could be a potential threat if the central bank does not offer users a digital means of payment. According to the Bank for International Settlements, nearly two-thirds of the world's central banks are exploring the potential launch of digital currencies by running practical experiments.
CAC 40 

advanced 80.08 points or 1.22% to 6,631.15

FTSE 100 

advanced 35.91 points or 0.51% to 7,109.97

DAX 30 

advanced 132.84 points or 0.86% to 15,589.23
US/AMERICAS:
Initial jobless claims for the week of June 19 decreased at a slower pace than anticipated. Around 411,000 Americans filed for unemployment last week, slightly down from 418,000 the week prior, but above analysts' expectation of 380,000. There are currently 9.3 million job openings across the nation. Continuing claims are on the decline with a weekly decrease of 144,000 to the tune of 3.39 million.
The US economy grew at an unrevised pace of 6.4% during Q1, the Commerce Department reported Thursday. The Federal Reserve is predicting a rapid uptick in economic activity this year to the tune of 7%. If that occurs, it will mark the fastest pace of economic growth in the US since 1984. Federal Reserve Chairman Jerome Powell repeatedly noted over the past week that volatility remains high but they are optimistic about annual growth.
All 23 major banking institutions passed the 2021 annual "stress test" by the Federal Reserve. The central bank said all 23 institutions were "well above" the minimum capital requirements and could survive a "severe global recession."
The Trudeau Administration is considering placing a national tax on vacant properties owned by non-citizens. Those meeting the criteria would be subject to a 1% tax beginning on January 1, 2022. However, the prime minister is coming under fire after other nations, such as America, are hinting at retaliatory measures. "The Canadians would be wise to just re-evaluate this," Rep. Brian Higgins (D-N.Y.) said, as his district is adjacent to the border. Deputy Prime Minister Chrystia Freeland insists the new tax is "to ensure that houses in Canada don't become vehicles for storing offshore wealth."
US Market Closings:
Dow advanced 322.58 points or 0.95% to 34,196.82
S&P 500 advanced 24.65 points or 0.58% to 4,266.49
Nasdaq advanced 97.98 points or 0.69% to 14,369.71
Russell 2000 advanced 30.15 points or 1.31% to 2,333.62
Canada Market Closings:
TSX Composite advanced 50.73 points or 0.25% to 20,215.12
TSX 60 advanced 3.02 points or 0.25% to 1,211.67
Brazil Market Closing:
Bovespa advanced 1,085.25 points or 0.85% to 129,513.23