Blog/Market Talk
Posted Jun 24, 2019 by marty armstrong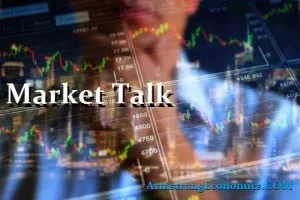 ASIA / AUSTRALIA:
The Chinese foreign minister has stated that they will "not allow" the G20 to discuss matters regarding Hong Kong. Recently, Hong Kong overruled a previous ruling that allowed Chinese extradition. Over the weekend, Chinese Vice Commerce Minister Wang Shouwen requested that the U.S. stop their inappropriate tariffs and actions against Chinese companies. This is in response to the "entity list" that U.S. created which bars U.S. companies from dealing with Chinese companies on the list.
Swiss bank UBS has estimated that a recession could occur if the U.S. and China do not come to a compromise with regards to their trade deal. The recession is likely to impact the U.S. and China the most, but Europe will also be negatively affected and central banks around the world would likely be forced to lower rates further.
The major Asian stock markets had a mixed day today: Shanghai increased 6.17 points or 0.21% to 3,008.15; KOSPI increased 0.71 points or 0.03% to 2,126.33; ASX 200 increased 14.60 points or 0.22% to 6,665.40; NIKKEI 225 increased 27.35 points or 0.13% to 21,285.99; Hang Seng increased 39.29 points or 0.14% to 28,513.00; and SENSEX decreased 71.53 points or -0.18% to 39,122.96.
The major Asian currency markets had a mixed day today. AUDUSD increased 0.0043 or 0.62% to 0.6966, NZDUSD increased 0.0033 or 0.50% to 0.6620, USDJPY decreased 0.0010 or 0.00% to 107.2990, and USDCNY increased 0.0124 or 0.18% to 6.8742.
Gold increased 20.51 USD/t oz. or 1.47% to 1,417.43 and silver increased 0.1029 USD/t. oz or 0.67% to 15.4584.
Some economic news:
New Zealand:
Credit Card Spending (YoY) increased from 4.5% to 6.6%
Indonesia:
Export Growth (YoY) (May) increased from -13.10% to -8.99%
Import Growth (YoY) (May) decreased from -6.58% to -17.71%
Trade Balance (May) increased from -2.50B to 0.21B
Japan:
Leading Index increased from 95.7 to 95.9
Singapore:
CPI (YoY) (May) increased from 0.8% to 0.9%
EUROPE / EMEA:
UK Labour leader Jeremy Corbyn has reiterated in a statement to the House of Commons that any Brexit deal agreed by parliament must be put to the public in a second referendum. The UK Prime Minister spot will be vacated within the fortnight, and the Conservative party is in the final rounds where internal party elections determine the outcome with Boris Johnson and Jeremy Hunt in the final two. Boris Johnson is said to be the likely candidate for the role and is in the lead.
Switzerland and the EU have entered into a disagreement regarding a "partnership treaty" with the EU blaming the Swiss for foot-dragging. After the row intensified, the Swiss government said it could go as far as to ban stock exchanges in the European Union from trading Swiss shares. Switzerland's Foreign Minister Ignazio Cassis has continued to repeat the country will not be coerced into any deal but is open for talks.
U.S. President Trump announced further sanctions on Iran after a U.S. drone was shot down last week in the Gulf of Oman, whilst the Iranians state that the US drone was in Iranian airspace. Trump announced that Iran was also doing "many other things." What was interesting was that Trump's administration singled out Iranian Supreme leader Ali Khamenei, stating the fact the U.S. believes he is ultimately responsible for the hostility of the regime. Trump had a busy day, calling for China to shoulder the responsibility to monitoring and protect the straits of Hormuz, tweeting that China gets 91% of their oil from that region passing the strait.
The major European stock markets had a mixed day today. CAC 40 decreased 6.62 points or -0.12% to 5,521.71, FTSE 100 increased 9.19 points, or 0.12% to 7,416.69, and DAX decreased 65.35 points or -0.53% to 12,274.57.
The major European currency markets had a mixed day today. EURUSD increased 0.00355 or 0.31% to 1.14015, GBPUSD increased 0.0002 or 0.02% to 1.2742, and USDCHF decreased 0.0040 or 0.41% to 0.9722.
Some economic news:
Germany:
German Business Expectations decreased from 95.2 to 94.2
German Current Assessment increased from 100.6 to 100.8
German Ifo Business Climate Index decreased from 97.9 to 97.4
U.S. / AMERICAS:
This Monday, nineteen American billionaires, including George Soros, released a statement to potential 2020 presidential candidates to request a higher tax rate. "This revenue could substantially fund the cost of smart investments in our future, like clean energy innovation to mitigate climate change, universal child care, student loan debt relief, infrastructure modernization, tax credits for low-income families, public health solutions, and other vital needs," the letter noted. Numerous analysts have addressed that raising taxes for any tax bracket fails to take into account the main cause of government spending – government borrowing. Nonetheless, numerous 2020 candidates are proposing plans to increase income-based taxes.
President Trump criticized the Federal Reserve's decision to maintain interest rates, claiming they are acting like a "stubborn child." According to the president, the Federal Reserve "raised rates way too fast" without factoring in the low rate of inflation and slowing global economic conditions. Mario Draghi of the ECB recently announced plans to supplement a stimulus package, which only added to Trump's dismay as he claims the EU will now have an unfair advantage.
Dallas Fed President Robert Kaplan made an announcement this Monday in which he declared it was too early for the Federal Reserve to raise interest rates. "I am concerned that adding monetary stimulus, at this juncture, would contribute to a build-up of excesses and imbalances in the economy which may ultimately prove to be difficult and painful to manage," Kaplan noted in a prepared essay.
Brazil is also counting on the Federal Reserve to lower rates once again. When developed countries lower their interest rates, it tends to send capital to emerging countries. Brazilian investors are also counting on domestic Social Security and pension reform progress in the near-term future. These international and domestic policies, albeit uncertain, will play a crucial role in Brazil's markets moving forward.
U.S. markets started the day strong but declined as the day progressed. The Dow still finished in positive territory, increasing 8.41 points (+0.03%) to 26,727.54, but the S&P 500 slipped 5.11 points (-0.17%) to 2,945.35, the Nasdaq lost 26.01 points (-0.32%) to 8,005.70, and the Russell 2000 decreased by 19.54 points (-1.26%) before closing the day at 1,530.08.
The Canadian markets traded in a choppy pattern this Monday. The TSX Composite declined 1.96 points (-0.01%) to 16,523.47, while the TSX 60 lost -0.51 of a point (-0.05%) to 988.24.
Brazil's Bovespa continued its upward momentum this Monday. The index increased 49.69 points (+0.05%) to 102,062.33.
ENERGY:
Much of the same story with Crude oil. Iran and Trump's spat taking much of the headlines and fueling upward pressure on Crude. The upcoming OPEC meeting will be critical to determine the ongoing supply, whether the group will carry on limiting supply, and perhaps discuss the Iranian issue.
The oil markets had a mixed day today. Crude Oil increased 0.51 USD/BBL or 0.89% to 57.8491, Brent decreased 0.26 USD/BBL or -0.40% to 64.8264, Natural gas increased 0.121 USD/MMBtu or 5.54% to 2.3091, Gasoline increased 0.0004 USD/GAL or 0.02% to 1.8575, and Heating oil decreased 0.0064 USD/GAL or -0.33% to 1.9071.
Top commodity gainers: Natural Gas (5.54%), Bitumen (3.72%), Orange Juice (3.05%), and Coffee (2.71%). Top commodity losers: Oat (-2.69%), Rubber (-2.79%), Lean Hogs (-4.43%), and Cocoa (-1.98%)
The above data was collected around 15:08 EST on Monday.
BONDS:
Japan -0.14%(+2bp), US 2's 1.73% (-5bps), US 10's 2.03%(-4bps), US 30's 2.55%(-4bps), Bunds -0.31% (-3bp), France 0.03% (-3bp), Italy 2.16% (+0bp), Turkey 15.59% (+49bp), Greece 2.47% (-8bp), Portugal 0.57% (-1bp), Spain 0.41% (-3bp) and UK Gilts 0.81% (-3bp).
US 3-Month Bill Auction decreased from 2.170% to 2.085%
US 6-Month Bill Auction increased from 2.130% to 2.690%
French 3-Month BTF Auction decreased from -0.549% to -0.559%
French 6-Month BTF Auction decreased from -0.565% to -0.583%
French 12-Month BTF Auction decreased from -0.566% to -0.592%