Blog/Market Talk
Posted Jun 23, 2017 by Martin Armstrong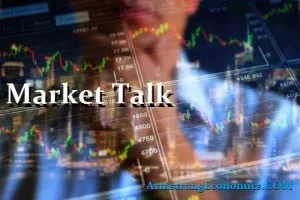 Most core markets finished a quiet week with limited volatility and little change. The Nikkei closed small down while the JPY set a similar trend, eventually finishing mid 111's. A lot of the talk and discussions have been around the Hang Seng and the Chinese markets. Having just included 222 of the core Shanghai this has tended to dominate much of the moves and anticipation. Authorities have additional work ahead of them but this week will reflect a key point for when potentially the second largest market in the world opened its doors. Regulators will be keen to show the world the market is also ready for the move so expect stricter conditions ahead for local financial institutions as they move to centre stage. The Shanghai again continued its positive move closing +0.35% on the day. SENSEX saw a rare pullback closing off -0.5%.
European market drifted lower again today as the lack of positivity surrounding energy prices continue to weigh on European stocks. Although the sentiment is blamed on energy this week, today was the turn of auto's, food and economic minerals after growth continues to slow. European PMI dropped (55.7); levels not seen in almost six months but even this appears second place to headlines for the BREXIT talks. The oil price did bounce today but considering we are looking at around a 20% decline YTD todays move just looks more like a blip. On the eve of the BREXIT decision, the talking point continues to dominate as the separation talks end their first week. CAC, DAX and FTSE all around -0.3% lower with IBEX a little weaker down -0.8%.
Given the uncertainty surrounding many markets it was left up to the US indices to continue the positive sentiment. The broader S+P, Russell and the NASDAQ all closed better with only the DOW registering a loss on the day. Housing starts released better than expected and generally the mood finished on an encouraging tone.
2's 1.34% (u/c), 10's 2.14% (-1bp), 30's 2.71 (-1bp), Bunds 0.25% (u/c) which closes the spread unchanged at +190bp. France 0.6% (u/c), Italy 1.91% (+2bp), Greece 5.32% (-13bp), Turkey 10.16% (+3bp), Portugal 2.86% (-3bp) and Gilts 1.03% (+1bp)