Blog/Market Talk
Posted Jun 21, 2017 by Martin Armstrong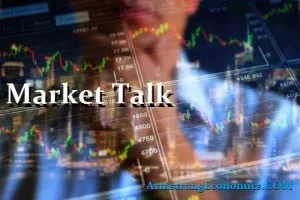 The continued decline in commodity prices and specifically energy (Libya and Nigeria back on track) weighted both on the A$ (-0.4%) and the ASX (-1.6%). Banks, Energy, Financials and Industrials were all under pressure as Asia moved almost in favour of China. China Blue Chips hit a 18 months high after the inclusion into the MSCI Index news announced late yesterday. The 222 stocks will create 0.73% of the composite, which having been passed over for the past four years is extremely encouraging. Hang Seng -0.6%, Shanghai +0.5%, Nikkei down -0.45% and SENSEX closed little changed on the day.
The problems persist in the UK for Theresa May and the UK's Conservative Party as we have yet still to hear details of any Conservative / DUP deal. This makes today quite an interesting day as we hear the Queens Speech in Parliament where the raft of legislation will be heard. This projection will count for two years as it will not occur in 2018. BREXIT as expected at the heart. Core Europe lost ground from the opening with many calling it in sympathy with the falling energy price. Interesting though that the currency also joined the decline which pulls into question where this is the continued flow of money back into the USD. IBEX and CAC down -1%, FTSE and DAX both closed lower. GBP did recover into the close after a top Bank of England economist stated it may be prudent to vote for a rate rise later in the year.
GOP hoping to pass the tax reforms ahead of year-end, which is imperative in-order to hit the projected 3% GDP figure – House Speaker Paul Ryan remarked after markets closed on Tuesday. However, energy remained focal point today (-2%) and as such markets drifted in sympathy. DOW and S+P both closed small down whilst with the recovery in NASDAQ persisting closing +0.75% today. Housing Sales were better than expected but only managed to support an otherwise weaker trend.
2's closed 1.35% (+1bp), 10's 2.16% (+1bp), 30's 2.73% (u/c), Bunds 0.26% (u/c) which closes the spread +190bp. France 0.6% (u/c), Italy 1.89% (-1bp), Greece 5.44% (u/c), Turkey 10.17% (-4bp), Portugal 2.86% (+4bp) and UK Gilts 1.03% (+4bp).