Blog/Market Talk
Posted Jun 21, 2019 by marty armstrong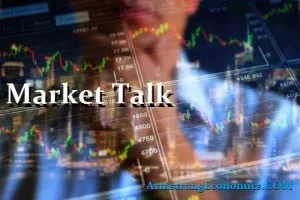 ASIA / AUSTRALIA:
The US has added five more Chinese companies to a US blacklist that restricts US companies from dealing with the companies on the list. Of those included on the list is a Chinese government-owned supercomputing company, with military applications and dealing with national security. The companies "pose a significant risk of being or becoming involved in activities contrary to the national security and foreign policy interests of the United States," the Commerce Department said. Also included is AMD's Joint venture with a Chinese company which was also accused of acting contrary to the national security of foreign policy interests of the US. To say the trade deal is diffusing seems contrary to government actions.
Elsewhere, President Xi of China is on a state visit to North Korea, and Kim Jong Un stated that the relationship China is "invincible." China's new ambassador to Japan revealed on Friday that Beijing and Tokyo are working to arrange a visit by Chinese President Xi Jinping "in the spring" of next year to improve the relations between the two nations.
Millions of pigs have been culled in China and Vietnam as a U.N. food agency urges Asian governments to make containing virulent African swine fever their top priority. The UN reported this to be the largest outbreak of an animal disease in history.
The major Asian stock markets had a mixed day today. Shanghai increased 14.86 points or 0.50% to 3,001.98, KOSPI decreased 5.67 points or -0.27% to 2,125.62, ASX 200 decreased 36.60 points or -0.55% to 6,650.80, NIKKEI 225 decreased 204.22 points or -0.95% to 21,258.64, Hang Seng decreased 76.72 points or -0.27% to 28,473.71, and SENSEX decreased 407.14 points or -1.03% to 39,194.49.
The major Asian currency markets had a green day today. AUDUSD increased 0.0005 or 0.07% to 0.6927, NZDUSD increased 0.0001 or 0.01% to 0.6586, USDJPY increased 0.1120 or 0.10% to 107.4020, and USDCNY increased 0.0051 or 0.07% to 6.8654.
Gold increased 9.37 USD/t oz. or 0.68% to 1,396.99 and silver decreased 0.115 USD/t. oz or -0.75% to 15.2987.
Some economic news:
Japan:
National Core CPI (YoY) (May) decreased from 0.9% to 0.8%
National CPI (YoY) (May) decreased from 0.9% to 0.7%
National CPI (MoM) decreased from 0.1% to 0.0%
Manufacturing PMI (Jun) decreased from 49.8 to 49.5
Australia:
Manufacturing PMI increased from 51.0 to 51.7
Services PMI increased from 51.5 to 53.3
Indonesia:
Car Sales (YoY) (May) increased from -17.80% to -16.30%
Hong Kong:
CPI (YoY) (May) decreased from 2.90% to 2.80%
India:
Bank Loan Growth decreased from 12.7% to 12.3%
Deposit Growth decreased from 10.1% to 9.9%
FX Reserves, USD decreased from 423.55B to 422.20B
EUROPE / EMEA:
There is not a clear consensus on who will run the European commission for the next five years. The outgoing European Commission President Donald Tusk says he will organize a meeting to discuss the future candidates before July 2 when the European parliament's new members of parliament sit for the first time. A review process of is expected during that meeting of the Brexit situation with a no-deal scenario on the agenda. The UK has until the 31st of October to finalize plans.
Chinese smartphone maker Huawei conceded that overseas smartphone sales dropped by 40% since the middle of last month. A large majority of those sales were in Europe as the prospect of a phone without Google services is catastrophic.
Elsewhere, Russia has accused the U.S. of deliberately stoking dangerous tensions with Iran and pushing the situation to "the brink of war". Europe is trying to maintain a neutral perspective, urging restraint on both sides. The Saudi defense minister tweeted, "We affirmed the kingdom's support … which came as a result of continuing Iranian hostility and terrorism."
The major European stock markets had a negative day today. CAC 40 decreased 7.23 points or -0.13% to 5,528.33, FTSE 100 decreased 16.94 points or -0.23% to 7,407.50, and DAX decreased 15.47 points or -0.13% to 12,339.92.
The major European currency markets had a mixed day today. EURUSD increased 0.0070 or 0.62% to 1.1361, GBPUSD increased 0.0033 or 0.26% to 1.2732, and USDCHF decreased 0.0050 or 0.51% to 0.9768.
Some economic news:
UK:
Public Sector Net Borrowing (May) decreased from 6.15B to 4.46B
Public Sector Net Cash Requirement (May) increased from -6.323B to 10.663B
France:
French Manufacturing PMI (Jun) increased from 50.6 to 52.0
French Markit Composite PMI (Jun) increased from 51.2 to 52.9
French Services PMI (Jun) increased from 51.5 to 53.1
Germany:
German Composite PMI (Jun) remain the same at 52.6
German Manufacturing PMI (Jun) increased from 44.3 to 45.4
German Services PMI (Jun) increased from 55.4 to 55.6
Spain:
Spanish Trade Balance increased from -2.35B to -1.61B
Eurozone:
Manufacturing PMI (Jun) increased from 47.7 to 47.8
Markit Composite PMI (Jun) increased from 51.8 to 52.1
Services PMI (Jun) increased from 52.9 to 53.4
U.S. / AMERICAS:
Vice President Mike Pence will delay his upcoming speech on China due to "progress of conversations," according to a statement released by the White House this Friday. Pence's speech was allegedly going to address Chinese human rights violations, such as the religious persecution and detainment of Muslim citizens. President Xi and President Trump will meet next week at the G20 summit in Japan, and the markets will certainly be listening in for any signs of progress.
The U.S. will not retaliate against Iran after yesterday's attack on an unmanned drone. At least, the retaliation won't happen in the form of violence. Trump announced that the U.S. was preparing a counterattack on Thursday evening, but the commander in chief called off the attack. Trump wrote: "We were cocked & loaded to retaliate last night on 3 different sights when I asked, how many will die. 150 people, sir, was the answer from a General. 10 minutes before the strike I stopped it, not proportionate to shooting down an unmanned drone. I am in no hurry, our Military is rebuilt, new, and ready to go, by far the best in the world." The president noted that tariffs will be placed on Iran, and firmly noted that "Iran will NEVER have nuclear weapons."
Americans donated $427.71 billion to charities in 2018, according to a report released by the Washington Post. Adjusted for inflation, the amount has decreased 1.7% YoY. Some analysts are citing decreased tax incentives for the drop in donations.
The death toll for American tourists visiting Punta Cana in the Dominican Republic is rising. At least 11 deaths have been reported, and they have all occurred under similarly unclear circumstances. Rep. Frank Pallone reached out to the State Department to urge them to reassess its travel advisory to the country. Although travel restrictions have not yet been placed on the Caribbean country, the FBI has announced that it is testing samples taken from hotel mini bars for signs of foul play. Dominican Ministry of Public Health spokesman Carlos Suero called the incidents coincidental "fake news" that are "aimed to hurt tourism."
Looking to Wall Street, the prospect of future rate cuts and progressing trade deals marked a successful week for U.S. indices, but the markets closed Friday slightly lower. The Dow dropped 34.04 points (-0.13%) to 26,719.13 in the day's session (+2.41% this week); the S&P 500 slipped -3.72 (-0.13%) from yesterday's historic high and closed at 2,950.46 (+2.4% this week); the Nasdaq lost 19.63 points (-0.24%) to 8,031.71 (+3.04% this week); and the Russell 2000 declined 13.87 points (-0.89%) to 1,549.63 (+1.78 this week).
The Canadian indices closed the week in negative territory as well, with the TSX Composite down 49.40 points (-0.30%) to 16,525.43 and the TSX 60 down 3.30 points (-0.33%) to 988.75.
Brazil's Bovespa surged this Friday to a new record-breaking high of 102,012.64 after adding 1,709.23 points (+1.70%). Optimism regarding pension reform and a U.S. rate cut fueled the index's positive momentum this week.
ENERGY:
With the US-Iran affair turning into a possible military conflict, the price of oil has pressed upward against a souring economic outlook. India announced that it is set to add Navy military personal onboard Indian crude oil carriers which enter and exit the Persian Gulf for extra precautions.
The oil markets had a green day today: Crude Oil increased 0.78 USD/BBL or 1.38% to 57.4755, Brent increased 0.7 USD/BBL or 1.09% to 65.0337, Natural gas increased 0.004 USD/MMBtu or 0.18% to 2.1882, Gasoline increased 0.0708 USD/GAL or 3.96% to 1.8576, and Heating oil increased 0.0315 USD/GAL or 1.67% to 1.9190.
Top commodity gainers: Gasoline (3.97%), Canola (2.59%), Orange Juice (3.41%), and Cocoa (1.90%). Top commodity losers: Oat (-2.20%), Cotton (-2.44%), Lean Hogs (-3.82%), and Coffee (-1.73%)
The above data was collected around 14:42 EST on Friday.
BONDS:
Japan -0.16%(+0bp), US 2's 1.78% (+5bps), US 10's 2.06%(+6bps), US 30's 2.58%(+6bps), Bunds -0.29% (+3bp), France 0.05% (+4bp), Italy 2.17% (+1bp), Turkey 16.08% (+19bp), Greece 2.59% (-58bp), Portugal 0.59% (+5bp), Spain 0.44% (+3bp) and UK Gilts 0.85% (+4bp).