Blog/Market Talk
Posted Jun 21, 2018 by Martin Armstrong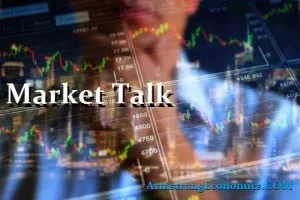 Another poor day for the major Chinese markets, yet a continued recovery for Japan. Again, we see Shanghai and the Hang Seng under perform the periphery, as concerns surrounding the US/China trade talks play on investor minds. Both core China markets closed down 1.3% and are lower in late US trading following the continued weak sentiment. It was currency that helped Japan (+0.6%) and Australia (+1%) as both these closed higher on the day. Unfortunately, currencies lost similar amounts but it looks good as a headline outlier. Not a great day in India as both the stock market and currency declined. The SENSEX opened well, but after playing both sides on unchanged, eventually closed at the days low. The INR again traded heavy as it approaches the mid 68 range. We are against important numbers here so could well be time for a correct into next week. This may help for the short-term but the trend is firmly in place.
The price action in Europe was similar to the Asian play. Having opened in positive territory it was not long before sellers appeared. It looked as though the BOE meeting and headline concerns surrounding OPEC were the catalyst. The BOE announced an unchanged Base but the vote split surprised the market. Expecting a 7-2 and seeing a 6-3 was a shock. The change came from Andy Haldane (Chief Economist) who joined Ian McCaffrey and Michael Saunders in voting for an increase. The market took this to expect August to be a done deal and so GBP rallied +0.5% while the FTSE deduced that being negative and declined near 1%. Core Europe saw the DAX decline 1.5% as autos led the way lower with the CAC falling 1% as energy fell. Fears of Euro scepticism is again hindering the FTSE MIB as well as the Italian government bond market. The index lost over 2% today with 10yr BTP's out 18bp.
A down day across the board and never really looking like it had a chance to turn. DOW Industrials still leading the way, with large auto's start to lower numbers. We are seeing the eighth straight decline for the DOW and the US Dollar turned today also. Small caps had been the best performing sector but today has taken a bit of a hit. The broader S+P was the index that has been holding its ground best, but with all other indices off 1% even it was down 0.7%. All this uncertainty is caused driven by the US/China conflict so many are waiting movement from one side or the other.
Japan +0.03%, US 2's closed 2.54% (-2bp), 10's 2.89% (-5bp), 30's 3.04% (-3bp), Bunds 0.33% (-4bp), France 0.7% (-1bp), Italy 2.72% (+18bp), Greece 4.24% (-6bp), Portugal 1.82% (+9bp), Spain 1.33% (+10bp), Turkey 16.12% (-6bp) and Gilts 1.28% (-1bp).