Blog/Market Talk
Posted Jun 20, 2017 by Martin Armstrong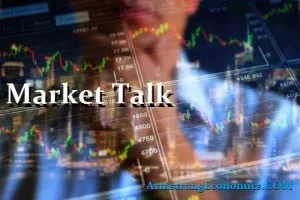 With so much on the horizon we saw a mixed session out of Asia today. The one key topic all markets makers were looking at was whether China A-Shares would make the MSCI index have missed it for the past few years. Although it will bring added international attention, China's recent efforts appear more focused towards creating larger domestic participation. China market is valued around $6tln, which is around one-tenth the size of the global stock markets. If successful they will be tapered-in and all at once. Although it sounds big it will only be 0.5% of the MSCI Index, but it could be the start of the trend! Both Shanghai and the Hang Seng closed small down (-0.2%). Having heard late in the day yesterday about the Moody's downgrading of the big four Australian banks, all finished close to 1% lower which saw a similar close for the ASX. Having seen the Nikkei close above the psychological 20k market yesterday we saw the market happy to add to these gains. JPOY looks happy playing in the mid 111's having traded in a narrow 111.35 / 75 range for most of the day.
As we all expected – again it was all about BREXIT with a little talk about oil on the side. The 2% decline in the price of oil weighed on European bourses today (lowest since late last year) with almost all core closing down around -0.65%. It wasn't long however, before the BOE Governor Mark Carney, remarked that it was not time for any movement in rates. Cable hit levels (1.2610) not seen since the middle of last month. It wasn't helped either by news that Barclays bank is back in the spotlight and not for positive reasons. The shares however recovered from earlier losses to close almost unchanged.
Although it seemed pretty calm in US trading all core lost around -0.65% with NASDAQ again leading the way (-0.85%). The USD was well bid, but then sterling helped the dollars rise after it fell -0.85%, DXY last seen 97.45. Energy stocks were weak but being such a small component of the broader market these days, they really have not influenced the market that much. The market remains expectant of the tax reform that House Speaker Paul Ryan speaks on. The pullback in stocks has been a positive for treasuries. Lot of talk between bond dealers surrounding the talk of "Super Longs". Talk is the treasury is considering the demand appetite for 100 year treasury issues.
2's closed 1.34% (-2bp), 10's at 2.15% (-4bp), 30's 2.73% (-6bp), Bunds 0.26% which closes the spread at +189bp (-2bp). France 0.60% (-2bp), Italy 1.90% (-4bp), Greece 5.44% (-8bp), Turkey 10.21% (+4bp), Portugal 2.82% (-1bp) and Gilts 0.99% (-4bp)