Blog/Market Talk
Posted Jun 20, 2018 by Martin Armstrong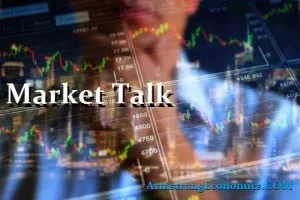 Good to see a healthy rebound in todays Asian markets with strong performances across the board. It still appears however, that the market is not that confident that the US and China have settled for the moment as the Shanghai bounced just +0.3% and Hang Seng +0.75%. It was a different storey for countries with floating exchange rates, as we watched both Australia and Japan rebound over 1%. Obviously, currencies continued to suffer with the A$ and Yen both off 0.5% over the past couple of days. They tried desperately to halt the INR's decline, only ti close mid range at 68.10 today. Having seen 68.185 at its weakest, many comment that trading with a 68 handle is already a cause for concern. On a brighter note however, core Asian indices all closed at or near their highs, providing confidence ahead of the OPEC uncertainty.
The same could not be said for Europe, as many indices closed near the days lows. Having run-up on the back of a strong Asian session, many had expected Europe to continue especially as DOW futures had triple digit gains. However, as the Euro and GBP traded weaker confidence started to wane especially when US data released less than impressive. Sterling found a little interest late in the day after UK PM Theresa May won a parliamentary decision which should strengthen her hand in BREXIT negotiations. However, the rally only took it up to test 1.32 handle but was rejected by the close.
In the US it was the Russell and NASDAQ again that took the honours. Both core indices closed up around +0.75% on the day and setting a new record for the NASDAQ. The large caps DOW found it difficult to get into its stride today, playing between positive and negative it finally closed a touch lower in the indecision. The NASDAQ and S+P both hits their days high mid afternoon, but could hold-on into the close. Still lots to play for this week, but next will be interesting as we close the week, month, quarter and half year next Friday.
Japan +0.04%, US 2's closed 2.56% (+1bp), 10's closed 2.94% (+5bp), 30's 3.07% (+4bp), Bund 0.37% (u/c), France 0.71% (+1bp), Italy 2.54% (-1bp), Greece 4.30% (-1bp), Portugal 1.73% (+1bp), Spain 1.23% (u/c), Turkey 16.18% (+5bp) and Gilts 1.29% (+1bp).
The Treasury market came to late in the trading day for European bonds to be affected. However, it will be interesting to watch tomorrows price action now that US rates are revisiting recent highs. The FED is not looking to halt their mandate anytime soon, so I guess it just how long the market is prepared to trust the ECB will take it all!