Blog/Market Talk
Posted Jun 2, 2017 by Martin Armstrong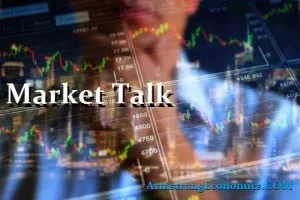 This morning in Asia markets were still playing off of the US ADP data and enjoying that its continues to support the recent bull run. Confidence was obvious in markets when the JPY traded back to 111.70 (losing its safe-haven bid) but then NFP's were released. We'll comment on this in the US session update below. The Nikkei cash had one of its strongest days in a while, comfortably hurdling the psychological 20k barrier adding over 300 points (+1.6%). Trading volume today was over 20% above its 30 day MA (Moving Average). Alongside Japan, the Shanghai and Hang Seng both recorded positive gains with Australia's ASX and India SENSEX all closed with gains between +0.4% to +0.8% on the day.
Global optimism flowed into Europe with strong opening for core markets ahead of – what was expected to be – solid NFP figures. All markets hit their days highs in the morning ahead of US data with the DAX leading the way for all. Solid gains for Industrials and Exporters as Talk of retail moving from fixed-income into equities was a hot topic. Mid-session the US numbers halted most advances and the afternoon was in stark contrast to the mornings performance. Prices drifted having expected a +185k print against the actual +138k but we did see an improvement as the rate dropped by 0.01 to 4.3%. Still we closed a positive week as more money flows back into Europe after retail believes Macron's win has probably seen the high water mark in nationalism.
US were ahead in futures market before the numbers were released. The release did put a block in the road and we have to see if this is a turn around or just a hurdle the market has to negotiate before moving further ahead. The reaction was interesting because the market saw them but was quick to blink and continue. The mood did not want to stop ahead of the weekend and even Treasuries saw more flattening as the front end did not want to make too much of the news. Although the data helped bonds it did not help the USD as the DXY drifted even further. The Euro and JPY (110.35) bounced against the greenback taking the dollar index back to the recent lows as voices not guess the FED's hiking path.
2's closed 1.28% (-1bp), 10's at 2.15% (-6bp), 30's at 2.81% (-5bp), Bunds 0.27% (-3bp) which closes the US/Germany spread at +188bp. France 0.70% (-3bp), Italy 2.25% (+1bp), Greece 5.92% (-5bp), Turkey 10.02% (-14bp), Portugal 2.99% (+3bp) and UK Gilts 1.04% (-3bp)