Blog/Market Talk
Posted Jun 19, 2017 by Martin Armstrong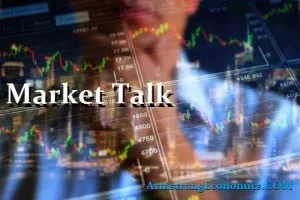 A positive start to the week for Asia with all core bourses returning strong one day gains. Hang Seng produced the best close (+1.2%) reflecting much of the closing numbers from the late Friday rally, China core Shanghai closed +0.7% firmer. SENSEX another strong day closing +0.8% higher. Chinese domestic data for New Home Prices rose 10.4% following April's strong gain which encourages the confidence factor supporting markets as MSCI inclusion is discussed again. In Japan the Nikkei gained +0.6% as the JPY traded north of 111 and even in late US is playing at 111.50 (-0.7% on the day). Just ahead of Europe opening we heard that Moody's had downgraded four Australian banks. The A$ is softer trading under 0.76 around 0.3% weaker.
European stocks opened strong and retained that bid for the majority of the day as BREXIT talks finally got underway. Initially, we saw a positive tone in sterling trading above 1.28 in the morning session but as the US traders arrived at their desks – they quickly put it back under pressure; last seen 1.2720 (-0.4%). Fed's Official Dudley expressed a bullish note for wages and sees inflation controlled as the rates rise. The FX market liked what it heard and saw USD gain against all majors, but which encouraged an equity market bounce as a counter-weight. DAX, CAC (after Macron's win) and FTSE were all around 1% higher on the day. Oil under pressure in afternoon trading was concerns over supply coupled with reduced demand.
US Tech stocks were back to their old games again today rallying over 1.25%, its best day for over 3mnths. An improving tech sector may not be good for jobs but it is certainly helping to boost confidence for DOW and the broader S+P. M&A is spooking the core after Fridays activity as traders speculate additional similar moves are only to be expected. The new buzz words are "digital transformation" and they seem to be on every-ones lips today. With so much cash to spend it is drawing sectors closer together as they dream of endless possibilities. Record closes for DOW and S+P. Current Account and Phili Fed tomorrow but most will be talking about BREXIT we'd guess.
2's closed 1.36% (+4bp), 10's at 2.19% (+4bp), 30's 2.79% (+1bp), Bunds 0.28% (+1bp) which closes the spread +191bp (+3bp). France 0.62% (-1bp), Italy 1.94% (-4bp), Greece 5.52% (-3bp), Turkey 10.17% (-5bp), Portugal 2.83% (-5bp) and UK Gilts 1.03% (+1bp).