Blog/Market Talk
Posted Jun 19, 2020 by Martin Armstrong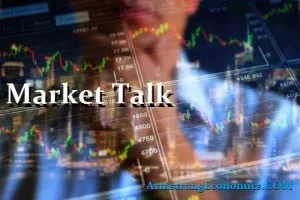 ASIA:
Donald Trump has renewed his threat to cut ties with China, a day after his diplomats held high-level talks with Beijing and his top US trade negotiator said severing the trade relationship was not a viable option. The US response came as Washington questioned China's credibility on accurately reporting the new Covid-19 cluster in Beijing.
China, which is Africa's largest creditors in recent years, lending hundreds of billions of dollars to governments to build roads, railways, and ports is planning to write off a small part of that debt as countries on the continent battle the COVID-19 pandemic. Chinse President Xi Jinping did not say which African countries would be exempt or how much debt would be erased outright.
India will launch a new rural jobs program on Saturday to alleviate the distress of hundreds and thousands of migrants who have lost their jobs and returned to their villages due to the strict lockdown aimed at containing the spread of the new coronavirus. Finance Minister Nirmala Sitharaman said the government would spend 500 billion rupees for the program.
India plans to impose higher trade barriers and raise import duties on around 300 products from China and elsewhere, two government officials said, as part of an effort to protect domestic businesses. The plan has been under review since April and is in line with Prime Minister Narendra Modi's recently announced self-reliance campaign to promote local products, Reuters reported. The government is considering raising import duties on 160-200 products and imposing non-tariff barriers – such as licensing requirements or stricter quality checks – on another 100.
The major Asian stock markets had a green day today:
NIKKEI 225 increased 123.33 points or 0.55% to 22,478.79
Shanghai increased 28.32 points or 0.96% to 2,967.63
Hang Seng increased 178.95 points or 0.73% to 24,643.89
ASX 200 increased 6.10 points or 0.10% to 5,942.60
Kospi increased 7.84 points or 0.37% to 2,141.32
SENSEX increased 523.68 points or 1.53% to 34,731.73
Nifty50 increased 152.75 points or 1.51% to 10,244.40
The major Asian currency markets had a negative day today:
AUDUSD decreased 0.0004 or -0.06% to 0.68563
NZDUSD decreased 0.00089 or -0.14% to 0.64235
USDJPY decreased 0.07 or -0.07% to 106.96
USDCNY decreased 0.00585 or -0.08% to 7.07250
Precious Metals:
Gold increased 18 USD/t oz. or 1.04% to 1,740.70
Silver increased 0.2225 USD/t. oz or 1.28% to 17.6140
Some economic news from last night:
Australia:
Retail Sales (MoM) increased from -17.7% to 16.3%
Japan:
CPI, n.s.a (MoM) (May) increased from -0.1% to 0,0%
National Core CPI (YoY) (May) remain the same at -0.2%
National CPI (YoY) (May) remain the same at 0.1%
Some economic news from today:
India:
Bank Loan Growth decreased from 6.3% to 6.2%
Deposit Growth increased from 10.6% to 11.3%
FX Reserves, USD increased from 501.70B to 507.60B
EUROPE/EMEA:
The UK's public debt exceeded the GDP of the country for the first time since 1963 after the government borrowed a record £55bn in May. The total level of debt has risen by £173bn over the last year to reach £1.95tn, or 100.9% of GDP, as ministers introduced unprecedented support for businesses and households during the coronavirus crisis. Official figures estimate that GDP has slumped by 25% since the beginning of the lockdown, and the number of people claiming work-related benefits has more than doubled to 2.8m.
The German parliament has passed a reform, which extends existing Network Enforcement Act (aka the NetzDG law) by putting an obligation on social network platforms to remove hate speech within set deadlines as tight as 24 hours for easy cases — with fines of up to €50M should they fail to comply. The new changes in the law will place a reporting obligation on platforms, which require them to report certain types of "criminal content" to the Federal Criminal Police Office.
German Chancellor Angela Merkel is trying to rally the rest of the EU to back a huge recovery fund, faced with the severe economic impact of the coronavirus crisis. EU leaders are already concerned about countries getting even deeper into debt. The EU Commission is proposing a €750bn (£676bn; $843bn) fund, made up of €500bn in grants and €250bn in loans. But it requires unanimous EU approval.
The major Europe stock markets had a green today:
CAC 40 increased 20.70 points or 0.42% to 4,979.45
FTSE 100 increased 68.53 points or 1.10% to 6,292.60
DAX 30 increased 49.23 points or 0.40% to 12,330.76
The major Europe currency markets had a negative day today:
EURUSD decreased 0.00279 or -0.25% to 1.11817
GBPUSD decreased 0.00825 or -0.66% to 1.23480
USDCHF decreased 0.00009 or -0.01% to 0.95173
Some economic news from Europe today:
UK:
GfK Consumer Confidence (Jun) increased from -36 to -30
Core Retail Sales (MoM) (May) increased from -15.0% to 10.2%
Core Retail Sales (YoY) (May) increased from -18.5% to -9.8%
Public Sector Net Borrowing (May) increased from 47.77B to 54.50B
Public Sector Net Cash Requirement (May) decreased from 73.937B to 71.436B
Retail Sales (YoY) (May) increased from -22.7% to -13.1%
Retail Sales (MoM) (May) increased from -18.0% to 12.0%
Germany:
German PPI (YoY) (May) decreased from -1.9% to -2.2%
German PPI (MoM) (May) increased from -0.7% to -0.4%
Euro Zone:
Current Account (Apr) decreased from 27.4B to 14.4B
Current Account n.s.a. (Apr) decreased from 40.7B to 10.2B
US/AMERICAS:
This Friday marks the beginning of a new US holiday, "Juneteenth," which commemorates the day slavery ended in the nation. Numerous companies including Google, Facebook, Twitter, Target, Adobe, Lyft, Uber, and Square plan to commemorate the new holiday. Some companies are offering employees a paid day off while others are turning to alternative incentives. Amazon founder and CEO Jeff Bezos called off all company meetings this Friday and implemented a day of "online learning opportunities" for employees. Best Buy is offering employees the option to take a paid volunteer day today or any day throughout the year.
At the state level, New York Gov. Andrew Cuomo signed an executive order to honor the new holiday and said he plans to propose legislation to make it an official state holiday in 2021. A number of banks across the US plan to close or limit their hours today as well, but it is unknown if June 19 will become an official US bank holiday.
New York Gov. Cuomo also issued a new edict demanding Florida residents self-quarantine upon arriving in New York.
The state of California issued a new law mandating the use of face masks in public places. The only exceptions to the rule will be children under the age of two and those with medical conditions that prevent them from safely wearing a mask. "Over the last four months, we have learned a lot about COVID-19 transmission, most notably that people who are infected but are asymptomatic or presymptomatic play an important part in community spread," the order stated. However, this is in direct contrast with the World Health Organization's recent announcement that it was "extremely rare" for asymptomatic carriers to spread the virus. Numerous cities across the US are also implementing mandatory mask regulations.
Sen. Amy Klobuchar (D-Minn.) disqualified herself from becoming Joe Biden's potential vice president, saying that he should instead choose a woman of color. "If you want to heal this nation right now. This is a hell of a way to do it," Klobuchar stated. Numerous individuals see this as another attempt by the Democrats to secure the black vote rather than choosing the most qualified candidate.
Deepening Huawei's battle with Canada, China has charged two Canadians on suspicion of espionage.  Former diplomat Michael Kovrig and businessman Michael Spavor were arrested shortly after Huawei CFO Meng Wanzhou was detained in Vancouver in 2018. Although China denies that the cases are linked, Canadian diplomats believe China is holding the men as leverage. The new charges presented against Kovrig and Spavor could result in a lifetime of imprisonment.
US Market Closings:
Dow declined 208.64 points or -0.8% to 25,871.46
S&P 500 declined 17.6 points or -0.56% to 3,097.74
Nasdaq advanced 3.07 points or 0.03% to 9,946.12
Russell 2000 declined 8.44 points or -0.59% to 1,418.63
Canada Market Closings:
TSX Composite declined 5.63 points or -0.04% to 15,474.20
TSX 60 declined 1.54 points or -0.16% to 933.38
Brazil Market Closing:
Bovespa advanced 453.66 points or 0.47% to 96,578.90
ENERGY:
Saudi Aramco has completed a deal it reached last year to buy a 70% stake in Saudi Basic Industries Corp. for around $70 billion, roughly equal to the chemical maker's entire value now. Aramco will pay Saudi Arabia's sovereign wealth fund in several installments between August this year and April 2028, the company said in a statement to the stock exchange in Riyadh.
The 2020 release of Rystad Energy's annual global energy outlook reveals that Saudi Arabia is projected to add 25bn bbl to future production capacity despite peak oil coming sooner. The report also states that COVID-19 downturn will accelerate peak oil demand, put a lid on the exploration efforts in remote offshore areas and reduce the world's recoverable oil by around 282bn bbl.
The oil markets had a green day today:
Crude Oil increased 0.8 USD/BBL or 2.06% to 39.6400
Brent increased 0.64 USD/BBL or 1.54% to 42.1000
Natural gas increased 0.035 USD/MMBtu or 2.14% to 1.6730
Gasoline increased 0.002 USD/GAL or 0.16% to 1.2702
Heating oil increased 0.0008 USD/GAL or 0.07% to 1.2087
The above data was collected around 14.27 EST on Friday.
Top commodity gainers: Palm Oil (3.18%), Orange Juice (3.88%), Ethanol (4.74%), and Lumber (3.81%)
Top commodity losers: Lean Hogs (-2.96%), Palladium (-0.76%), Cocoa (-3.72%), and Live Cattle (-1.56%)
The above data was collected around 14:35 EST on Friday.
BONDS:
Japan 0.01%(+0bp), US 2's 0.19% (-1bps), US 10's 0.70%(+0bps); US 30's 1.47%(+1bps), Bunds -0.42% (+2bp), France -0.08% (-1bp), Italy 1.33% (-1bp), Turkey 11.67% (-8bp), Greece 1.31% (-2bp), Portugal 0.53% (+2bp); Spain 0.52% (+7bp) and UK Gilts 0.24% (+1bp).