Blog/Market Talk
Posted Jun 19, 2019 by marty armstrong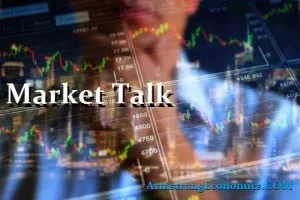 ASIA / AUSTRALIA:
Nikkei has reported that Apple plans to move some of its manufacturing out of China. However, it is unlikely that the jobs will go to the US against the president's wishes. "A lower birthrate, higher labor costs and the risk of overly centralizing its production in one country. These adverse factors are not going anywhere… with or without the final round of the $300 billion tariff," one executive, apparently from an Apple supplier, told Nikkei.
Recent news regarding the China-US trade deal is that China is apparently lowering tariffs for all countries besides the US. Yesterday, Trump tweeted that he had "very good" talks with China's President Xi Jinping and that the two leaders would have an "extended meeting" at the G20 summit in Japan later this month.
A new report from the UN estimates that India is set to overtake China as the world's most populous country in less than a decade.
A Dutch group of investigators who examined the 2014 MH17 Malaysian plane crash carrying 268 passengers have named four suspects. Three are Russian nationals who they suspect reside in Russia, the other is a Ukrainian national who they suspect lives in eastern Ukraine.
The major Asian stock markets had a green day today. Shanghai increased 27.64 points or 0.96% to 2,917.80; KOSPI increased 26.07 points or 1.24% to 2,124.78; ASX 200 increased 78.10 points or 1.19% to 6,648.10; NIKKEI 225 increased 361.16 points or 1.72% to 21,333.87; Hang Seng increased 703.37 points or 2.56% to 28,202.14; and SENSEX increased 66.40 points or 0.17% to 39,112.74.
The major Asian currency markets had a mixed day today. AUDUSD decreased 0.0004 or 0.06% to 0.6872; NZDUSD increased 0.0002 or 0.02% to 0.6530; USDJPY decreased 0.0860 or 0.08% to 108.3540; and USDCNY increased 0.0007 or 0.01% to 6.9023.
Gold increased 3.12 USD/t oz. or 0.23% to 1,346.81 and silver decreased 0.003 USD/t. oz or -0.02% to 14.9805.
Some economic news:
New Zealand:
Current Account (QoQ) (Q1) increased from -3.26B to 0.68B
Current Account (YoY) (Q1) increased from -10.97B to -10.62B
Current Account % of GDP (Q1) increased from -3.70% to -3.60%
RBNZ Offshore Holdings (May) increased from 51.20% to 51.30%
Australia:
MI Leading Index (MoM) remain the same at -0.1%
Japan:
Adjusted Trade Balance decreased from -0.17T to -0.61T
Exports (YoY) (May) decreased from -2.4% to -7.8%
Imports (YoY) (May) decreased from 6.5% to -1.5%
Trade Balance (May) decreased from 56.8B to -967.1B
Hong Kong:
Unemployment Rate (May) remain the same at 2.8%
India:
M3 Money Supply decreased from 10.3% to 10.1%
EUROPE / EMEA:
The ECB vice president stated that another bond-buying program could be an option if inflation does not reach its intended target. The ECB aims at inflation rates of below, but close to, 2% over the medium term. As of last month, the annual non-seasonal adjusted rate was around 1.2%; it has rarely been over the target level since 2013.
There have been further discussions in the UK between the Conservative leaders on whom should be the next to step up and fulfill Theresa May's role in the coming days. The initial polls show that Boris Johnson has an unassailable lead.
In response to Facebook's recent announcement regarding the launch of a cryptocurrency called Libra, French Finance Minister Bruno Le Maire said that it must not "become a sovereign currency." Further adding, "It can't and it must not happen," speaking to Europe 1 radio. Le Maire reportedly called for G7 banking officials to issue a report on Facebook's plan next month.
A US navy investigator presented evidence today regarding Iranian involvement in the attacks on the tankers near the Persian Gulf. Six oil tankers have been attacked in the region. The recent attack of the Japanese owned vessel was evidently caused by a limpet mine, as tests were conducted by a Bahrain-based explosives expert.
Meanwhile in Tehran, the Iranians are speeding up enrichment after setting a deadline of the 27th of June with the EU to not renege on the initial Nuclear deal.
The major European stock markets had a mixed day today. CAC 40 increased 8.73 points or 0.16% to 5,518.45, FTSE 100 decreased 39.50 points, or -0.53% to 7,403.54, and DAX decreased 23.22 points or -0.19% to 12,308.53.
The major European currency markets had a mixed day today. EURUSD increased 0.0052 or 0.47% to 1.1243, GBPUSD increased 0.01073 or 0.85% to 1.26633, and USDCHF decreased 0.0066 or 0.66% to 0.9935.
Some economic news:
Germany:
German PPI (MoM) (May) decreased from 0.5% to -0.1%
German PPI (YoY) (May) decreased from 2.5% to 1.9%
Italy:
Italian Trade Balance (Apr) decreased from 4.625B to 2.885B
Italian Trade Balance EU (Apr) decreased from 1.22B to 1.01B
Eurozone:
Current Account (Apr) decreased from 24.7B to 20.9B
Current Account n.s.a. (Apr) decreased from 35,1B to 19.2B
UK:
Core CPI (YoY) (May) decreased from 1.8% to 1.7%
Core PPI Output (MoM) (May) decreased from 0.2% to 0.1%
Core PPI Output (YoY) (May) decreased from 2.2% to 2.0%
Core RPI (MoM) (May) decreased from 1.1% to 0.3%
Core RPI (YoY) (May) remain the same at 3.0%
CPI (MoM) (May) decreased from 0.6% to 0.3%
CPI (YoY) (May) decreased from 2.1% to 2.0%
CPIH (YoY) decreased from 2.0% to 1.9%
House Price Index (YoY) remain the same at 1.4%
PPI Input (YoY) (May) decreased from 4.5% to 1.3%
PPI Input (MoM) (May) decreased from 1.9% to 0.0%
PPI Output (YoY) (May) decreased from 2.1% to 1.8%
PPI Output (MoM) (May) remain the same at 0.3%
RPI (YoY) (May) remain the same at 3.0%
RPI (MoM) (May) decreased from 1.1% to 0.3%
U.S. / AMERICAS:
The two-day FOMC meeting ended today with the Federal Reserve reiterating they will maintain current interest rates. Chairman Jerome Powell noted that the economy is performing "reasonably well," and that spending on consumption and business investments are "running at a solid pace." Although global trade remains a concern, Powell noted encouraging data from China and Europe. Furthermore, the Fed signaled hope that negotiations are/will progress between China and the U.S. Powell also emphasized America's strong labor market and wage growth, particularly for lower-paying jobs. "Inflation has been running somewhat below our objective," Powell admitted, but followed-up his statement with an optimistic forecast for increased growth. In conclusion, the Federal Reserve will continue monitoring the domestic and international economic environment, but at this time the current policy remains unchanged.
Despite the Federal Reserve's announcement, numerous analysts continue to believe a rate cut will occur in the near future. Some call for Chairman Powell's resignation as they believe his "patient" policy is muting U.S. economic growth. Yesterday, top economic advisor Larry Kudlow dismissed rumors of Powell's removal or demotion. However, President Trump eluded to the fact that Powell's continued status as Chairman may be a topic he would be looking into at some point. When asked today about the topic, Chairman Powell stated "I think the law is clear that I have a four-year term, and I fully intend to serve it."
During September of last year, Brazilian presidential-hopeful Jair Bolsonaro was left in critical condition after being stabbed in the abdomen by a man by the name of Adélio Bispo de Oliveira. Bolsonaro recovered and later won his bid for presidency. Now, a Brazilian judge has ruled that Oliveria is too mentally ill to serve time in prison. Instead, the attacker will be held in a mental facility indefinitely. President Bolsonaro believes there was a deeper conspiracy surrounding the attempt on his life and has vowed to continue the investigation. "They tried to kill me. I am certain who they were, but I can't say, I don't want to prejudge anyone," President Bolsonaro told the BBC.
U.S. markets edged higher this Wednesday after investors took the Federal Reserve's announcement as a sign of optimism. The Dow added 38.46 points (+0.15%) to 26,504.00, the S&P 500 increased by 8.71 points (+0.30%) to 2,926.46, the Nasdaq increased by 33.44 points (+0.42%) to 7,987.32, and the Russell 2000 added 5.35 points (+0.35%) to 1,555.58.
The Canadian markets closed in the green this Wednesday. The TSX Composite rose 8.44 points (+0.05%) to 16,511.79, and the TSX 60 rose 0.63 of a point (+0.06%) to 988.79.
For the first time since its creation, Brazil's Bovespa surpassed the 100,000 level and closed at an all-time high. The index added 899.02 (+0.90%) and finished the historic day of trading at 100,303.41.
ENERGY:
A similar story with the Crude markets balanced by the lack of prospects of global growth and the rising tensions in the middle east.
The oil markets had a mixed day today. Crude Oil decreased 0.29 USD/BBL or -0.54% to 53.5503, Brent decreased 0.35 USD/BBL or -0.56% to 61.7629, Natural gas decreased 0.03 USD/MMBtu or -1.29% to 2.2946, Gasoline increased 0.0104 USD/GAL or 0.60% to 1.7298, and Heating oil increased 0.0012 USD/GAL or 0.07% to 1.8327.
Top commodity gainers: Coffee (3.18%), Bitumen (0.84%), Palladium (1.32%), and Platinum (0.78%). Top commodity losers: Oat (-3.87%), Ethanol (-2.31%), Corn (-2.06%), and Rice (-2.03%)
The above data was collected around 14:22 EST on Wednesday.
BONDS:
Japan -0.13%(+1bp), US 2's 1.88% (+2bps), US 10's 2.09%(+3bps), US 30's 2.57%(-0bps), Bunds -0.32% (-8bp), France 0.05% (+3bp), Italy 2.10% (-3bp), Turkey 17.10% (-33bp), Greece 2.53% (-1bp), Portugal 0.57% (+1bp), Spain 0.40% (+1bp) and UK Gilts 0.86% (+6bp).
German 30-Year Bund Auction decreased from 0.530% to 0.260%