Blog/Market Talk
Posted Jun 19, 2018 by Martin Armstrong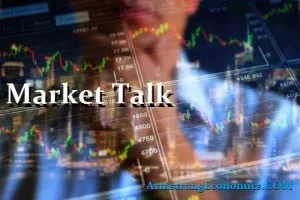 A weak session for Asia to start the new week. With little data due, we are left to concentrate on the ongoing US/China trade tit-for-tat, the OPEC meeting and political headlines. The Nikkei and Shanghai both lost around -0.75% and with currencies not lending a supporting hand this time. The Yen remains mid 110's following losses late last week. Is always quiet when some markets are closed for holidays and that we saw again today. Its not that there is much going on, its just there because there isn't people use it as an excuse not to trade. SENSEX closed a little lower and the INR saw the days range within the first hour of trading, resulting in little change for that either.
The market talk is of concerns surrounding political unrest in Germany and that appears to be rubbing-off into prices. Core European indices were all lower today as Auto's, Industrials and energy companies declined on the lack of confidence. IBEX, CAC and DAX all lost over 1% whilst interestingly Athens '20 closed up almost 1%. In the currency market, all early attempts to break the 115.50 level in the Euro were rejected, even taking it back to a 1.16 handle. However, the test will probably come later this week with BREXIT, OPEC or Merkle news. The UK's FTSE held in reasonably well responding initially to the weaker currency. However, late in the day and following a currency bounce, prices tended to drift again. Interesting the flow out of emerging markets with much returning back to Europe. Much of it is probably investors taking profits, but is worth watching if banks start to retrench money back home.
US started the week in negative territory as fears of trade wars escalating. However, it is a good sign that early losses were recouped just as soon as Europe had closed! The unsettled China trade discussions are likely to drag-on over the summer with headline after headline likely to scuttle markets from time to time. With the DOW recovering over 200 points from its low, it is a reflection that fears are not as serious as initially presumed. Still much to watch this week, but a confident recovery even seeing the NASADQ closing positive.
Japan 0.03%, US 2's closed 2.55% (u/c), 10's 2.92% (u/c), 30's 3.05% (u/c), Bunds 0.39% (-1bp), France 0.72% (-1bp), Italy 2.54% (-5bp), Greece 4.36% (-5bp), Portugal 1.72% (-6bp), Spain 1.24% (-5bp) and Gilts 1.32% (u/c).