Blog/Market Talk
Posted Jun 17, 2019 by marty armstrong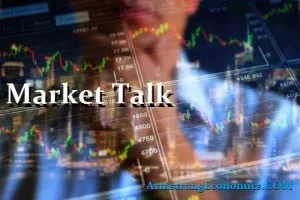 ASIA / AUSTRALIA:
Hong Kong repealed their decision to allow extradition to China after thousands went to the streets in protest of the original decision. Prominent activist Joshua Wong has called for the city leader Carrie Lam to step down.
Chinese technology giant Huawei has admitted that there has been as much as a 40% reduction of their overseas sales of its mobile phones. Meanwhile in Beijing, the government has stated the legalization of marijuana is a threat to China as there have been an increasing amount of smuggling into the country from Canada and the US. US firms have pleaded with President Trump not to expand the tariffs because companies will hike prices for the consumer.
Elsewhere, the Japanese government has distanced themselves from the US who claims that Iran was behind the attacks on the two Japanese tankers.
The major Asian stock markets had a mixed day today. Shanghai increased 5.65 points or 0.20% to 2,887.62; Kospi decreased 4.68 points or -0.22% to 2,090.73; ASX 200 decreased 23.10 points or -0.35% to 6,530.90; NIKKEI 225 increased 7.11 points or 0.03% to 21,124.00; Hang Seng increased 108.81 points or 0.40% to 27,227.16; and SENSEX decreased 491.28 points or -1.25% to 38,960.79.
The major Asian currency markets had a mixed day today. AUDUSD decreased 0.0021 or 0.30% to 0.6851; NZDUSD increased 0.0005 or 0.07% to 0.6495; USDJPY increased 0.0250 or 0.02% to 108.5750; and USDCNY increased 0.0038 or 0.06% to 6.9329.
Gold decreased 2.23 USD/t oz. or -0.17% to 1,341.61 and silver decreased 0.0385 USD/t. oz or -0.26% to 14.8019.
Some economic news:
Singapore:
Non-Oil Exports (YoY) (May) decreased from -10.00% to -15.90%
Non-Oil Exports (MoM) (May) increased from -0.70% to 6.20%
EUROPE / EMEA:
In the UK, the Conservatives had a televised debate regarding who should be the next leader of the party, and the UK. There were five candidates in total, but missing was the forerunner Boris Johnson. Rory Stewart, someone who was not perhaps in the race, certainly gave the audience some talking points. Stewart is in favor of a Brexit deal with the EU.
Iran has given the EU 10 days to save the nuclear deal before they start stockpiling enriched Uranium. "Today the countdown to pass the 300kg reserve of enriched uranium has started and in 10 days time we will pass this limit," the spokesman for the atomic agency stated. Europe has yet to respond to the comments. Benjamin Netanyahu, Israel's prime minister, said the international community should "immediately" impose new sanctions on Iran if it carries out its threat to breach the deal.
The G20 finance ministers have agreed to work together on shared rules to close tax loopholes used by the companies. This also regarded favorable tax jurisdictions such as Ireland for global multination tech giants like Apple, Google and, Facebook. The strategy will be finished and published shortly.
The major European stock markets had a mixed day today. CAC 40 increased 23.34 points or 0.43% to 5,390.95, FTSE 100 increased 11.53 points, or 0.16% to 7,357.31, and DAX decreased 10.58 points or -0.09% to 12,085.82.
The major European currency markets had a mixed day today. EURUSD increased 0.0008 or 0.07% to 1.1215, GBPUSD decreased 0.00505 or -0.40% to 1.25395, and USDCHF decreased 0.00002 or 0.00% to 0.99888.
Some economic news:
UK:
Rightmove House Price Index (MoM) decreased from 0.9% to 0.3%
Norway:
Trade Balance (May) decreased from 17.6B to 11.3B
Eurozone:
Wages in euro zone (YoY) (Q1) increased from 2.3% to 2.5%
Labor Cost Index (YoY) (Q1) increased from 2.3% to 2.4%
U.S. / AMERICAS:
Tomorrow begins the Fed's two-day monetary policy meeting, and the global marketplace is eagerly awaiting any news regarding interest rates. A growing number of analysts are expecting the Federal Reserve to lower rates this quarter. The Fed has repeatedly stated that they are taking a "patient" approach regarding rate policies, but are willing to make changes if required by the ever-changing economic climate.
Israeli Prime Minister Benjamin Netanyahu formally dedicated a settlement in the controversial Golan Heights area to the U.S. president who officially declared the region to belong to Israel. "Trump Heights," as the settlement is called, sits in an area that most of the international community believes belongs to Syria. However, in March President Trump publicly announced that the U.S. would recognize the Golan Heights area as an Israeli settlement.
Facebook is due to make a big announcement this Tuesday. The social media giant may enter the world of cryptocurrency. The company primarily relies on advertising to generate revenue, and expanding into an ecommerce platform could drastically change the company's direction. Numerous analysts forecast a successful buy rating for the project. "With more than 2.5 billion users, Facebook and its partners could be a significant endorsement of cryptocurrency and a notable addition to the Facebook app ecosystem," Bank of America said in a statement. Leading cryptocurrency Bitcoin crossed the $9,000 threshold for the first time this year today as Facebook's backing could mean a broader acceptance of digital currencies.
Numerous advocacy groups are urging the U.S. to place a temporary travel ban on the Dominican Republic. Over the past year, eight American tourists have died while vacationing in the DR under mysterious circumstances. The Dominican Republic is citing "pulmonary edema" as the cause of many of these deaths, but are unable to explain why this is occurring. Additionally, the country admittedly does not have the facilities to perform proper autopsies. Tourism accounts for around 17% of the country's GDP, and a travel ban could have significant implications for their economy.
Wall Street began the week in positive territory. The Dow increased by 22.92 points (+0.09%) to 26,112.53, the S&P 500 added 2.69 points (+0.09%) to 2,889.67, the Nasdaq increased 48.37 points (+0.62%) to 7,845.02, and the Russell 2000 increased by 10.25 points (+0.67%) to 1,532.75.
The Canadian indices also started the week in the green. The TSX Composite grew by 51.54 points (+0.32%) to 16,353.45, and the TSX 60 added 2.35 points (+0.24%) to 979.17.
Brazil's Bovespa fell 416.81 points (-0.43%) to 97,623.25.
ENERGY:
The Iranian nuclear deal and the recent attacked tankers off the Gulf of Oman have resulted in higher crude prices. US Secretary of State Mike Pompeo on Sunday said that Washington does not want to go to war with Iran but will take every action necessary, including diplomacy, to guarantee safe navigation in the Middle East. The global slowdown has its effect on prices, with the UK now estimating growth next year to be only 1%. Chinese exports are already seeing the effect of the tariffs since they were applied.
The oil markets had a negative day today. Crude Oil decreased 0.64 USD/BBL or -1.22% to 51.9633; Brent decreased 1.03 USD/BBL or -1.66% to 60.9305; Natural gas decreased 0.001 USD/MMBtu or -0.04% to 2.3814; Gasoline decreased 0.0401 USD/GAL or -2.31% to 1.6956; and Heating oil decreased 0.0297 USD/GAL or -1.62% to 1.8028.
Top commodity gainers: Lumber (1.66%), Canola (4.35%), Feeder Cattle (0.85%), and Canola (4.35%). Top commodity losers: Bitumen (-6.94%), Gasoline (-2.34%), Coal (-2.01%), and Oat (-1.98%)
The above data was collected around 15:35 EST on Monday.
BONDS:
Japan -0.13%(+1bp), US 2's 1.86% (+1bps), US 10's 2.09%(-0bps), US 30's 2.58%(-1bps), Bunds -0.26% (-1bp), France 0.11% (+1bp), Italy 2.30% (-2bp), Turkey 17.37% (-6bp), Greece 2.74% (-69bp), Portugal 0.62% (+1bp), Spain 0.53% (+3bp) and UK Gilts 0.85% (-0bp).
US 3-Month Bill Auction decreased from 2.240% to 2.170%
US 6-Month Bill Auction decreased from 2.140% to 2.130%
French 3-Month BTF Auction decreased from -0.546% to -0.549%
French 6-Month BTF Auction decreased from -0.544% to -0.565%
French 12-Month BTF Auction decreased from -0.559% to -0.566%