Blog/Market Talk
Posted Jun 16, 2020 by Martin Armstrong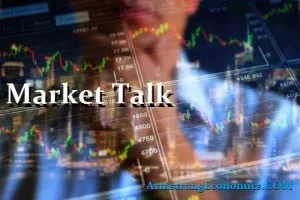 ASIA:
Beijing has reported 106 new infections in the last five days. The city raised its alert level from Level 3 to Level 2 — the highest alert being Level 1 — the Beijing government's Deputy Secretary Chen Bei announced in a press conference Tuesday night. Fearing the possibility of another outbreak, Beijing has imposed a soft lockdown on the entire city
At least 20 Indian soldiers were killed in a clash with Chinese forces in Ladakh in the disputed Kashmir region, Indian officials say. The incident follows rising tensions, and is the first deadly clash in the border area in at least 45 years. India's external affairs ministry accused China of breaking an agreement struck the previous week to respect the Line of Actual Control (LAC) in the Galwan Valley.
India's merchandise exports shrank by more than a third in May from a year ago, dragged down by a fall in global demand and shipments due to the outbreak of coronavirus, trade ministry data showed on Monday. Merchandise exports were down by 36.47% to $19.05 billion in May, while imports were down 51.05% to $22.20 billion, the data showed.
The Supreme Court of India asked the Finance Ministry and India's central bank, the Reserve Bank of India, to hold a meeting in the current week to decide on waiver of interest for deferred payments of installments for loans during the moratorium period announced in the wake of the coronavirus-induced lockdown.
Experts are increasingly concerned by the Japanese government's moves to ease its entry restrictions in place amid the coronavirus pandemic, saying that a rise in arrivals from abroad will increase the risk of a new wave of infections. The government is examining ways to ease entry bans, taking into consideration various factors, and would ease restrictions in stages if it decided to do so, Foreign Minister Toshimitsu Motegi has told the Diet.
The major Asian stock markets had a green day today:
NIKKEI 225 increased 1,051.26 points or 4.88% to 22,582.21
Shanghai increased 41.72 points or 1.44% to 2,931.75
Hang Seng increased 567.14 points or 2.39% to 24,344.09
ASX 200 increased 222.50 points or 3.89% to 5,942.30
Kospi increased 107.23 points or 5.28% to 2,138.05
SENSEX increased 376.42 points or 1.13% to 33,605.22
Nifty50 increased 100.30 points or 1.02% to 9,914.00
The major Asian currency markets had a mixed day today:
AUDUSD decreased 0.00711 or -1.02% to 0.68807
NZDUSD decreased 0.00509 or -0.78% to 0.64439
USDJPY decreased 0.21 or -0.19% to 107.28
USDCNY increased 0.01926 or 0.27% to 7.08534
Precious Metals:
Gold increased 0.60 USD/t oz. or 0.03% to 1,725.75
Silver increased 0.04 USD/t. oz or 0.26% to 17.4345
Some economic news from last night:
New Zealand:
Westpac Consumer Sentiment (Q2) decreased from 104.2 to 97.2
Australia:
House Price Index (QoQ) (Q1) decreased from 3.9% to 1.6%
Japan:
BoJ Interest Rate Decision remain the same at -0.10%
Indonesia:
Retail Sales (YoY) (Apr) decreased from -4.5% to -16.9%
Some economic news from today:
Hong Kong:
Unemployment Rate (May) increased from 5.2% to 5.9%
New Zealand:
GlobalDairyTrade Price Index increased from 0.1% to 1.9%
EUROPE/EMEA:
The number of people out of work and claiming work-related benefits in the UK jumped 23% to 2.8 million last month as the coronavirus crisis forced thousands of businesses to close. Highlighting the impact of the pandemic on the workforce, the latest figures for May found that the number of jobcentre claimants increased from 1.24 million in March, representing a 126% increase since the beginning of the lockdown.
Lords of the EU security and justice sub-committee said during questioning of the Home Office minister James Brokenshire that Failure of Brexit talks could lead to terrorism intelligence delays. The UK may risk losing its real-time access to a watchlist of suspected terrorists if it does not strike a comprehensive Brexit deal on justice and security. Fears were also raised over the future of the European arrest warrant (EAW) system and the prospect of the UK becoming a haven for foreign criminals trying to evade justice from EU member states.
French President Emmanuel Macron in his fourth televised address to the nation since the beginning of the coronavirus pandemic has announced that France is open and back in business. He said restaurants, bars, and cafes in the Paris area can now fully open, and that all schoolchildren except for those in lycées (upper high schools) will be expected to return to class from next Monday. He also said the country was facing an economic crisis, but stated while coronavirus easing measures had cost the country €500bn, there would be no tax rises. He suggested plans for France's economic reconstruction would include encouraging firms to relocate back to France and plans for economic "independence" that he would announce next month.
The German government has appealed to its citizens to download a newly available coronavirus warning app as it launched what it insisted was its most sophisticated tool yet for tackling the pandemic.
NATO's Secretary General Jens Stoltenberg said no timeline or firm plan has been agreed for Donald Trump's proposed withdrawal of 9,500 US troops from Germany, suggesting it could be softened if Berlin agrees to increase its defense budget. Jens Stoltenberg said it was "not yet decided how and when this decision will be implemented" the day after the US president accused Germany of being "delinquent" for spending less than 2% of its GDP on its military.
The major Europe stock markets had a green today:
CAC 40 increased 136.74 points or 2.84% to 4,952.46
FTSE 100 increased 178.09 points or 2.94% to 6,242.79
DAX 30 increased 404.31 points or 3.39% to 12,315.66
The major Europe currency markets had a mixed day today:
EURUSD decreased 0.00745 or -0.66% to 1.12613
GBPUSD decreased 0.00653 or -0.52% to 1.25688
USDCHF increased 0.00128 or 0.13% to 0.95012
Some economic news from Europe today:
UK:
Average Earnings ex Bonus (Apr) decreased from 2.7% to 1.7%
Average Earnings Index +Bonus (Apr) decreased from 2.3% to 1.0%
Claimant Count Change (May) decreased from 1,032.7K to 528.9K
Employment Change 3M/3M (MoM) (Apr) decreased from 211K to 6K
Unemployment Rate (Apr) remain the same at 3.9%
Germany:
German CPI (MoM) (May) remain the same at -0.1%
German CPI (YoY) (May) remain the same at 0.6%
German HICP (YoY) (May) remain the same at 0.5%
German HICP (MoM) (May) decreased from 0.4% to 0.0%
German WPI (YoY) (May) decreased from -3.5% to -4.3%
German WPI (MoM) (May) increased from -1.4% to -0.6%
German ZEW Current Conditions (Jun) increased from -93.5 to -83.1
German ZEW Economic Sentiment (Jun) increased from 51.0 to 63.4
Euro Zone:
Wages in euro zone (YoY) (Q1) increased from 2.40% to 3.40%
Labor Cost Index (YoY) (Q1) increased from 2.30% to 3.40%
ZEW Economic Sentiment (Jun) increased from 46.0 to 58.6
US/AMERICAS:
Federal Reserve Chairman Jerome Powell elaborated on the central bank's recent announcement to purchase corporate bonds. Powell testified that the Fed will use "an excess of caution to preserve gains for market function." The central bank was purchasting exchange-traded funds, but will now expand into individual issues, and has up to $750 billion to spend on a wide index of bonds. "I don't see us wanting to run through the bond market like an elephant snuffing out price signals, things like that," Powell commented this Tuesday.
Retail sales experienced a 17.8% spike between April and May, according to data released this Tuesday by the US Census Bureau. Nationwide retail sales totaled $485.5 billion in May, an advancement from April's revised figure of $412.6 billion. Although this is good news for the consumer spending dependent US economy, retail sales in May dropped -6.1% YoY, indicating that the country has not yet reached pre-coronavirus levels.
President Trump signed an executive order this Tuesday that will establish a nationwide database to identify police officers who use excessive force. The order will also enable co-responders, such as licensed mental health professionals, to assist the police. Although the Trump administration does not advocate defunding police departments, additional reforms are expected to follow.
Royalty Pharma became the largest IPO of the year today after shares surged by 65%. On Monday, the company valued the IPO at $28 per share and quickly raised $2.18 billion. The company's success exceeded Warner Music Group's $1.9 billion IPO, temporarily securing the title for the largest IPO of 2020.
US Market Closings:
Dow advanced 526.82 points or 2.04% to 26,289.98
S&P 500 advanced 58.15 points or 1.9% to 3,124.74
Nasdaq advanced 169.84 points or 1.75% to 9,895.87
Russell 2000 advanced 32.65 points or 2.3% to 1,452.26
Canada Market Closings:
TSX Composite advanced 156.17 points or 1.02% to 15,515.83
TSX 60 advanced 10.04 points or 1.08% to 936
Brazil Market Closing:
Bovespa advanced 1,155.65 points or 1.25% to 93,531.17
ENERGY:
Global oil demand is not expected to recover until 2022, the International Energy Agency said in its latest oil market report. Demand for crude in 2020 is set to drop by 8.1 million barrels per day – the steepest decline in history, the agency said. However, the recent gains in prices indicate that the worst for the oil markets is over. Demand is expected to recover by 5.7m barrels per day in 2021.
The United Arab Emirates is fully committed to the Opec+ deal and volunteered to cut more during June together with Saudi Arabia and Kuwait to expedite the global oil market recovery, UAE Minister of Energy and Industry said on Monday.
The oil markets had a mixed day today:
Crude Oil increased 0.99 USD/BBL or 2.67% to 38.1100
Brent increased 0.97 USD/BBL or 2.44% to 40.7600
Natural gas decreased 0.047 USD/MMBtu or -2.82% to 1.6200
Gasoline increased 0.0284 USD/GAL or 2.42% to 1.2019
Heating oil increased 0.0329 USD/GAL or 2.88% to 1.1750
The above data was collected around 15.45 EST on Tuesday.
Top commodity gainers: Heating Oil (2.88%), Crude Oil (2.67%), Ethanol (4.61%), and Lumber (3.38%)
Top commodity losers: Oat (-4.64%), Lean Hogs (-5.36%), Natural Gas (-2.82%), and Orange Juice (-2.53%)
The above data was collected around 15:50 EST on Tuesday.
BONDS:
Japan 0.02%(+1bp), US 2's 0.20% (+1bps), US 10's 0.75%(+5bps); US 30's 1.53%(+8bps), Bunds -0.42% (+2bp), France -0.03% (+0bp), Italy 1.37% (-3bp), Turkey 11.79% (-15bp), Greece 1.15% (-5bp), Portugal 0.55% (-1bp); Spain 0.56% (+6bp) and UK Gilts 0.21% (+0bp).
Spanish 3-Month Letras Auction decreased from -0.451% to -0.554%
UK 10-Year Treasury Gilt Auction decreased from 0.260% to 0.224%
US 52-Week Bill Auction increased from 0.160% to 0.200%