Blog/Market Talk
Posted Jun 16, 2016 by Martin Armstrong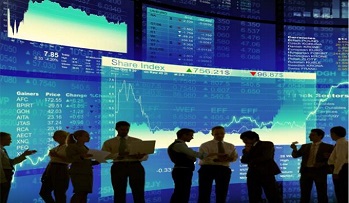 Many blamed the BOJ for today's Nikkei decline, for not announcing additional stimulus measurers, but for whatever reason we found ourselves 3% lower on the day. We have recovered much of this in late US trading but admittedly – it did not look pretty for the cash market. The flight to quality led as usual to the JPY and at one stage touched 103.55 a decline on the day of around 2.5%; negating the stock loss. Hang Seng was also down nearly 2% whilst the Shanghai held in reasonably well (just -0.5%). The Yuan also gained ground (set higher) being fixed by the PBOC at 6.5739. Gold was very strong in Asia, which rolled into Europe but more on this later.
Europe followed suit from FED and BOJ stances reflecting mood with a very weak opening. The Swiss Central Bank also left deposit rates unchanged at -0.75%; with a "no change" from the BOE. Many dealers are starting to question Central Bank authority and their command of the markets, especially if you now reflect on the "Dot Plot" many view the FED were following! European market were saved at the end of the day by a US driven equity rally. The bounce did coincide with reported suspension of European Union campaigning after the shooting Jo Cox (Labour Member of Parliament). The GBP bounced along with stocks and we saw gold retreat from the $1318 area back to sub $1280 to retest the original Weekly Bullish Reversal.
One of the best recoveries we have seen in a while, for the major US indices after a triple digit decline resulted in a 100 gain on the day. The markets saw the VIX retreat from recent highs closing around 19.5 as dealers, are happy with the rally however, remain unconvinced. One price action was slightly more interesting than the others and that was that of gold! Having been appreciating nicely in recent days, the markets were expecting a solid move higher after trading through recent ($1307) highs. We did see new highs set ($1315) but could not be held and we closed back below the days low around $1279. This failure to confirm the daily bullish Reversal will make Fridays close even more interesting.
Bond prices also retreated from their day's highs as stocks bounced but interestingly we still saw flattening within the US curve. 2/10's closed at +89bp with 10's closing at 1.58%. 10yr Bund closed -0.025% closing the US/Germany spread at +160.5bp. Italy 10yr closed 1.54% (+4bp), Greece 8.07% (+8bp), Turkey 9.55% (+5bp), Portugal 3.39% (+6.5bp) and UK Gilt 10yr at 1.11% (-1bp).