Blog/Market Talk
Posted Jun 15, 2020 by Martin Armstrong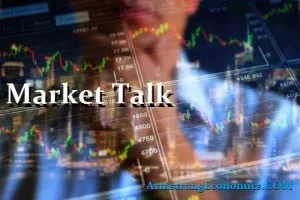 ASIA:
Beijing is reintroducing strict lockdown measures and rolling out mass testing after a fresh cluster of novel coronavirus cases emerged from the city's largest wholesale food market, sparking fears of a resurgence of the deadly outbreak. The Chinese capital reported 36 new Covid-19 cases on Monday, bringing the total number to 79 since a locally transmitted infection was reported on June 12 for the first time in nearly two months, according to the National Health Commission.
India said on Friday it was putting off the release of headline consumer price inflation numbers for April and May, a period that includes a more than two-month nation-wide lockdown imposed to combat the coronavirus pandemic, due to inadequate data collection. The headline numbers for retail inflation for April and May and industrial output for April were not released "in view of the continued limited transactions of products in the market" during the lockdown and problems in collecting of adequate data, the Statistics Ministry said in a statement.
US video streaming company Netflix is in talks with Viacom18, part of the Indian conglomerate Reliance Industries' media unit Network18, about a multi-year partnership to source content, three sources told Reuters. Under the partnership, Network18 affiliates — which include its joint venture with ViacomCBS, Viacom18 — would create shows for Netflix to help the US firm expand offerings in India, where it competes against the video streaming services of Amazon and Walt Disney Co.
Half of the gold refineries in India, the second-biggest consumer of gold in the world, have closed down after the global outbreak of Covid-19. Out of the 20 refineries in the country, 10 refineries engaged in refining dore (impure) gold have closed down as dore is not coming from Switzerland, Ghana, and Peru as international flights are not operating.
The major Asian stock markets had a negative day today:
NIKKEI 225 decreased 774.53 points or -3.47% to 21,530.95
Shanghai decreased 29.71 points or -1.02% to 2,890.03
Hang Seng decreased 524.43 points or -2.16% to 23,776.95
ASX 200 decreased 128.00 points or -2.19% to 5,719.80
Kospi decreased 101.48 points or -4.76% to 2,030.82
SENSEX decreased 552.09 points or -1.63% to 33,228.80
Nifty50 decreased 159.20 points or -1.60% to 9,813.70
The major Asian currency markets had a mixed day today:
AUDUSD increased 0.0014 or 0.20% to 0.68821
NZDUSD increased 0.0011 or 0.17% to 0.64599
USDJPY decreased 0.0790 or -0.07% to 107.30
USDCNY decreased 0.0004 or -0.01% to 7.07389
Precious Metals:
Gold decreased 3.25 USD/t oz. or -0.19% to 1,727.35
Silver decreased 0.07 USD/t. oz or -0.39% to 17.4100
Some economic news from last night:
China:
House Prices (YoY) (May) decreased from 5.1% to 4.9%
Fixed Asset Investment (YoY) (May) increased from -10.3% to -6.3%
Industrial Production (YoY) (May) increased from 3.9% to 4.4%
Chinese Industrial Production YTD (YoY) (May) increased from -4.9% to -2.8%
Retail Sales (YoY) (May) increased from -7.5% to -2.8%
Chinese Retail Sales YTD (YoY) (May) increased from -16.84% to -14.01%
Chinese Unemployment Rate decreased from 6.0% to 5.9%
South Korea:
Exports (YoY) (May) increased from -23.7% to -23.6%
Imports (YoY) (May) increased from -21.1% to -21.0%
Trade Balance (May) increased from 0.44B to 0.45B
New Zealand:
External Migration & Visitors (Apr) decreased from -53.60% to -99.40%
FPI (MoM) (May) decreased from 1.0% to -0.8%
Permanent/Long-Term Migration (Apr) decreased from 10,990 to 220
Singapore:
Unemployment Rate (Q1) remain the same at 2.4%
Some economic news from today:
Japan:
Tertiary Industry Activity Index (MoM) decreased from -3.8% to -6.0%
India:
WPI Food (YoY) (May) decreased from 2.55% to 1.13%
WPI Fuel (YoY) (May) decreased from -10.12% to -19.83%
WPI Inflation (YoY) (May) decreased from 0.42% to -3.21%
WPI Manufacturing Inflation (YoY) (May) decreased from 0.25% to -0.42%
Imports (USD) (May) increased from 17.12B to 22.20B
Trade Balance (May) increased from -6.76B to -3.15B
Exports (USD) (May) increased from 10.36B to 19.05B
Indonesia:
Trade Balance (May) increased from -0.35B to 2.09B
Car Sales (YoY) (May) decreased from -90.60% to -95.80%
Export Growth (YoY) (May) decreased from -7.02% to -28.95%
Import Growth (YoY) (May) decreased from -18.58% to -42.20%
EUROPE/EMEA:
EU ministers are to discuss the need for greater defense cooperation and a renewed intelligence assessment in the face of a heightened risk of a China-US military confrontation. The call for greater EU defense cooperation comes in a Franco-German joint paper. Bloomberg first obtained the paper, due to be discussed by EU defense ministers on Tuesday. The memo written in the paper proposes that the EU's intelligence arm should produce a classified threat assessment by the end of the year, on the basis of which it can decide on how to enhance its joint capabilities in the future, in areas ranging from peacekeeping to space and cybersecurity.
The European Union and the UK government have decided to intensify Brexit talks over the coming weeks amid growing concerns that both sides might fail to reach a trade deal by the end of the year. British Prime Minister Boris Johnson spoke with European officials Monday, discussing ways to give new impetus to the trade negotiations, which after four initial rounds have not made any significant progress.
Germany's annual contribution to the EU budget would increase by 42% based on the current proposal from the European Commission, German newspaper Die Welt reported on Monday, citing government calculations. Germany currently contributes an average of €31 billion a year to the EU budget. The proposal for the new budget would raise that contribution to €44 billion — an increase of 42%. EU leaders, including Angela Merkel, are meeting Friday to discuss the bloc's future budget.
The major Europe stock markets had a negative today:
CAC 40 decreased 23.54 points or -0.49% to 4,815.72
FTSE 100 decreased 40.48 points or -0.66% to 6,064.70
DAX 30 decreased 37.93 points or -0.32% to 11,911.35
The major Europe currency markets had a mixed day today:
EURUSD increased 0.00628 or 0.56% to 1.13195
GBPUSD increased 0.00458 or 0.37% to 1.25867
USDCHF decreased 0.00372 or -0.39% to 0.94865
Some economic news from Europe today:
Norway:
Trade Balance (May) decreased from 3.2B to -1.2B
Swiss:
PPI (YoY) (May) decreased from -4.0% to -4.5%
PPI (MoM) (May) increased from -1.3% to -0.5%
Italy:
Italian CPI (MoM) (May) decreased from 0.1% to -0.2%
Italian CPI (YoY) (May) decreased from 0.0% to -0.2%
Italian CPI Ex Tobacco (MoM) (May) decreased from -0.1% to -0.4%
Italian HICP (YoY) (May) decreased from 0.1% to -0.3%
Italian HICP (MoM) (May) decreased from 0.5% to -0.3%
Euro Zone:
Trade Balance (Apr) decreased from 28.2B to 2.9B
Reserve Assets Total (May) decreased from 909.92B to 895.81B
US/AMERICAS:
Dr. Anthony Fauci warned that travel bans into the US could last for months. The UK, who also prolonged its travel ban, should expect travel into the US to resume "more likely [in] months than weeks." Due to an increase in cases, Fauci warned that restrictions on travelers from China, Brazil, and the European Union as whole would likely remain in place for months as well. "I would hope to get to some degree of real normality within a year or so, but I don't think it's this winter or fall," the doctor doubtingly told the press on Sunday.
The Federal Reserve will begin to purchase individual corporate bonds, the central bank announced this Monday. The Secondary Market Corportate Credit Facility provisions will allow purchases of up to $750 billion in corporate credit. The central bank hopes that the move will "create a corporate bond portfolio that is based on a broad, diversified market index of US corporate bonds."
Last week, Federal Reserve Chairman Jerome Powell warned that there will be "millions of people who don't get to go back to their old job." A new study by Bloomberg Economics predicts that 30% of US job losses from February to May are the result of a "massive reallocation shock." Based on their prediction, millions will return to work during the initial phases of reopening. However, millions of others will not have a job awaiting them during the post-recovery period. In addition to the reallocation shock, the study found that half of the jobs lost were the direct result of the lockdown and a decrease in demand. All eyes will be on the June jobs report to gauge the severity of America's unemployment crisis.
The US Supreme Court ruled this Monday that employers may not fire employees for having same-sex relations or labeling themselves as transgender. The Department of Justice initially ruled that the current Civil Rights Act did not protect transgender and/or gay employees from workforce discrimination. Similarly, the Department of Health and Human Services did not include the LGBTQ community in the Affordable Care Act. Today's 6-4 Supreme Court ruling will update Title VII of the 1964 Civil Rights Act to include members of the LGBTQ community.
Prime Minister Justin Trudeau announced plans today to extend the Canada Emergency Response Benefit (CERB) program. Over eight million Canadians have enrolled in the benefits program during the economic slowdown. The CERB program is designed to float government funds to help companies maintain their payrolls. Although the Canadian government originally allocated C$73 billion (later adjusted to C$45 billion) for the wage subsidy, only C$10.5 billion has been paid out. PM Trudeau continued to urge employers to take advantage of the program and plans to announce the details of the program's extention later in the week.
US Market Closing:
Dow advanced 157.62 points or 0.62% to 25,763.16
S&P advanced 25.28 points 083% to 3,066.59
Nasdaq advanced 137.21 points or 1.43% to 9,726.02
Russell 2000 advanced 31.92 points or 2.3% to 1,419.61
Canada Market Closings:
TSX Composite advanced 103.09 points or 0.68% to 15,359.66
TSX 60 advanced 5.9 points or 0.64% to 925.96
Brazil Market Closing:
Bovespa decreased 419.75 points or -0.45% to 92,375.52
ENERGY:
The oil markets had a mixed day today:
Crude Oil increased 0.65 USD/BBL or 1.79% to 36.9000
Brent increased 0.76 USD/BBL or 1.95% to 39.6600
Natural gas decreased 0.062 USD/MMBtu or -3.56% to 1.6810
Gasoline increased 0.0443 USD/GAL or 3.93% to 1.1717
Heating oil increased 0.0213 USD/GAL or 1.91% to 1.1358
The above data was collected around 14.12 EST on Monday.
Top commodity gainers: Rice (4.11%), Lean Hogs (9.05%), Gasoline (3.93%), and Bitumen (3.55%)
Top commodity losers: Palm Oil (-4.47%), Rubber (-2.92%), Natural Gas (-3.56%), and Orange Juice (-3.62%)
The above data was collected around 14:15 EST on Monday.
BONDS:
Japan 0.01%(-0bp), US 2's 0.19% (+0bps), US 10's 0.69%(-1bps); US 30's 1.44%(-1bps), Bunds -0.44% (+1bp), France -0.03% (+0bp), Italy 1.44% (+3bp), Turkey 11.94% (+3bp), Greece 1.21% (-7bp), Portugal 0.57% (-1bp); Spain 0.59% (+6bp) and UK Gilts 0.22% (+1bp).
US 3-Month Bill Auction increased from 0.170% to 0.175%
US 6-Month Bill Auction remain the same at 0.185%
French 3-Month BTF Auction increased from -0.514% to -0.510%
French 6-Month BTF Auction increased from -0.513% to -0.507%
French 12-Month BTF Auction decreased from -0.488% to -0.496%