Blog/Market Talk
Posted Jun 15, 2018 by Martin Armstrong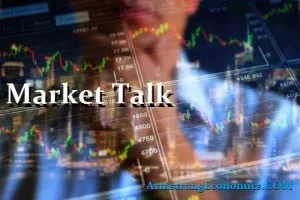 Markets always seem to be waiting for something and even today it appears they were concerned about the BOJ and then later the US/China Trade Talks. The result for cash was that the market felt that the BOJ offered a helping hand after it today downplayed its previous view on inflation. The subsequent bounce in the Nikkei (+0.5%) was one of the few markets that managed a positive return today. The other core market to benefit off of today events was the Australian ASX (+1.25%), but that too saw currency declines -0.4%. Shanghai and the Hang Seng
both lost around -0.6% as concerns escalate over the Trade Talks. SENSEX did well just to close unchanged as most of the afternoon session was spent in negative territory. However, the markets was probably helped by the continued decline in the INR, this evening closing with a 68 handle.
Europe was generally weaker across the board with the UK's FTSE (1.7%) being hit hardest. The UK continues to battle with BREXIT plans and so we are seeing the currency also under pressure and also market concerns surrounding US trade. Core Europe were also lower with DAX and CAC off around -0.6% the pair, whilst peripherals (IBEX, FTSE MIB) closed a little over 1% lower. The markets are still concerned about the ECB's possible tapering from QE from September. We did hear Draghi state that the door could remain open but these moves appear a little more concerning.
US core were waiting for more information about US/China trade tariffs and so were trading lower in the uncertainty. By the close all core had recovered much of the intraday declines closing just 80 points off on the DOW. Earlier in the session the DOW was down almost 300 points but had recovered by the close. Eventually, we heard the US put a Trade number of $50bn of charges on trade and later we hear China stated a $32bn number. The result of todays trading really blends into the previous rally and is having a negligible impact. It may be too early to make such a claim but the market consensus is that somehow these guys will work things out. US stocks still looking in good shape with gains of around 5% over the past month for NASDAQ and the broader S+P.
Japan 0.03%, US 2's closed 2.55% (-2bp), 10's 2.92% (-2bp), 30's 3.05% (u/c), Bunds 0.4% (-2bp), France 0.73% (-3bp), Italy 2.59% (-13bp), Greece 4.41% (-11bp), Turkey 15.64% (u/c), Portugal 1.78% (-12bp), Spain 1.29% (-5bp), and Gilts 1.32% (-1bp). ECB active again….