Blog/Market Talk
Posted Jun 15, 2017 by Martin Armstrong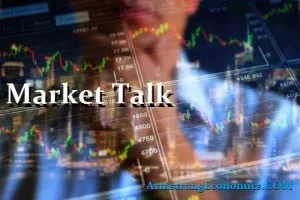 China's Industrial Data release marginally above expectation but Investments let them down and tended to quell afternoon anticipation and we closed only small positive. It may also have been the weakness of other core markets that also had an impact as both Hang Seng and ASX closed over 1.2% down the pair. It was energy yet again that weighed and markets as oil and global inflation numbers continue to drag. Bank and Mining stocks also played a part with 3% falls for both Westpac and BHP in Australia, with insurers and construction companies bring down the HSI after HKMA raised rates 25bp. The story in Japan seemed to be around the BOJ's move away from JGB's and into equity. We have known through market talk that this has been underway for a while but seems only to be taken notice-of recently. Although the Nikkei suffered small losses the JPY traded back close to 111 in late US trading.
Core European markets were already weak before the BOE announcement but that certainly didn't help by any means. The BOE voted 5:3 for keep rates unchanged but that was a narrower margin than the market had expected which recovered a GBP rout but hit the FTSE at the same time. Most of the European core finished the day down around -0.6% across the board led by energy, retailers and banks. Worth keeping an eye on second tier banks as talk is their financing costs have started to creep higher since the Banco Popular move. The SNB left the loose policy in place and with rates unchanged at -0.75%. They commented that the CHF remains significantly over valued and at the same time hold the third largest reserves in the world and a balance sheet 120% of GDP. You wonder why the ECB has not taken more of an interest sighting these figures as the SNB continues to voice concerns that inflation remains near zero. Late in the US session we hear that there is still no debt relief for Greece.
Talk for US session was why Janet Yellen was so hawkish. All core opened weak with selling seen in energy (reflecting the oil price and production figures – oil down 8% MTD), banks were weak and even as the money markets start to price no more hikes. Tech's renewed their slide as money is taken off the table but closed of the days lows as confidence returned with the core. the debate seems to be is the bond market or the stock market more correct. Once we see confirmation in the DXY, we will see that both are correct.
Friday
we have Housing Starts, Business Confidence and Consumer Sentiment, then hear from Dallas President Kaplan in the afternoon.
2's closed 1.35% (+1bp), 10's at 2.16% (+2bp), 30's 2.78% (u/c), Bunds 0.28% (+6bp) which closes the spread at +188bp (-4bp). France 0.62% (+4bp), Italy 1.95% (+2bp), Greece 5.72% (+4bp), Turkey 10.27% (+4bp), Portugal 2.82% (+3bp), Spain 1.40% (+4bp) and Gilts 1.03% (+11bp) after the BOE 5:3 vote surprise.