Blog/Market Talk
Posted Jun 12, 2020 by Martin Armstrong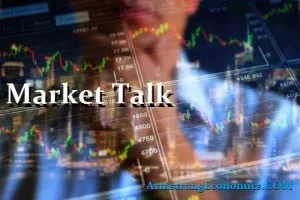 ASIA:
Twitter has removed more than 170,000 accounts from its platform after the social media site found state-linked influence campaigns from China focusing on Hong Kong protests, Covid-19, and the US protests in relation to George Floyd. The company announced on Thursday that 23,750 core accounts, and 150,000 "amplifier" accounts that boosted the content posted by those core accounts, had been removed from the platform after being linked to an influence campaign from the People's Republic of China.
Chinese state media slammed Canberra for its "ringleader" role in calling for an international probe into the origins of the coronavirus, and warned that China could impose curbs that would hit the Australian economy hard. According to Wood Mackenzie, Australia's iron ore and LNG exports to China are up 8% and 9% year-to-date, respectively, compared to a year ago. Chinese imports of Australia coal are also "way ahead of where they were before the pandemic."
India's central bank proposed on Thursday stricter governance rules for commercial banks, following a series of financial and governance problems at lenders in recent months. The Reserve Bank of India's (RBI) proposal includes limiting the length of time a major shareholder can serve as CEO to 10 years; setting clear divisions of responsibilities between a bank's board and management; and improving the supervisory oversight of senior management.
The country's foreign exchange reserves crossed the half a trillion-dollar mark for the first time after it surged by a massive USD 8.22 billion in the week ended June 5 helped by higher foreign inflows. The reserves rose to USD 501.70 billion in the reporting week helped by a whopping rise in foreign currency assets, the latest data from Reserve Bank of India shown.
Japan's parliament passed a record 31.9 trillion yen ($298 billion) extra budget on Friday in an effort to shore up the economy amid the coronavirus pandemic. The new spending provides financing help for struggling companies, payroll subsidies, and aid to the medical system. The budget will help fund a 117 trillion-yen stimulus package unveiled last month that doubles the scale of Japan's virus response.
The major Asian stock markets had a mixed day today:
NIKKEI 225 decreased 167.43 points or -0.75% to 22,305.48
Shanghai decreased 1.16 points or -0.04% to 2,919.74
Hang Seng decreased 178.77 points or -0.73% to 24,301.38
ASX 200 decreased 112.80 points or -1.89% to 5,847.80
Kospi decreased 44.48 points or -2.04% to 2,132.30
SENSEX increased 242.52 points or 0.72% to 33,780.89
Nifty50 increased 70.90 points or 0.72% to 9,972.90
The major Asian currency markets had a mixed day today:
AUDUSD decreased 0.00051 or -0.07% to 0.68340
NZDUSD increased 0.00034 or 0.05% to 0.64210
USDJPY increased 0.69 or 0.64% to 107.50
USDCNY increased 0.00043 or 0.01% to 7.08015
Precious Metals:
Gold increased 1.95 USD/t oz. or 0.11% to 1,731.80
Silver decreased 0.20 USD/t. oz or -1.13% to 17.4910
Some economic news from last night:
China:
China Thomson Reuters IPSOS PCSI (Jun) increased from 66.46 to 67.89
Japan:
Thomson Reuters IPSOS PCSI (Jun) increased from 29.58 to 33.63
South Korea:
Export Price Index (YoY) (May) decreased from -6.5% to -8.2%
Import Price Index (YoY) (May) increased from -14.6% to -12.8%
New Zealand:
Business NZ PMI (May) increased from 26.1 to 39.7
Some economic news from today:
Japan:
Capacity Utilization (MoM) (Apr) decreased from -3.6% to -13.3%
Industrial Production (MoM) (Apr) decreased from -3.7% to -9.8%
India:
FX Reserves, USD increased from 493.48B to 501.70B
Industrial Production (YoY) (Apr) increased from -18.3% to -0.8%
Manufacturing Output (MoM) (Apr) increased from -22.4% to -1.4%
Indonesia:
Consumer Confidence (May) decreased from 84.8 to 77.8
EUROPE/EMEA:
The UK government has announced that full border controls on goods entering the UK will not apply until July next year. It also formally notified the EU it does not want an extension to the transition period. The announcement of a three-phased plan for Brexit border checks was welcomed by industry leaders but represented the most dramatic change to international trading since 1993 when the single market was introduced.
British Airways, EasyJet, and Ryanair have launched a legal challenge to coronavirus quarantine measures imposed by the UK government, saying the "flawed" guidelines will crush the economy. The three biggest carriers operating in the United Kingdom said in a statement on Friday that the quarantine will have a "devastating effect on British tourism and the wider economy," destroying thousands of jobs. The airlines have asked for a judge to review the case as soon as possible.
Fitch Ratings has affirmed Germany's Long-Term Foreign-Currency Issuer Default Rating (IDR) at 'AAA' with a Stable Outlook. The 'AAA' rating reflects Germany's diversified, high value-added economy, strong institutions and track record of sound public finances that have enabled a robust policy response to the pandemic shock, Fitch added.
After months of closed borders due to coronavirus, Many European countries are still off-limits to Americans — and that includes Germany, Reuters reported. Germany has extended a travel warning for 160 non-European countries until at least the end of August advising citizens not to travel.
The major Europe stock markets had a mixed today:
CAC 40 increased 23.66 points or 0.49% to 4,839.26
FTSE 100 increased 28.48 points or 0.47% to 6,105.18
DAX 30 decreased 21.01 points or -0.18% to 11,949.28
The major Europe currency markets had a mixed day today:
EURUSD decreased 0.00738 or -0.65% to 1.12198
GBPUSD decreased 0.00915 or -0.73% to 1.24865
USDCHF increased 0.01001 or 1.06% to 0.95397
Some economic news from Europe today:
UK:
NIESR GDP Estimate decreased from -10.3% to -17.6%
Inflation Expectations decreased from 3.0% to 2.9%
Construction Output (MoM) (Apr) decreased from -5.9% to -40.1%
U.K. Construction Output (YoY) (Apr) decreased from -7.1% to -44.0%
GDP (MoM) decreased from -5.8% to -20.4%
GDP (YoY) decreased from -5.7% to -24.5%
Index of Services decreased from -1.9% to -9.9%
Industrial Production (MoM) (Apr) decreased from -4.2% to -20.3%
Industrial Production (YoY) (Apr) decreased from -8.2% to -24.4%
Manufacturing Production (YoY) (Apr) decreased from -9.7% to -28.5%
Manufacturing Production (MoM) (Apr) decreased from -4.6% to -24.3%
Monthly GDP 3M/3M Change decreased from -2.0% to -10.4%
Trade Balance (Apr) increased from -11.85B to -7.49B
Trade Balance Non-EU (Apr) increased from -4.42B to -2.66B
France:
French CPI (MoM) (May) increased from 0.0% to 0.1%
French CPI (YoY) increased from 0.3% to 0.4%
French HICP (MoM) (May) increased from 0.0% to 0.2%
French HICP (YoY) (May) remain the same at 0.4%
Spain:
Spanish CPI (YoY) (May) decreased from -0.7% to -0.9%
Spanish CPI (MoM) (May) decreased from 0.3% to 0.0%
Spanish HICP (YoY) (May) decreased from -0.7% to -0.9%
Spanish HICP (MoM) (May) decreased from 0.4% to 0.1%
Italy:
Italian Quarterly Unemployment Rate decreased from 9.5% to 8.9%
Euro Zone:
Industrial Production (YoY) (Apr) decreased from -13.5% to -28.0%
Industrial Production (MoM) (Apr) decreased from -11.9% to -17.1%
US/AMERICAS:
US consumer sentiment is beginning to improve, according to the University of Michigan's index. The reading for the beginning of June rose to 78.9 from 72.3 in May. Economists at Bloomberg had anticipated a reading of only 75. Richard Curtin, director of the survey, noted that consumers are still pessimistic about the US economy fully recovering in the near-term. "Despite the expected economic gains, few consumers anticipate the reestablishment of favorable economic conditions anytime soon," Curtin said. Consumers anticipate inflation rising to 3% in 2020, 1% higher than the Fed's target. Curtain noted that consumers likely based their inflation forecast after seeing the price of food rise. Overall, 42% of respondents expect their personal financial situation to improve next year.
The Center for Disease Control (CDC) warned that the US might need to reimplement quarantine measures if coronavirus cases rise "dramatically." "If cases begin to go up again, particularly if they go up dramatically, it's important to recognize that more mitigation efforts such as what were implemented back in March may be needed again," CDC's Deputy Director for Infectious Diseases Jay Butler announced. Their warning is in stark contrast with Secretary Mnuchin's comments on Thursday where he adamantly said the US could not shut down the economy again. Although the CDC can provide recommendations, they do not have the power to reimplement a quarantine.
An increasing number of Canadians are sinking into debt, with the average household debt ratio rising to 176.9%. According to Statistics Canada, the average Canadian owes C$1.77 for every dollar they have to spend. Credit card debt reached $2.33 trillion last quarter, with $1.53 trillion in mortgage debt and $802.1 billion in consumer credit loans. The only tidbit of optimism from the report showed a decrease in the cost of debt services.
Brazilian residents will be barred from visiting Europe until coronavirus cases begin to decline steadily. Brazil experienced 1,261 COVID-19 deaths in the past 24 hours alone, bringing the total death toll to 41,058.
US Market Closings:
Dow advanced 477.37 points or 1.9% to 25,605.54
S&P 500 advanced 39.21 points or 1.31% to 3,041.31
Nasdaq advanced 96.08 points or 1.01% to 9,588.81
Russell 2000 advanced 31.46 points or 2.32% to 1,387.68
Canada Market Closings:
TSX Composite advanced 205.65 points or 1.37% to 15,256.57
TSX 60 advanced 11.4 points or 1.25% to 920.06
Brazil Market Closing:
Bovespa declined 1,890.71 points or -2% to 92,795.27
ENERGY:
The oil markets had a mixed day today:
Crude Oil decreased 0.28 USD/BBL or -0.77% to 36.0600
Brent increased 0.08 USD/BBL or 0.21% to 38.6300
Natural gas decreased 0.064 USD/MMBtu or -3.52% to 1.7520
Gasoline increased 0.0235 USD/GAL or 2.14% to 1.1236
Heating oil increased 0.0279 USD/GAL or 2.60% to 1.1022
The above data was collected around 13.34 EST on Friday.
Top commodity gainers: Ethanol (6.72%), Heating Oil (2.60%), Gasoline (2.14%), and Cocoa (1.19%)
Top commodity losers: Bitumen (-2.64%), Silver (-1.13%), Natural Gas (-3.52%), and Orange Juice (-4.56%)
The above data was collected around 13:42 EST on Friday.
BONDS:
Japan 0.02%(+1bp), US 2's 0.19% (+1bps), US 10's 0.71%(+5bps); US 30's 1.46%(+6bps), Bunds -0.44% (-2bp), France -0.03% (-3bp), Italy 1.43% (-2bp), Turkey 11.91% (+0bp), Greece 1.28% (-5bp), Portugal 0.58% (-2bp); Spain 0.63% (-1bp) and UK Gilts 0.21% (+1bp).